- Our 1st school - It is the first. We even have got a motto: "Our school is the best".
Supply manager Elena pronounces it, hobbling to the stair landing near which on the wall there is a fresh painting actually showing the motto of the school №1 of Krasnogorovka nearby Donetsk. Light falls on the wall through the broken window, which offers a wide panorama of the broken windows.
I meet Elena while taking photos of one of these windows closed with a Soviet poster for assembling and disassembling a gun. Here she comes out of the school building, stands in the doorway, leaning on the left shoulder and watches my manipulations with the mute irony. Later the keeper Sergei comes out, a silent man of 50 with a kind face. It is hard to believe that someone else may care of the ruins.
Concrete slabs nearby school are mangled by heavy munition. The roof is broken in several places. There are no glasses at all; the pieces are neatly swept away in a huge pile on the left of the entrance. The garbage in the town is not taken away; hills of waste from the overfilled tanks are also in a stone's throw from us. The locals say that before they burnt their garbage in the fire where they also cooked their own meals. Gas, as well as drinking water, is long gone. There is only electricity.
It's Solnechnyi residential area that together with the neighboring Vostochnyi area were damaged the most in the period of active armed hostilities. The school hosted the 28th Brigade of the APU. Its munition crippled tiles, its soldiers practiced shooting in the lobby of the school, riddled the wall and side doors.
- I told them: What you are doing? Here are Ukrainian children! - outraged Elena. - They answered me: "Everything will be restored".
- We were constantly quarreling. They organized provocation. They were shooting militant positions from the school. Once, twice, thrice. When this happens, sooner or later you will get a response. Those responded. They tried to convince me that the other side opened fire first. They argued with me until asked in which house I live. My house is just in front of the school. When they figured it out, they didn't argue any longer...
The teachers and students who stayed in the town were sent to the survived schools. Solnechnyi is now almost empty. People live in total in seven apartments in the five-story building №7 in the front of the school. In the local attraction, a nine-story building with a destroyed top floor, there is only one resident. All the windows are broken. Most of them are covered with oilcloth and some rags. In some places with chipboard.
The City Council brought these slabs; people came here even from other districts, including those who do not need them. Everything was dismantled, we had enough to cover only a few windows, - says Elena from the house No.7.
She comes to us after seeing the camera. She carefully selects Ukrainian words. She wants to tell about her problem and ask for help:
- We have got no gas, no heating. The house is very cold with empty apartments and broken windows. We cook and heat on the appliances. I spend around 40 kWph a day, about 1200 per month for 1.2 UAH. This is my whole pension. We asked the city administration to give us some subsidies, but the deputy chief said that we were refused.
- Nobody is going to repair anything here, they say: "There is no one living here". And no one does because it is impossible to live here. Everyone who was able to leave left. My husband is retired and son is disabled, we can't leave.
There gathered nearly 20 people around us, retired citizens, as it seems most of the remaining residents of Solnechnyi. Pastor Gennady Prosyanko distributes humanitarian aid here. My sleeve is pulled by a fragile girl of 16. Next to her there is a tall guy and a little girl behind. Until now they grimly clung to the side and were obviously very shy.
- We came for the humanitarian aid but we were told: "You are young, you can earn yourself". Tell me what we should do?
I do not know what to do. The pastor is surrounded in the tight circle of the elderly. I ask whether they are relatives. No. Probably, all of you are minors? But the one who I thought was 16, says that she is 23. Later Gennady Prosyanko gives her and the other girl a sanitary kid and explains that the aid cannot be obtained without a previous arrangement.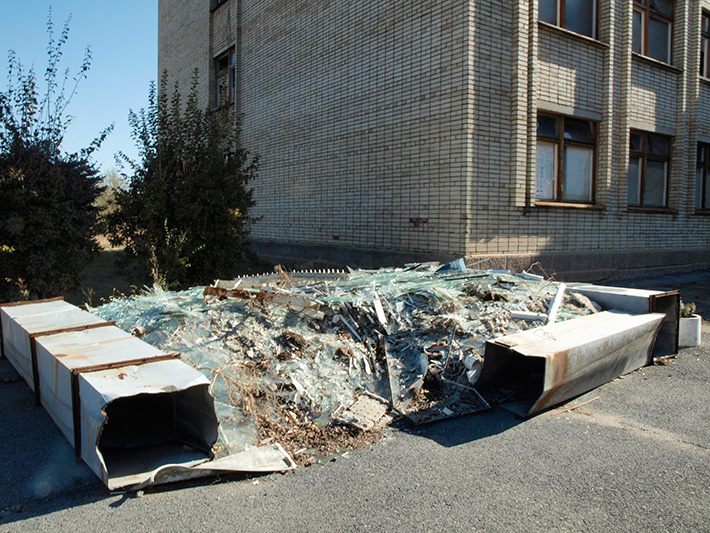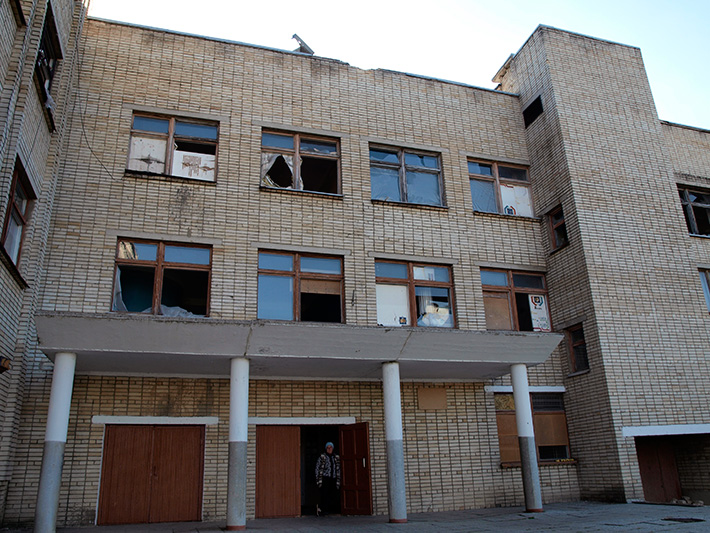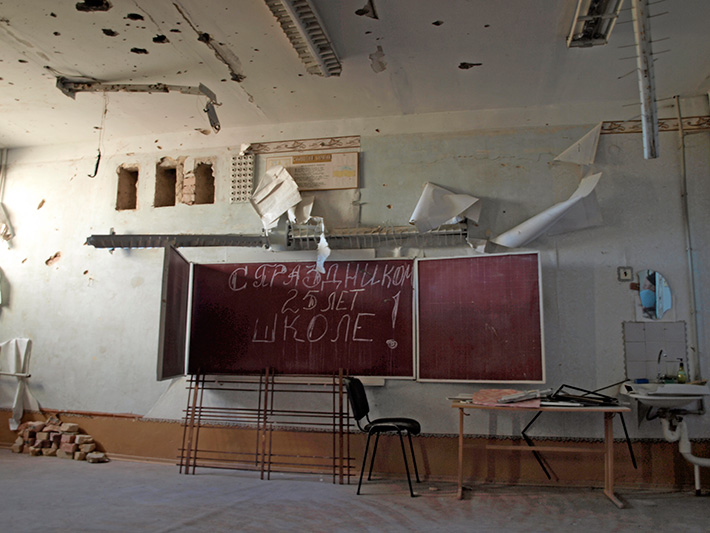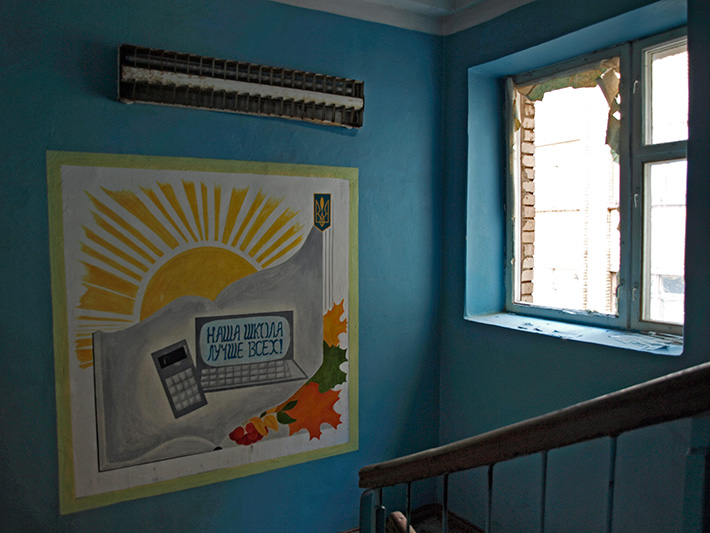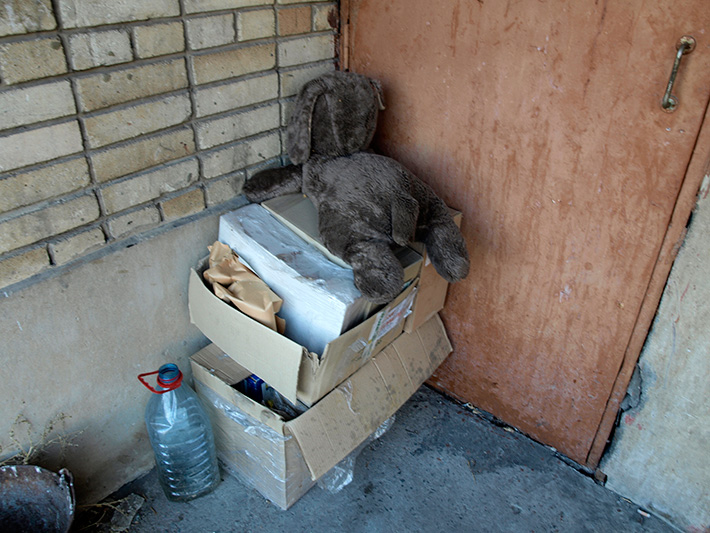 House No. 6
Only burnt walls of the house No. 6 remained in Zavodskaya Street. This house was hit in July last year for the first time. Then it was constantly hit. A very unlucky house.
- Krasnogorovka is behind us and Ukrainian positions are ahead, in particular Trudovskiye, Kremennaya and Alexandrovka are the "DPR" positions. There were shootings and we could only count the missiles, - calmly said old Nikolay.
Grad rocket flew into his neighbour Illya's flat. It went through the wall. But it didn't explode.
- It fell down directly on the couch – said Illya – I ran out immediately. Then we took it out.
- Did you do it yourself, without sappers? It could have exploded!
- It couldn't. It was all dented… yes, we put it here… Probably somebody took it to give to scrap metal … I made up the hole in the wall on my own…
- You had better tell them who hit the house No. 4! – nervously shouted a passing by woman.
- "Who was that?! "DPR"!" – grunted the man.
- What "DPR"?! What "DPR"! – the woman went away quickly.
Illya's flat was hit by the rocket from Krasnogorovka direction.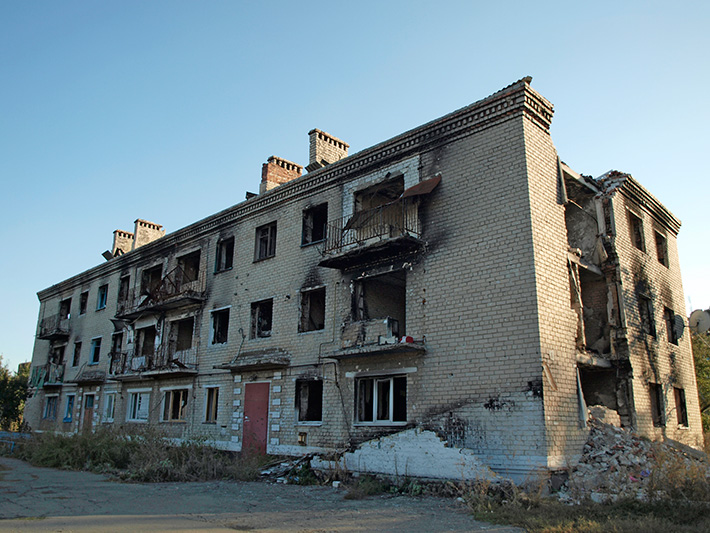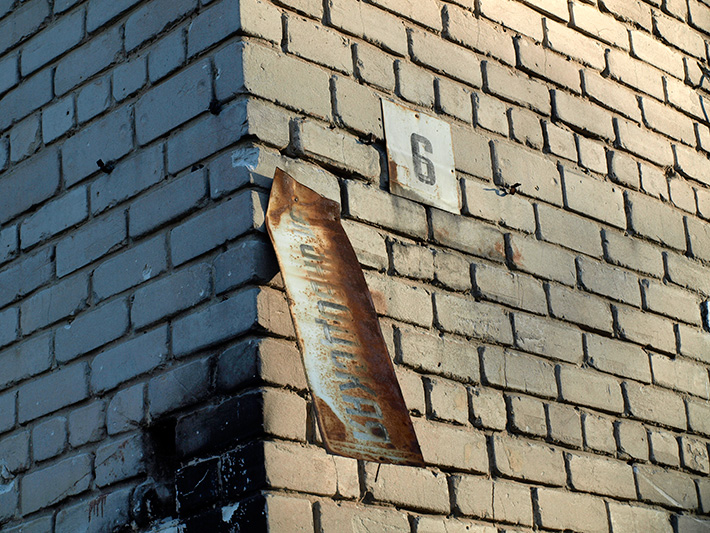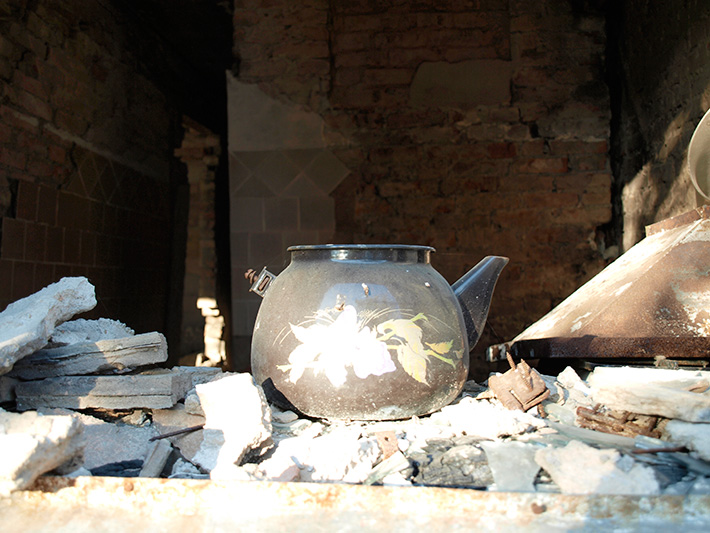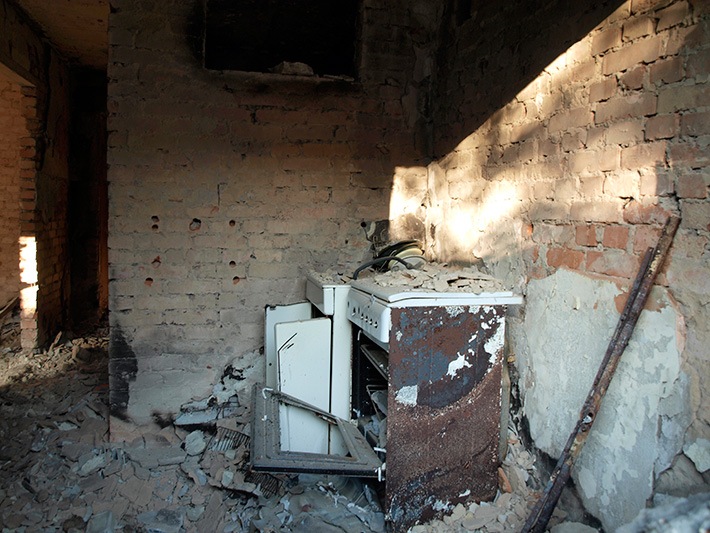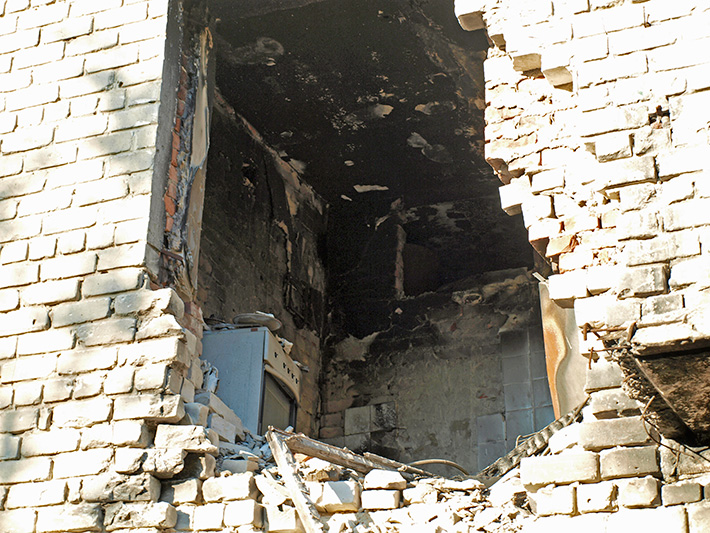 "Rescue the library. Please"
Sergey Kosyak, another pastor, brings us to Krasnogorovka and Maryenka.
- Our car was the last that took people away from Debaltseve and the first that wasn't let in after its seizure, - he says. There are several bullet traces on the car.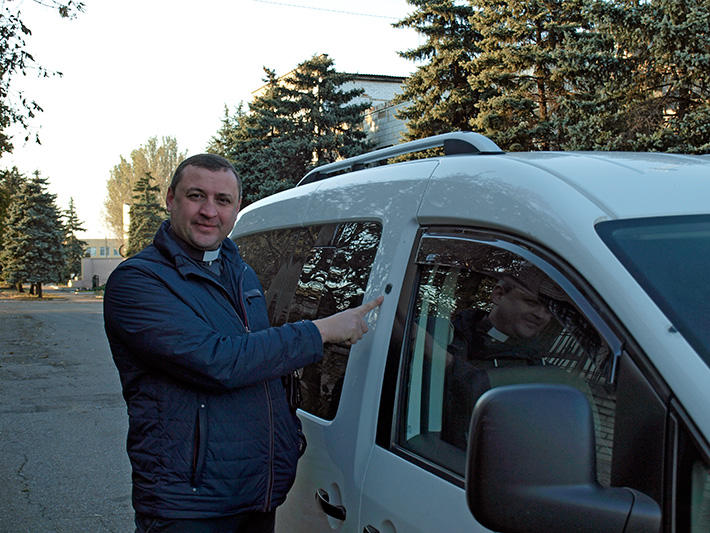 Protestant churches were probably the first in Ukraine to provide organized help to the peaceful population of Donbass suffering from the war. Many of their members on the occupied territories were exposed to pursue and torture; some even died. Sergey Kosyak has got an order to go to Donetsk. Now Maryenka is the center of his activity.
Disputes, marauding and disorders of the 28-th brigade in Maryanka is a hard topic, even for militaries. Rotation took place here after endless complaints from local citizens. Deputy Commander of the newly coming 14-th brigade who is often called Uragan says that before us there was a group of local people asking to whom and how they could express their thanks for order and peace that now exists.
These days, according to soldiers, even snipers don't shoot. The border line is extremely close to residential houses.
- Local women came here several times to argue with us: "Stop shooting!". I tell them "You had better call there and ask them to stop shooting" – said Uragan. – There were a few days of silence after that. And then it started again… Half of the local men are engaged in the militia.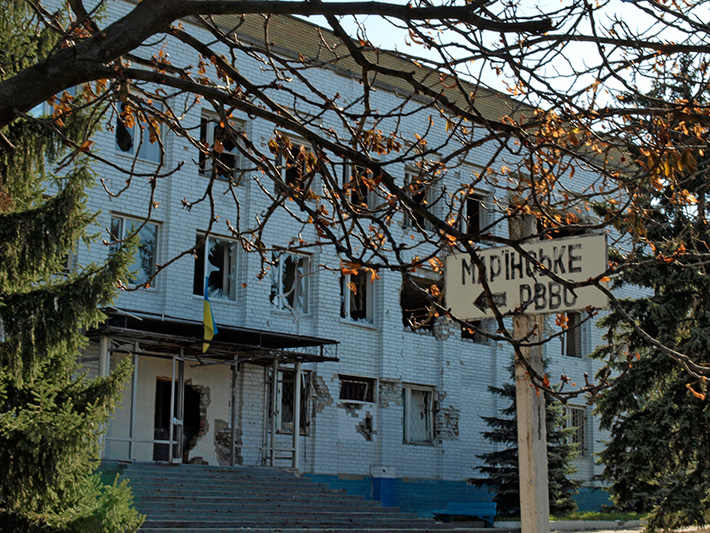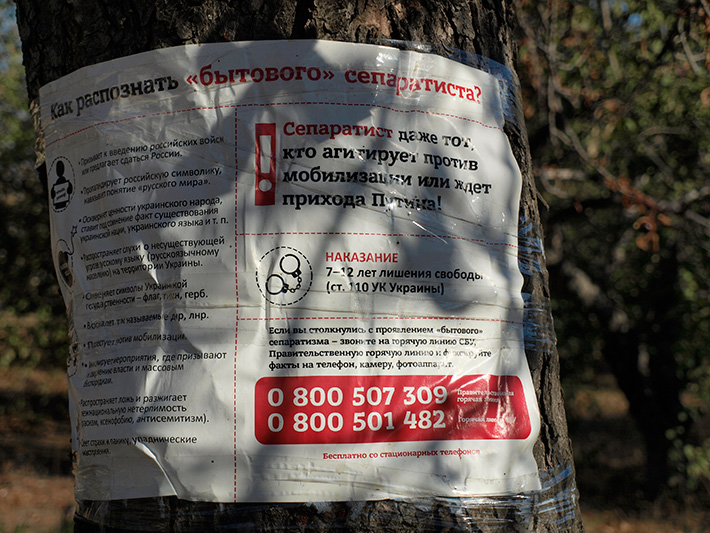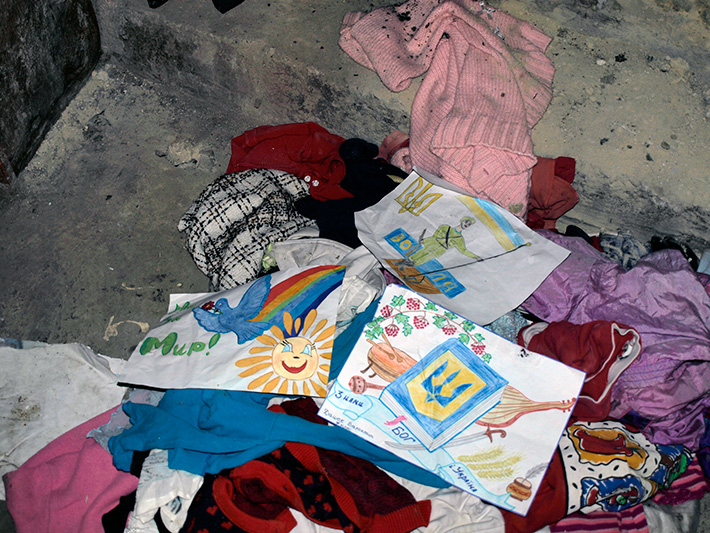 Sergey Kosyak tries to help local people find a compromise with militaries. A few people from Maryenka bake buns twice a week and the pastor together with his community members brings them to soldiers. Two hundred pieces each time. They gave some to us. Tasty.
- Are you volunteers? Rescue the library. Please. It's a very good library. If nobody takes then in the winter it will be used for fire. It's a pity. Take it somewhere. A soldier shows us the library in the building of the improvised base. The floor is covered with the books, torn pages, cans and plastic bottles, everything is mixed. It is said to be the "heritage" from the predecessors.
- Do you like Tolstoy? Here is "War and Peace"… Maupassant? The man wrote in such a nice way, this is Walter Scott. Just take it.
Later Lilya, a journalist from Ternopol, explained that she couldn't help taking eight volumes of Walter Scott's works.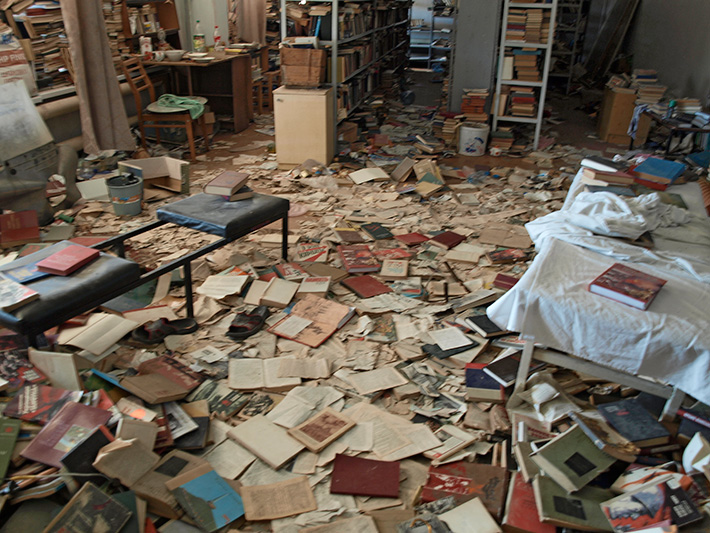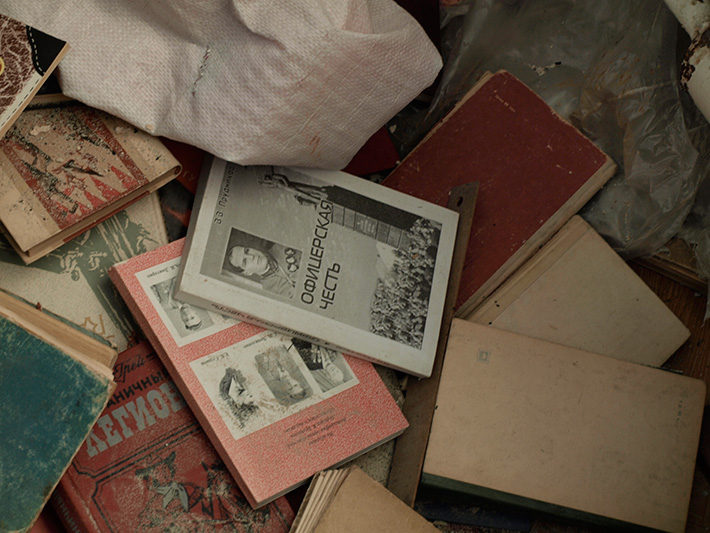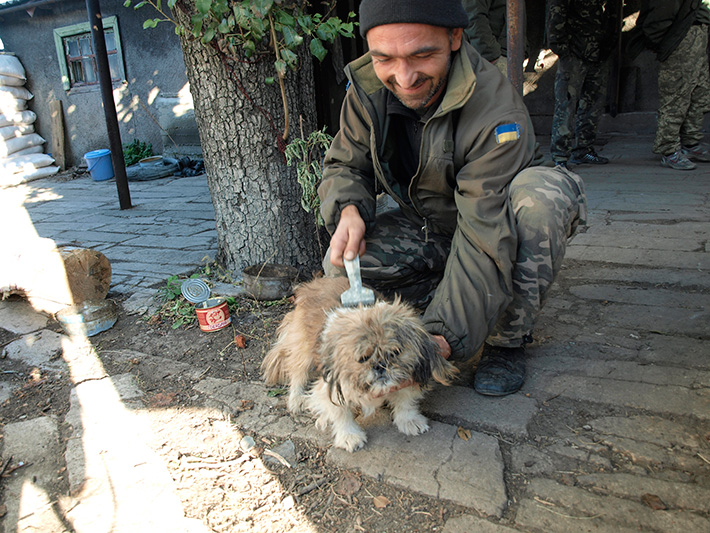 The town that does not exist on the map
There is a protestant church in Dzerzhinsk too, as well as burned buildings, thousands of formal and genuine refugees and adjacent to the city line of contact. There is also a new holiday which is called Liberation Day. And a gipsy community of five hundred people. That all matters to us. Particularly community. Because a member of the church and leader of the local civil society Olga Rudenko takes care of it.
When Olga talks about ward gipsies and non-gipsies she says "Russians". This is a long Donbass conversational norm. "Russians" are Slavs. "Non-Russians" mean people such as Caucasians. All the rest do not matter.
But journalists who came from Dzerzhinsk and volunteers from Ternopol do not know about that. Therefore, each time when Olga says "Russian", some of them significantly shrug, as long as one, stepping from one foot to another, hesitates to ask what her nationality is.
- Well ... - It seems that Olga didn't care about the question very much. - I say like this: my mother is Russian, my father is Belarusian and I am Ukrainian.
Olga has got the Star of David on the necklace around her neck -. I'm waiting for my turn, stepping from one foot to another, to ask why ...
- Because we all, both Jews and Christians, believe in God. We love the Jews. And I just like King David. This person means a lot to me.
Olga Rudenko's organization takes a room in the church building which is ruled by the young beautiful Pastor Inna. One wall is "propped" by more than a dozen of bright cardboard boxes with the words "From children of Rivne to children of the East".
- And this is not for you - Olga shakes armful Ukrainian flag in the air, meaning that the flag isn't actually just for the demonstration in front of Western Ukrainian delegation.
- It means nothing for you - she unfolds one flag - but for us it is an act of bravery. When I hung up the only one on the balcony, the son asked: "Have you prepared a spare glass?".
Alexander Zakharchenko and his friend Sergei brought six of us to Dzerzhinsk. Sergei is late for more than an hour. He just left the mine after a night shift. "He's a good guy, though he is a "pravosek" (Right sector follower) justifies "svobodovets" (Svoboda follower) Zakharchenko, an employee of the local water utility.
At the first checkpoint between Konstantinovka and Dzerzhinsk he leaves a prepared in advance wooden plate, painted blue and yellow, with the words "Dzerzhinsk is Ukraine".
First we go to "our girl who bakes bread" and put still warm loaves of bread and freshly prepared food into the trunk of Alexander's old car. We get more at Zakharchenko's home.
According to Alexander, about 50 volunteers in the city prepare food, buy and bring tea, coffee, cigarettes, warm clothes and equipment to soldiers.
There are volunteers in Dzerzhinsk.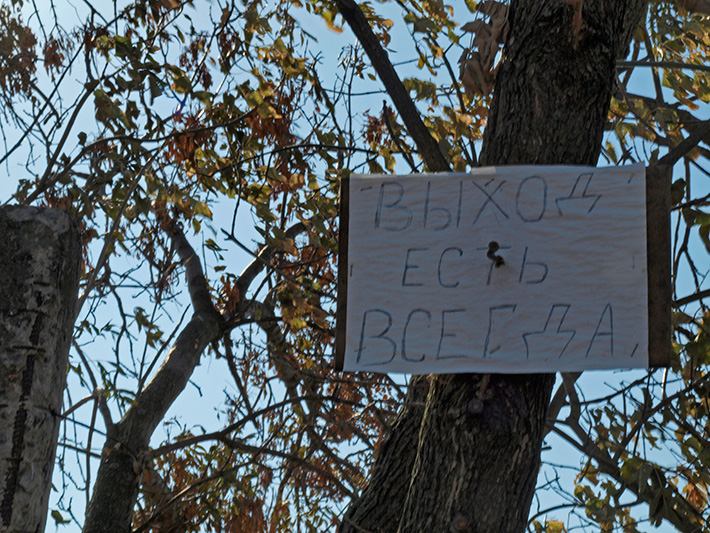 There is no Dzerzhinsk on the map of Ukraine. At least Olga Rudenko thinks so. She said that during the war humanitarian aid was given only once, about a year ago from the Akhmetov Fund.
- Volunteers from Kiev told me: "There are brand cities".
Dzerzhinsk isn't one of them. But Slavyansk or Mariupol are...
Therefore, almost everything that is done by local volunteers is done at their own expense. Irina Zakharchenko laundries military uniform for soldiers at her home. On the eve of our arrival on her birthday she together with Alexander was peeling potatoes for many hours.
On the roads, at the checkpoints and trenches people in the uniform welcome the Zakharchenkos as parents.
We are also welcome ... Closer to the frontline all newcomers get an SMS on their mobile phones: "The soldier of "DPR" gets a social package and you will not even get the status of ATO veteran".
After driving off, we decide to respond. I call but answering machine is activated. I write an SMS.
- "Glory to Ukraine!" - I blurt.
- "We love you" - adds volunteer Kristina from Ternopol. – You need to be good even with evil.
And then we send the message.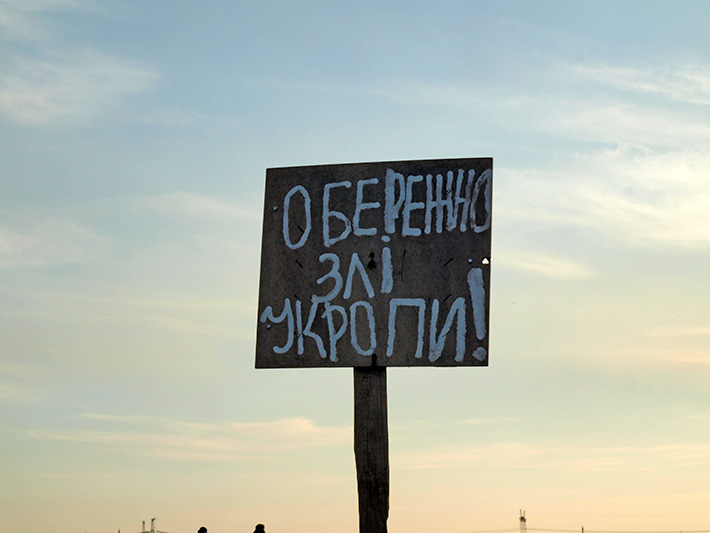 Yulia Abibok, Maryanka-Kiev-Lvov-Dzerzhinsk, OstroV
The author thanks Donetsk Press Club for organizing and funding a trip to Donetsk region, as well as the Institute of Mass Information for the four-day intensive training on safety and first aid in the area of armed conflict