The King Town restaurant, located on the Leninsky Avenue in occupied Donetsk, has been put up for sale for $1.5 million. This was reported in the local segment of social networks.
Judging by the date of the announcement placement, the establishment has been on sale for a month.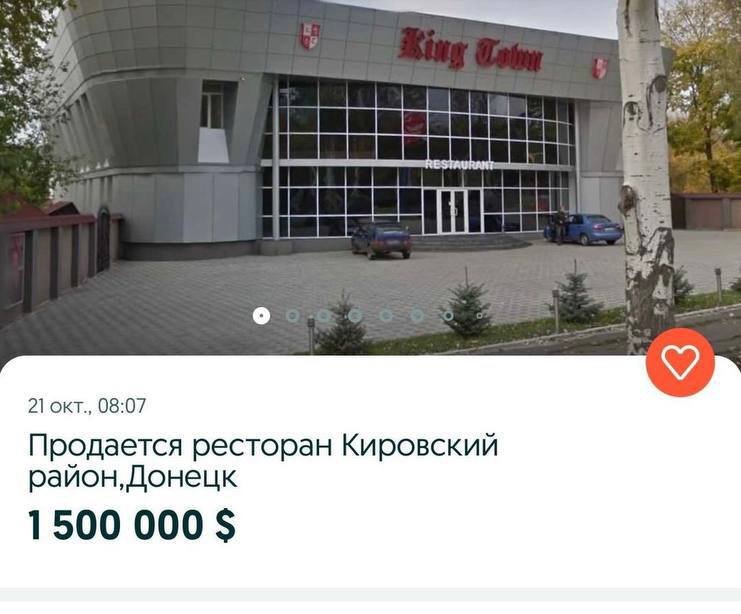 This message caused a heated discussion among the townspeople. Basically, the Donetsk residents do not understand who can covet such an expensive facility in the occupied city, believing that there will be no demand for entertainment in such conditions:
- "Funny. Nobody will invest money in Putin's hole"; "Who will buy this restaurant on the edge of geography, and even more the explosions sometimes occur nearby, so that it is broken and the money wasted?"; "Well, if the price is reduced by three times, then maybe they will sell it"; "300 is top price. And make a watering hole"; "Seriously? And who will go there? Considering what kind of [email protected] the Sun City and Chateau have become since 2014, I am generally surprised how people go to any establishment. The prices are overestimated, and the quality is at the level of canteen".
The Donetsk residents are also discussing who is engaged in medium-sized businesses in CADO:
- "As far as I know, not a small part of shops, pharmacies and other stores are owned by businessmen outside Donetsk"; "Well, some of them lived here before, and then run away, but all this brings income anyway".
As OstroV reported, the premises of the Books store, located in the "house with towers" (architectural monument of local significance), also known as the "house of architects", was put up for sale in the center of occupied Donetsk.