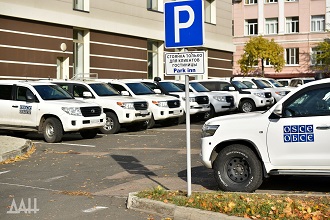 The Organization for Security and Co-operation in Europe has suspended its monitoring mission in eastern Ukraine following protests near its headquarters in separatist-controlled Donetsk. This was reported to Reuters on Sunday by chief monitor Yaşar Halit Çevik.
About 200 pro-Russian protesters confronted OSCE monitors on Saturday to demand the release of a rebel officer captured by the Ukrainian military last week. The mission had faced previous protests organized by Moscow-backed separatists, but this time demonstrators appeared to block the entrance to the hotel where the monitors are based, - the news agency recalls.
"Because of our safety concerns and because of our safety rules and considerations we suspended our operations", - Yaşar Halit Çevik told. He added that the monitors had not yet felt threatened by the protesters.
As earlier reported, on October 13, soldiers of the AFU detained an "LNR" militant who, covering his activities with the JCCC identification marks, was conducting reconnaissance in the area of ​​the Ukrainian positions. Occupation authorities of CADLO accused the OSCE SMM of inaction, demanded the release of the militant and organized blocking of the hotel where the Mission's staff lived. In turn, the European observers explained that they had not seen the moment of the arrest. The SMM knows that the "LNR" representative in the JCCC was allegedly "taken hostage" only from the words of the leadership of the illegal armed formations.
In addition, the OSCE SMM has never said that they recognize certain representatives of the "DNR/LNR" in the JCCC. Puppet authorities of the "republics" appropriated this status after the departure of Russian officers in December 2017. The occupiers announced the creation of their own "representation offices" at the Joint Centre for Control and Coordination on ceasefire and expressed a desire to cooperate with the OSCE mission. However, officially, there are no representation offices of the terrorist "republics" in the Joint Centre. They are formally referred to by the Mission as "members of the armed formations with armbands bearing the legend "JCCC".