The authorities of the self-proclaimed "Donetsk People's Republic" threatened with "administrative liability" to residents of the occupied territories who have debts for utilities. Local people report about that in social networks.
"I want to appeal to the authorities of the Donetsk People's Republic. Today I received such a notice. The notice says that I should come to the commission for consideration of debt repayment for utilities. In case of absence, I will be subjected to administrative liability," - wrote a resident of Donetsk in the social network.
She posted a photo of the "notice" as a proof of her words, which states that she should come to the meeting of the Energy Commission" that will be held on March 25th.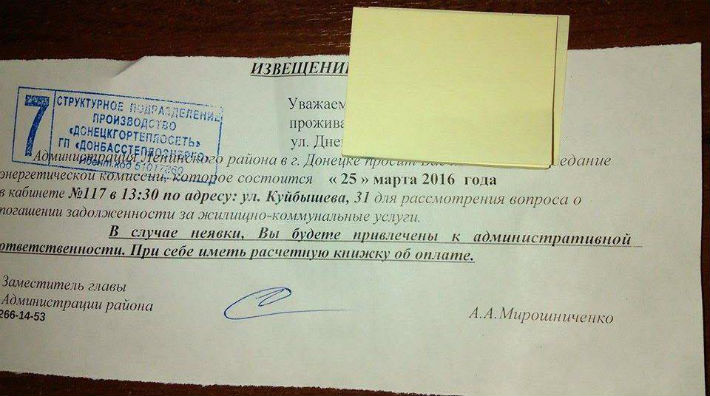 "In the case of" absence, you will be subjected to administrative liability. You should have a paybook," - noted the "document".
Outraged resident said that before the war she had had no problems with paying services, despite the fact that she had been temporarily unemployed.
"I regularly paid for services until August 2014 but even then I did not work and I survived. Now the situation is the same - there is no work. Nobody asked me if I had anything to eat during last two years? On February 4th, 2015, a missile hit our yard, all windows were broken -NO ONE GAVE A PENNY TO HELP RESTORE," – said "debtor".
"Tell me what I should do when my mother-pensioner sends me 500 UAH to help - to buy food or pay for utilities? No one refused to pay, when it was good! But now the war! And this is too much! There is no need to intimidate with administrative liability. Life made me a debtor and I didn't call the war to my city!"- appeals she to the "DPR" officials.
"My DPR pension is 1942 rubles. Since April 2015. Before that - from August 2014 to February 2015 - 0.00 hryvnias/rubles. I didn't reregister in Ukraine. I can't pay the debt (I had never been a debtor before July 2014!). When they cut off – should I get poisoned? Not to suffer? Or kill me,"- says another resident of Donetsk, commenting on the recent decree of the head of the "DPR" Alexander Zakharchenko permitting to cut off gas, electricity, water and heating in private apartments on the occupied territories.
Teplosety (heating company) confirmed the information that they called to the "meeting" those who had a large debt for heating and hot water. When asked what people should do in the "DPR" conditions when they do not receive salary and therefore cannot pay, they gave a laconic reply: "What can we do."
Residents of the occupied Gorlovka face other notices threatening to "recognize their apartment as ownerless" in the case of non-payment of debts.