Separatist propaganda is lying that the "DNR/LNR" delegation allegedly took part in the development and adoption of the Minsk agreements in February 2015. Author of this disinformation is Vladislav Moskovskiy, calling himself press secretary of the "DNR delegation in the Contact Group".
He commented on the statement of head of the Ukrainian delegation to the TCG Leonid Kravchuk about the need to abandon Minsk as a location for negotiations to resolve the conflict in Donbas.
"The decision to change the negotiating platform can be made only as a result of consensus between the FIVE (emphasized by V.Moskovskiy - OstroV) delegations of the negotiating participants - Kyiv alone does not have the right to decide the fate of the Minsk platform", - he stated.
Comrade Moskovskiy's statement is a gross manipulation, since on February 11-12, 2015, complex and dramatic negotiations were held in the format of the Normandy Four. Leaders of CADLO Alexander Zakharchenko and Igor Plotnitsky were present in Minsk, but they did not take part in the development and adoption of the Package of Measures for the implementation of the Minsk Agreements. At the end of the negotiations, the document agreed by the Normandy Four leaders was signed by the participants of the Trilateral Contact Group: Russian Ambassador to Ukraine Mikhail Zurabov, OSCE Ambassador Heidi Tagliavini and ex-President of Ukraine Leonid Kuchma. Then, the Package of Measures was presented to the leaders of CADLO, who signed it without specifying any positions, thus confirming that they were familiar with it.
Thus, any statements by the puppet authorities of the occupied Donbas that some "delegations" of the "DNR" and "LNR" were accepted as a fifth party in the negotiations of the Normandy Four are lies and falsification.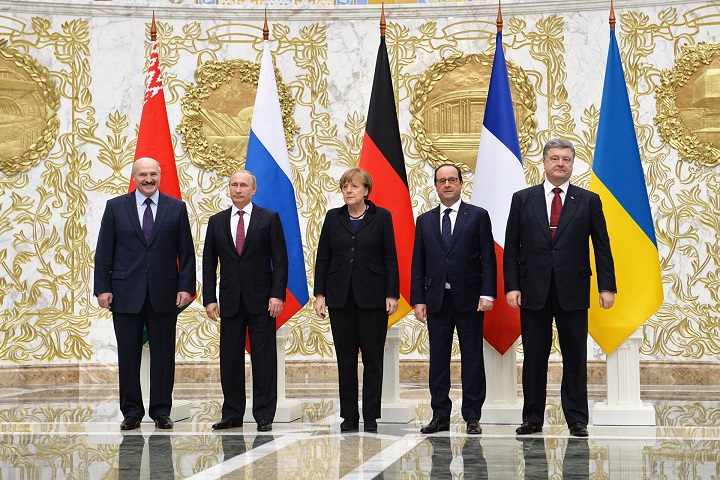 Leaders of the Normandy Four who took part in the development and adoption of the second Minsk agreement. The leaders of CADLO did not stand there…