Separatist propaganda has presented the destruction by the "DNR" militants of the AFU vehicle, which had left for humanitarian demining, as blowing up of a truck "on a Ukrainian mine". An attempt to shift responsibility for gross violations of the rules of warfare was traditionally undertaken by Eduard Basurin, who calls himself the deputy head of the "people's militia" department (self-designation of the "DNR" illegal armed formations).
"As we have repeatedly reported, the disorderly mining of the area is the main reason for the non-battle losses of the armed formations of Ukraine… GAZ-66 car carrying servicemen was blown up in the area of ​​the village of Hranitne. The result: three dead and five wounded", - he reported.
In fact, the specified incident was the result of the enemy shelling of a landmine clearance vehicle from an ATGM. This is clearly evidenced by the damage to the truck. The story of the 1+1 channel clearly shows that the GAZ-66 was attacked from the side of the cab - there is an entry hole in the engine compartment, and an exit hole in the truck shelter.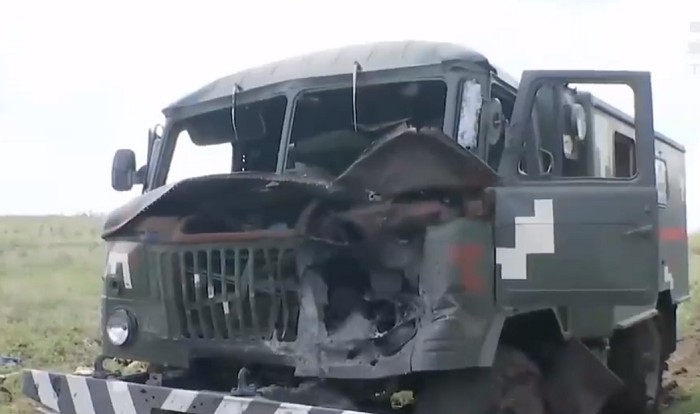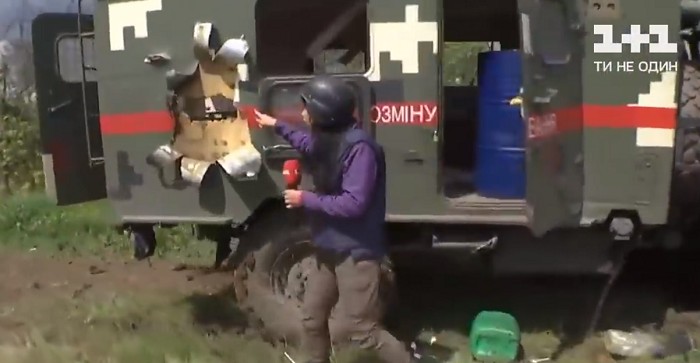 There is an entry and exit hole from a guided anti-tank missile hit.
No traces of "detonation on the Ukrainian mine" are observed
According to the JFO headquarters, the car left for humanitarian demining. An inscription informing this was clearly visible on its board. This did not prevent the bombardment of the bomb squad with an anti-tank missile.
The Ukrainian side also denies the information of separatist propaganda about the death and injury of the Ukrainian military as a result of missiles hitting the truck.
Realizing that gross distortion of facts is easily refuted, the militants "did not rule out that the Ukrainian side would blame the People's Militia for its new losses".