One person was killed and four more were injured in a Ukrainian passenger bus crash in Podkarpackie Voivodeship of southeastern Poland. This is reported by Ukrinform with reference to the Polish media.
The accident occurred in the same place where a Ukrainian bus on the Poznan-Kherson route crashed on March 6 in the early hours of Monday (Kyiv time).
"The bus was carrying 10 people, including two drivers. All are citizens of Ukraine. One person died at the scene, four others were hospitalized", - spokesman for the Podkarpackie region fire service Marcin Betleja stated.
The Directorate for National Roads and Motorways of Poland reported that the bus hit the barriers at the end of the Kaszyce Passenger Service Center exit lane and then fell into a ravine.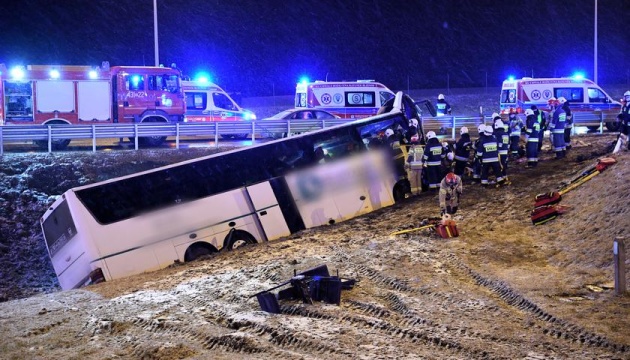 As previously reported, a Ukrainian bus carrying 57 people overturned in the same place on the night of March 6. The vehicle hit the roadside guard rail and fell into the moat. Five Ukrainians died and 35 people sustained injuries of various degrees of severity. Six victims of the accident still remain in Polish hospitals, two of them are in critical condition.