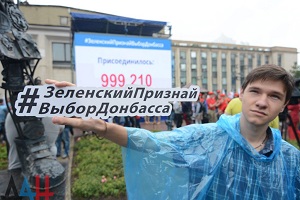 Several thousand people in occupied Donetsk took part in the rally, the main requirement of which was granting of a certain "special status" as part of Ukraine. This was reported by separatist media.
The reports noted that the rally, which gathered about 3000 people, is being held "in support of the national action The Choice of Donbass.
The rally participants are holding banners with the words "We are a million!! Zelensky, do you copy?", "Donbass, made your choice! What will you say, Ze?", "The choice of Donbass is a special status!" and so on.
An electronic scoreboard with a teller in support of the Choice of Donbass action was set near the entrance to the park of forged figures, where the rally is taking place. It shows in real time the number of those who supported the requirements for the Ukrainian president to give the occupied territories of Donbass a "special status" within Ukraine.
As previously reported, the occupation of the "DNR" posted on social network by a video clip of a Horlivka schoolgirl, who allegedly, on her own initiative, appealed to Volodymyr Zelensky to stop the war in the Donbass by granting CADLO "language and economic autonomy".
Similar videos began to appear in support of this appeal, then a special website was created, where everyone willingly voted for the idea of ​​"broad autonomy for Donbass". This project was approved by a number of the "DNR" leaders and representatives of the occupation media. The plan to return to Ukraine is presented to the population of the occupied territories as implementation of the Minsk agreements. Allegedly, according to these agreements, the Donbass is finally separated from Ukraine and gets a real opportunity to join Russia.
Over time, the initial content of the appeal to the President of Ukraine with the requirements of "autonomy" was changed to "special status".
In reality, the Minsk agreements, to which Pasechnik appeals, first of all, provide for the restoration of the territorial integrity of Ukraine by providing the temporarily occupied territories of Donbass with the status of "areas with a special order of local self-government". There is no talk about any "autonomy of Donbass". Under all the documents signed in Minsk, there are signatures, including of the puppet "DNR/LNR" leaders. Such concepts like the "DNR" or "LNR", as well as the names of any positions of "heads of republics", do not appear in the Minsk documents at all.