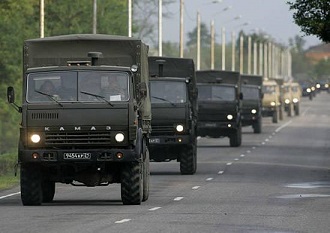 A column of six cargo trucks has entered the occupied territory of Donbass from Russia via a dirt track where there are no border crossing facilities in the middle of the night. This is stated in the daily report of the OSCE SMM as of August 9.
It is noted that on 7 August, an SMM long-range UAV spotted a convoy of eight vehicles travelling from the Russian border to the uncontrolled territory via a dirt track in the middle of the night. The convoy consisted of an off-road vehicle (UAZ) leading 6 canvas-covered six-wheeled KamAZ cargo trucks and a box body truck. According to the Mission, this column stopped on the southern edge of the city of Khrustalny (formerly Krasnyi Luch) 56 km south-west of Luhansk.
The fact that illegal crossing of the border from the direction of the Russian Federation by definitely non-humanitarian convoys is not a single case is evidenced by the discovery of the second column (8 canvas-covered six-wheeled cargo trucks) which was moving in the opposite direction – towards the border with Russia, via the same dirt track under cover of darkness.
As underlined in the OSCE SMM report, such a secret movement of convoys was observed in the area where there are no border crossing facilities.
As previously reported, Russian authorities are hypocritically trying to present the aggression of the Russian Federation against Ukraine as a "civil war" and in every way deny supplies of weapons, equipment and ammunition to the Donbass militants.