A group of relatives of deceased passengers of the MH17 Malaysia airliner, shot down over Donbass in July 2014, has won a case in a U.S. court. The victory will allow them to seek hundreds of millions of dollars worth of compensation. According to Yevropeiska Pravda, the relevant documents from the court were obtained by the Dutch Zembla TV show.
The suit was filed by family members of 25 victims of the MH17 airliner, ten of whom are Dutch citizens. A case was opened against one of the leaders of the "DNR" Ihor Girkin.
The U.S. court handed down its decision on December 21, ruling that the total amount of compensation family members could seek was $400 million, or $20 million per deceased passenger.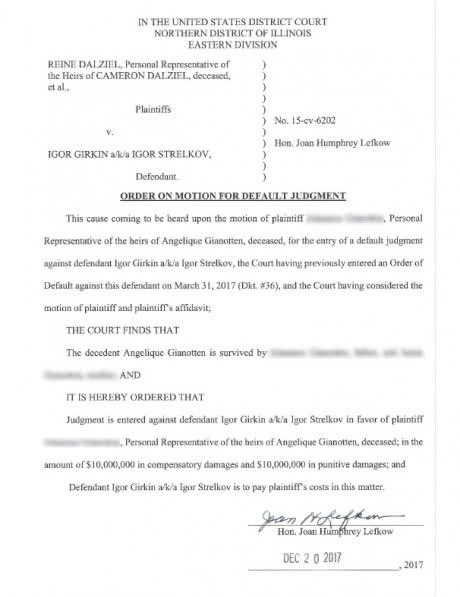 In addition, the report says that there is almost no chance to really get compensation, because Girkin did not appear in court, he was not found at his home address in Moscow.
Lawyers of relatives of the victims of the plane crash intend to arrest the property of Girkin. However, this may not be enough to pay hundreds of millions of dollars of the compensation.
"It's not about money, it's about justice for families, we want world's attention to the cause and to those who are responsible for this terrible tragedy", - said the relatives' lawyer Floyd Winser.
The Malaysian MH17 Boeing airliner, traveling from Amsterdam to Kuala Lumpur, was shot down on July 17, 2014 over Donbass. All 298 passengers on board were killed. Investigators have determined a Russian BUK land-to-air missile shot down the plane. Although the missile system was delivered to Ukraine and brought back to Russia after the tragedy, Russian officials continue to deny any involvement. According to Bellingcat, BUK was transported by retired Russian Major General Sergei Dubinsky ("Hmuryj").