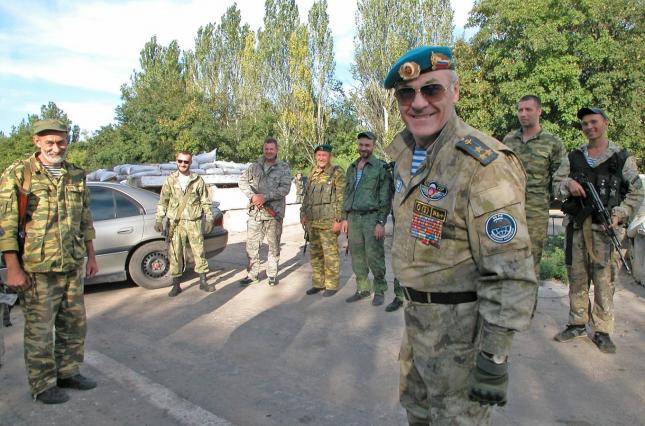 Employees of the State Border Service have detained Valeriy Gratov, a Colonel of the Armed Forces of Russia, a participant of the Russian hybrid aggression in the Donbass and a member of the "DPR", terrorist group, - Dzerkalo Tyzhnia reports with reference to the head of the State Border Service Oleh Slobodian.
The detainee tried to cross the border with forged documents. Russian special services sent him to the territory of Moldova where he was supposed to take the post of the so-called "deputy minister of state security" of the unrecognized "Pridnestrovian Moldavian Republic".
A passport of a citizen of Ukraine in the name of Valeriy Voitenko of 1954 year of birth was withdrawn from the detainee.
"An internal secret pocket was found in his jacket. A sheet of paper with fundamental data and phone numbers of the first persons of the "PMR" and people from the Russian Federation, the Order of the Red Star, smartphone, flash drives (with photos of the detainee with terrorists Motorola, Givi, Zakharchenko, video of shelling of the Ukrainian territory; propaganda materials of the "DPR" and the "LPR", photos from the scenes of fighting in Debaltseve, Donetsk Airport, Horlivka, Snizhne, Ilovaisk, documents of service documentation under his signature, guidance materials to carry out the reconnaissance commando events and a lot of other interesting information) were withdrawn from it", – Slobodian specified.
After the detention, the border guards handed Gratov over the Security Service of Ukraine.
According to the journalist Andriy Tsaplienko, Ukrainian intelligence knew about the plans of the Russian special services to send a regular agent to the "PMR" and kept an eye on Gratov.
"He still thinks he overplayed at the border, gave the game away on the crossing from Ukraine to Transnistria. In fact, counterintelligence agents have known long ago that there is a certain "Sanych" under the name of Valeriy Voitenko, known in Moscow as a Colonel of the Airborne Forces Valeriy Gratov" , – Tsaplienko wrote on his Facebook.
The journalist specified that Gratov was taken to Donetsk in 2014, where he instructed the militants on the tactics of seizing the authorities, and subsequently took part in planning and carrying out of operations in the Donetsk and Luhansk oblasts.
"There are a lot of photos with the famous Donbass butchers in his portfolio. Alive and dead. Gratov with Motorola. Gratov with Givi. Gratov with Mozgovoy… With Bezler… With Zakharchenko… There is a loony Basurin and cunning Purgin in the gallery of "Sanych" as well. But this supporting cast only complete that brightest panopticon in which Gratov always finds a worthy place and takes photogenic poses", – Tsaplienko noted.