Rinat Akhmetov's Yenakiyevo Steel Plant delivered eleven tons of diesel fuel and 300 liters of petrol as "charitable assistance" to militants who seized Yasinovataya Water and Sewage Utilities in 2015. Denis Kazansky posted the relevant documents on in his blog.
According to the documents, on March 20th, 2015 "mayor" of occupied Yasinovataya Yuriy Yanenko (later he was dismissed - Ed.) issued an "order of the commandant" which ordered Yasinovataya Water and Sewage Utilities to get "charitable assistance" from Yenakiyevo Steel Plant which is owned by Rinat Akhmetov.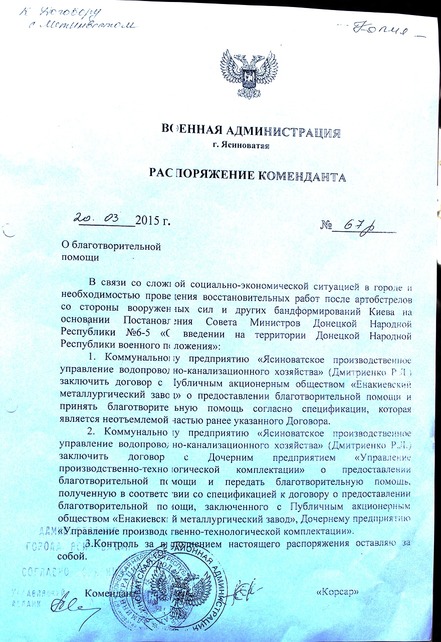 Militants' representative Yanenko pointed out the basis for assistance from the side of the Ukrainian enterprise as "the need for reconstruction after the shelling by Kiev armed forces and other armed groups."
A few days after this "order" the benefactor - Yenakiyevo Steel Plant PJSC and the recipient concluded the contract "on charity assistance" on the form of Ukrainian Metinvest.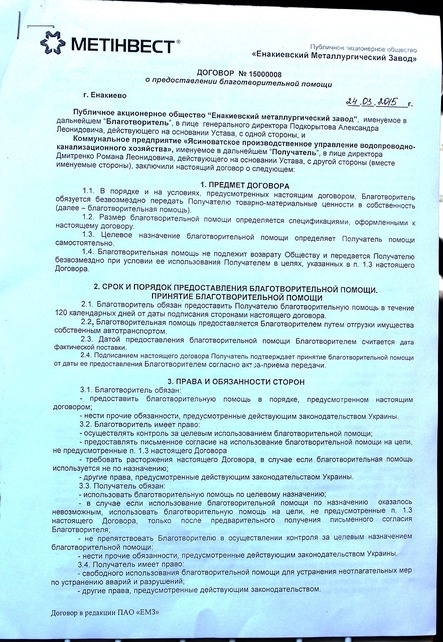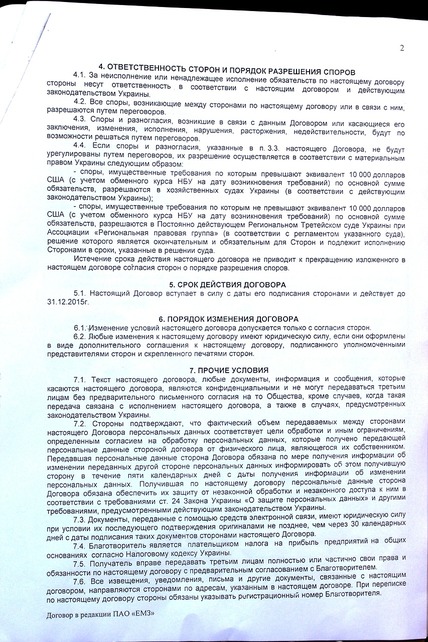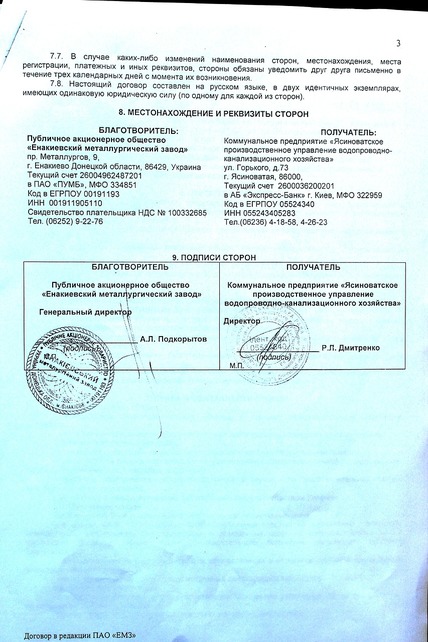 The agreement stated that the assistance was transferred free of charge and the receiver determined its "purpose" on his/her own.
The agreement also includes several specifications that specify exactly what Akhmetov's Metinvest delivered to "leaders" of Yasinovataya. Namely - eleven tons of diesel fuel and gasoline.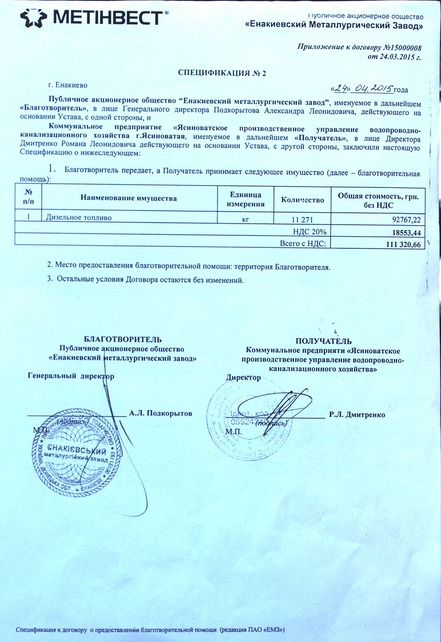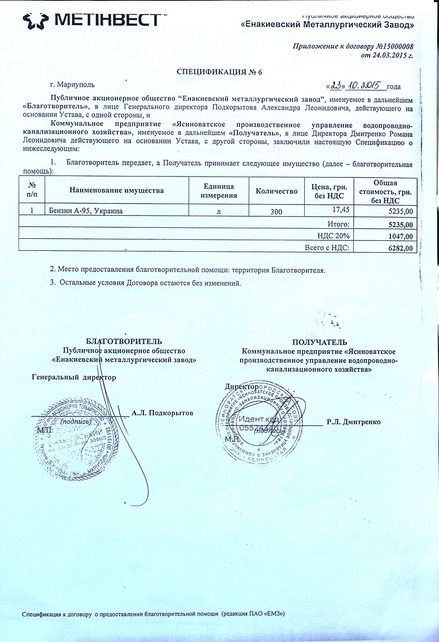 As reported by OstroV, the so-called "authorities" of the the self-proclaimed "DPR" organized trips to Rinat Akhmetov's Yenakiyevo Steel Plant publicly calling it as one of the "republican largest enterprise."
Reference. YeSP is a part of the Metinvest group, the major shareholders of which are Rinat Akhmetov's SCM group (71.24%) and Vadim Novinsky's Smart-Holding group (23.76%). The factory specializes in the production of continuously cast steel billets and hot-rolled billets, bar iron and structural steel from low-carbon and low-alloy steels by world standards. Shareholders of Yenakiyevo Steel Plant, which is located on the territory controlled by pro-Russian militants, decided at the meeting on August 21st to transfer the legal address to Mariupol.