The patrol police in Kiev under the influence of the public refused to give stray dogs to knackers of Union of Journalist-Doghunters illegal organization. The patrol police commented so to OstroV.
Thus, OstroV asked to confirm the authenticity of the document, according to which the patrol police had to give stray dogs to activist doghunter with a dubious reputation.
In response to this request, the patrol police office in Kiev reported that they had previously received an official request from the Union of Journalists – Doghunters (the head of which is Alexey Svyatogor – ed.) "on the avoidance of cases of cruelty to animals". In response to this letter, the Department of Patrol Police in Kiev issued an order that in the case of homeless dogs the police officers need to get in touch with this organization for the coordination of its work "on animal settlement in existing shelter for stray dogs."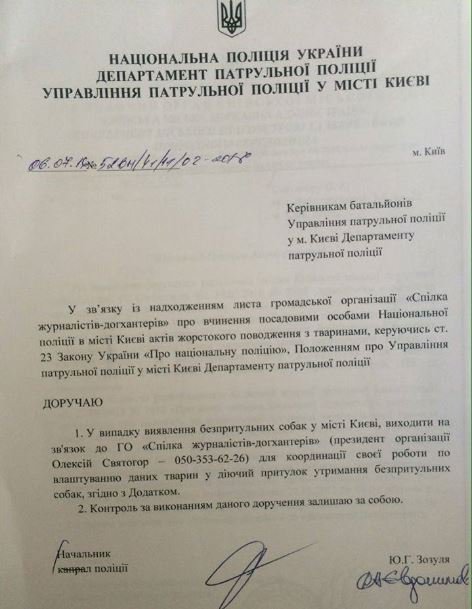 Apparently, the patrol police wasn't confused by the name of the organization Union of Journalists-Doghunters and the identity of its leader A.Svyatogor. However, the public was familiar with his activity, intervened in the situation. After that, the police patrol cancelled its decision.
"After getting to know from the public about the negative reputation of this organization among the defenders of animals and that the registration of the mentioned organization was suspended, the patrol police in Kiev gave instructions to cancel the order (on the possibility of the delivery of homeless animals in shelters with the assistance of the representatives of this organization),"- reportedthe patrol police to OstroV.
At the same time, Svyatogor continues to assert that he is still expecting the patrol police to give stray animals. He reportedly intends to transfer them to the only municipal animal shelter in Kiev. "There can be no agreement because the shelter was created by the municipal community to solve such a problem. It is their job. Police is engaged in their security activities, public utilities are engaged in their work," - he said in comments to OstroV." According to him, no dog has been caught and given to him since the order was issued: "Unfortunately not. I think the dogs are no longer left in Kiev."
The capital's municipal shelter for homeless animals does not confirm information about the agreement with Svyatogor on this issue and reminded that he consciously and openly "hounded animals."
"He hasn't given a single animal to the shelter. He (Svyatogor - Ed) goes through the city and hounds animals. We do not cooperate with them," - told the the shelter to OstroV.