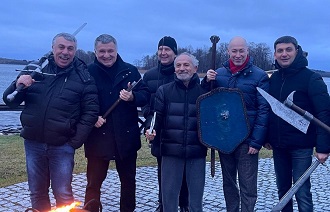 Rinat Akhmetov was in Vilnius, where TV presenter Savik Shuster celebrated his birthday on November 22, at the same time; he could discuss candidates for the election. This is said in the investigation of Ukrayinska Pravda.
According to Ukrayinska Pravda, Rinat Akhmetov arrived at the Boryspil Airport on Sunday, November 21. Avakov, Groisman, Gordon, Komarovsky and co-owner of Savik Shuster Studio Pavlo Yelizarov also arrived there. Two planes took off from Boryspil on that day almost simultaneously: Akhmetov's Airbus flew to Paris and the charter Boeing-733 flew to Vilnius. However, on November 22 Akhmetov's board also arrived in the capital of Lithuania.
Savik Shuster celebrated his 69th birthday in Vilnius. Former Interior Minister Arsen Avakov, former Prime Minister Volodymyr Groysman, journalist Dmitry Gordon and Doctor Yevgeny Komarovsky were among his guests. Brother of the Kyiv mayor, boxer Wladimir Klitschko also flew to Vilnius. Vitali Klitschko could not be present due to his daughter's birthday.
Rinat Akhmetov was not seen among the guests.
However, according to a source of Ukrayinska Pravda in political quarters, he discussed in Vilnius possible candidates for the upcoming parliamentary and presidential elections.
It is reported that Akhmetov's board flew from Vilnius to Kyiv on November 23, and a plane with Shuster and the guests landed right there three hours later.
At the time of publication, Shuster did not make a comment to the Ukrayinska Pravda, and Akhmetov refused to answer the questions of the newspaper.