CADO have decided to charge with a criminal offence for the interpretation of the Second World War that does not coincide with the orthodox one. Separatist media write about this.
It is noted that the so-called "People's Council of the DNR" has adopted amendments to the "Criminal Code", which "introduce criminal liability for humiliating the honor and dignity of veterans of the Great Patriotic War".
At the same time, this is not referred in fact to humiliating and insulting veterans as participants in hostilities. The self-proclaimed "deputies" do not hide the fact that they adopted these changes to "counteract attempts to falsify historical facts".
The points of view on the events of the Second World War that do not coincide with the canonical, ideologized by the Kremlin interpretation are referred to in the "DNR's criminal code" as "one of the forms of rehabilitation of Nazism".
As previously reported, Russian President Vladimir Putin recommended that the State Duma prepare a bill banning the public identification of the roles of the USSR and Nazi Germany in World War II.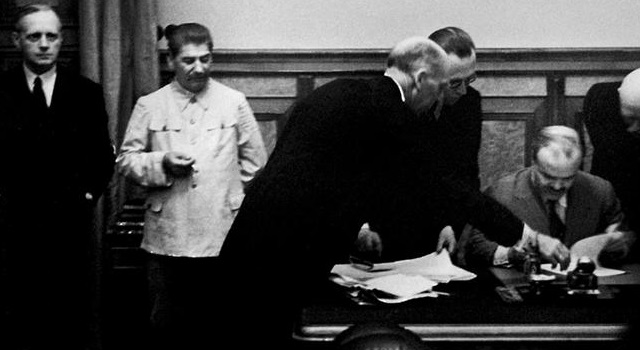 Pictured: Joachim von Ribbentrop, Joseph Stalin and Vyacheslav Molotov. Signing of the Molotov-Ribbentrop Pact. The treaty was signed by People's Commissar for Foreign Affairs Molotov On the part of the USSR, and on the part of Germany, by its Minister of Foreign Affairs Ribbentrop.