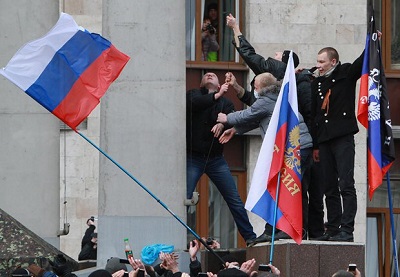 Press Secretary of the Russian President Dmitry Peskov has stated that the Russian leadership allegedly respects the sovereignty of Ukraine. He said this, commenting on the correspondence polemic between Vladimir Putin and Volodymyr Zelensky on the issue of whether Russians and Ukrainians are single nation.

"We have no desire to place the Russian flag in Ukraine", - Peskov stated without specifying that the Russian tricolor has already been deployed on the territory of the occupied Crimea and is an integral attribute of the occupation authorities in the Donbas.
"We respect Ukraine's sovereignty", - he continued.
As previously reported, in 2014, having flagrantly violated international law and even the laws of the Russian Federation, Russia occupied the Ukrainian Crimea and part of the territory of Donetsk and Luhansk oblasts. After 7 years of Russia's illegal presence in the Crimea and active participation in the hybrid war in the Donbas, Federation President Vladimir Putin stated that the Russians and Ukraine are single nation. Volodymyr Zelensky did not agree with him, having recalled that Russia is carrying out aggression against Ukraine.