A mine, on which a minibus was blown up on February 23, was laid by the "DNR" militants in the summer of 2018. This is evidenced by the OSCE SMM operational report as of July 2.
The Mission observers actually recorded the process of mining the median strip near the frontline positions of militants in the area of Olenivka.
"On 30 June, on road H20, about 2km south-west of Olenivka (non-government-controlled, 23km south-west of Donetsk), the SMM observed for the first time red square mine hazard signs with "Danger Mines" written in white in the Russian language placed on a barbed wire fence. The fence was built around a central reservation area (20m-long and 3m-wide) of the road, about 50m south of a checkpoint of the armed formations. Inside the aforementioned area, the SMM saw at least ten circular, freshly dug mounds approximately 30-40cm in diameter (the SMM has regularly observed civilians using this road)", - the report said.
It was at this place that a minibus blew up, killing two people. This is evidenced by the report of the OSCE Mission dated February 25, 2019. "At around 12:40 on 23 February, while moving south past the forward position of the armed formations along the contact line on road H-20 near Olenivka (non-government-controlled, 23km south-west of Donetsk), about 200m south of the above-mentioned position of the armed formations, the SMM saw the burning wreckage of an overturned minivan on the soft ground of a median strip between the road lanes… The Mission saw three mine hazard signs there: one lying on the ground less than 10m from the crater and the other two attached to a post and a barrier nearby", - it said.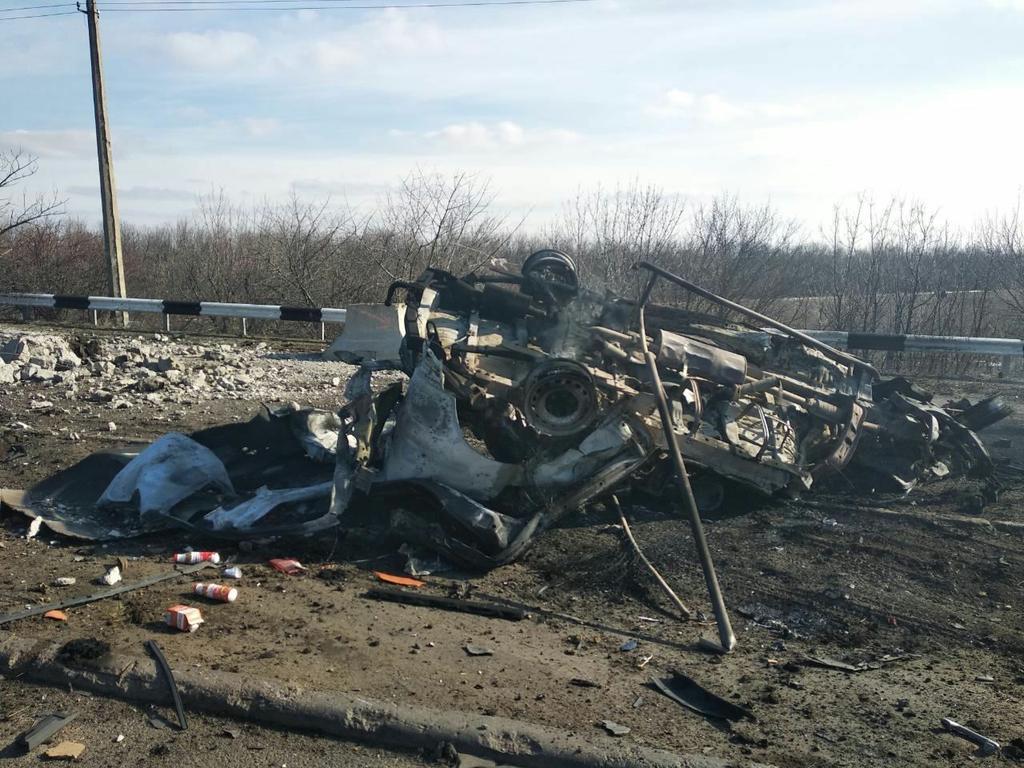 Immediately after the tragedy, the separatist and Russian propaganda groundlessly stated that the mine in the immediate vicinity of their positions was laid by the Ukrainian sabotage-reconnaissance group. Eyewitnesses on social networks claim that the site of the minivan blowing up was in direct vision from the "DNR" checkpoint.
As previously reported, on February 23, two people died and one was injured as a result of a car blaowing up in the area of occupied Olenivka. The car drove to the median strip where the explosive device was set, most likely, it was the anti-tank mine.