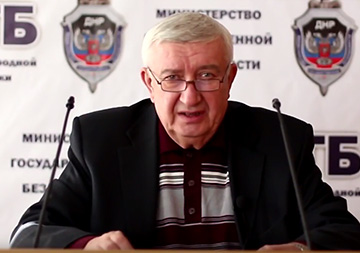 Former deputy governor of Donetsk region, the General of the Security Service of Ukraine Alexander Tretyak wrote an appeal to former colleagues, in which he said that he had joined the militants - said DOGTRK.
There appeared a video on the Internet in which the former deputy chairman of the Donetsk regional state administration (he was deputy when Anatoliy Bliznyuk and Vladimir Logvinenko were governors) is "disclosing" the policy makers of Ukraine for 20 minutes on the background of the banner of so-called "Ministry of Public Security of DPR".
Besides, to confirm his words about the "complete collapse of the state" Alexander Tretyak says that Ukraine has "completely destroyed nuclear power industry and ruined army".
In addition, Tretyak says that he participated in the "vote rigging of the last year's presidential and parliamentary elections" when he was an adviser to the former head of the region Sergei Taruta. Now, he "saw the light" and considers these elections to be illegal.
The video clearly shows that Tretyak reads a prepared text on the teleprompter scree
n which is reflected in his glasses.
Before the "Russian Spring" Alexander Tretyak worked as the head of the SSU in Luhansk region. After this he became an adviser of the former Chairman of the Donetsk Regional State Administration Sergey Taruta, in whose team he was responsible for local policy and cooperation with security forces.
Tretyak is a General of the Security Service of Ukraine. He says it was his decision to come to the so-called "DNR". In his speech Tretyak calls his former colleagues in the military to overthrow the Ukrainian authorities.
You can watch the "revelation" of the former deputy governor HERE.
Profile: Alexander Tretyakov was born on January 25th, 1951 in the village of Vladimirovka (Volnovakha district, Donetsk region). In 1975 he graduated from the Kharkov Institute of Law.
From 1975 to 2002 - seved in the KGB of the USSR, the Security Service of Ukraine (SBU); from 2002 to 2005 he took position of Deputy Chairman of Donetsk Regional State Administration; from 2005 to 2006. - served in the Security Service of Ukraine; 2006 - Acting Deputy Chairman of Donetsk Regional State Administration.