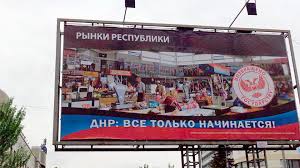 Temporary leader of the "DNR" Denis Pushilin advocated the return to the former owners the markets and enterprises, seized from them under the pretext of "nationalization". The separatist said this during a meeting with the heads of the occupation administrations of cities and districts of the uncontrolled part of the Donetsk oblast.
"As for the markets, the task is the following: private markets will be returned to the owners, only those markets that have been bought or seized sidestepping state norms will pass to state property. As for the markets that were built at their own expense, this (transferring them to state property - OstroV) is not possible", - he said.
As previously reported, in March 2015, all private markets were taken from the owners and handed over to the "state" enterprise "Markets of Donbass". This "nationalization" was declared one of the greatest successes of the "republic".