Propagandists of the "DNR" could not confirm the facts of the accusations of the AFU in the shelling of the cemetery in Horlivka.
Information, that Ukrainian troops shelled a large crowd of people who came to the graves of deceased relatives on the Day Commemoration, appeared in the separatist media on Sunday morning. All the reports quoted the statement of the head of the occupation administration of Horlivka Ivan Prikhodko that "the Ukrainian security forces opened fire at the central cemetery in Zaitseve, where over 700 people gathered on a Commemoration Sunday". It was noted that people hurriedly left the place of shelling.
Fake "deputy of the People's Council of the DNR", Sergei Zavdoveev, said that "on every big holiday, they (AFU - OstroV) are trying to shell large gatherings of people to inflict maximum damage". At the same time, he knew perfectly well that even according to "official" information, none of the civilians was killed and wounded as a result of the "shelling" of grenade launchers and small arms.
Complete lack of any evidence causes the doubt about the truthfulness of accusations that the Ukrainian troops committed such a horrible act of terrorism. It's hard to imagine that none of the 700 people, allegedly caught by the shelling at the cemetery, did not record at least part of what was happening on their smartphones. There were no visual proofs of "the consequences of the shelling" as well.
Separatist media illustrated their "news" with old photographs of destroyed cemetery monuments and random funnels on the roadside.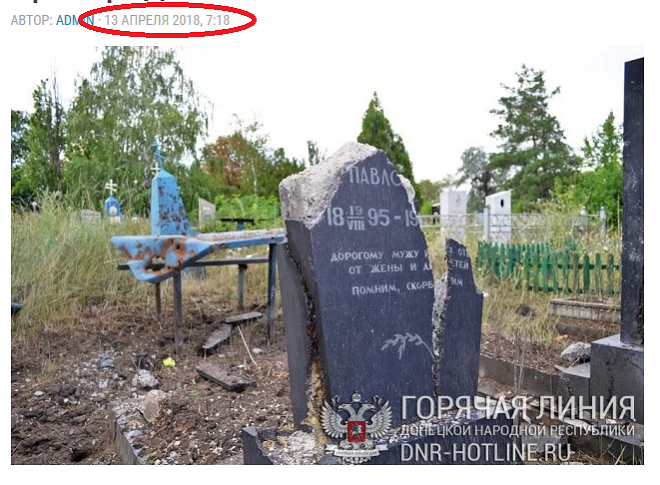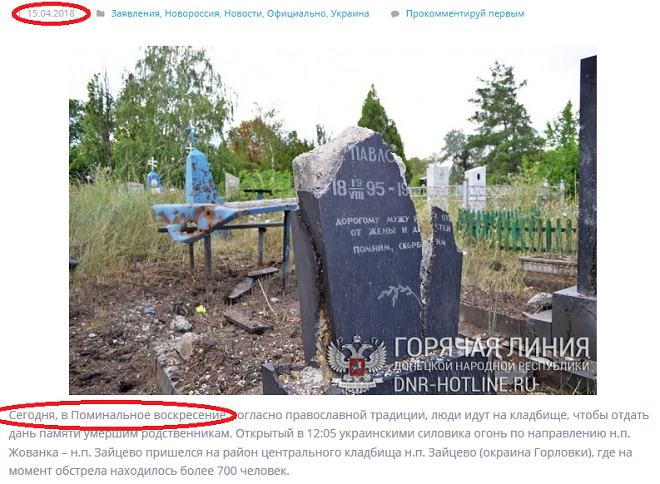 And some "photo evidence" are clearly fake. The photos were made in winter season, as snow can be seen on the ground.