It has become increasingly difficult to get simple answers to seemingly simple questions in the aggressive information flow. We'll try to explain topics full of rumours and speculations in a maximum laconic and comprehensive way in our section "Sharp issues".
What happened?
The so-called "authorities" of the self-proclaimed "DPR" say more often that prices on basic foodstuffs in the "republic" are actually equal with the Ukrainian ones and some items of goods have become even cheaper. In addition, utilities in the "capital of the DPR" are allegedly several times cheaper than, for example, in Kiev.
Is it true that prices on food and utilities in the "DNR" are lower than on the territories controlled by Kiev?
In fact, prices for socially important products actually decreased in the "DPR" in 2015 and reached the level of the general Ukrainian prices. In terms of utilities, the tariffs have not actually changed since times before the war. We present the February data of State Statistics Service of Ukraine and the so-called "Ministry of Economic Development of the DPR" to clarify the situation. But even despite the fact that the prices on certain products in the DPR are lower than in Ukraine, the possibility to buy them in the "republic" is much less possible.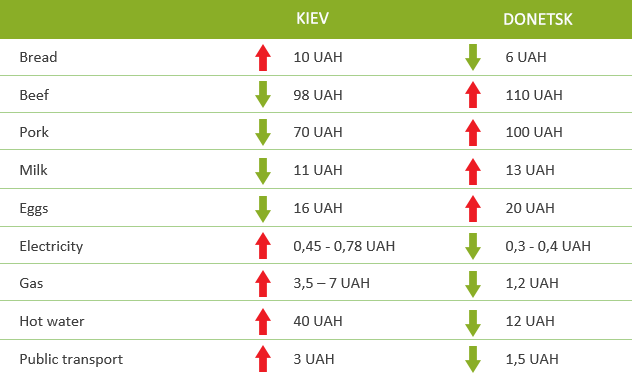 And what's with jobs and salaries in the "DPR"?
According to the World Food Programme (WFP) in October-November 2015, the average salary which is offered by employment centers on the territory of the self-proclaimed "DPR" is about three times lower than the general Ukrainian one - about 1,600 hryvnias while in Ukraine it is 4500 hryvnias.
Employment in the "republic" is still not easy. There are practically no good paying jobs and the industry is working only at a small part of those indicators that were before the war.
Is it true that pensioners in the "DPR" are considered almost the most prosperous among the residents of the "republic"?
More or less regular pension have been paid in the "DPR" since April 2015. They just multiplied Ukrainian payments by two when converted into rubles. And before that they gave 1000 hryvnias to pensioners a few times in six months.
The amount of the "republican" pension is very small - about 3000 rubles. Many pensioners receive also a Ukrainian pension which is even a bit more when converted into rubles. Authorities of the "DPR" do not prohibit this practice but rather encourage.
The "republic" has, in fact, a paradoxical situation when one of the most prosperous groups is pensioners. As double and – more importantly - regular pension allows a relatively save life in the "DPR".
Ruslan Biryukov, OstroV