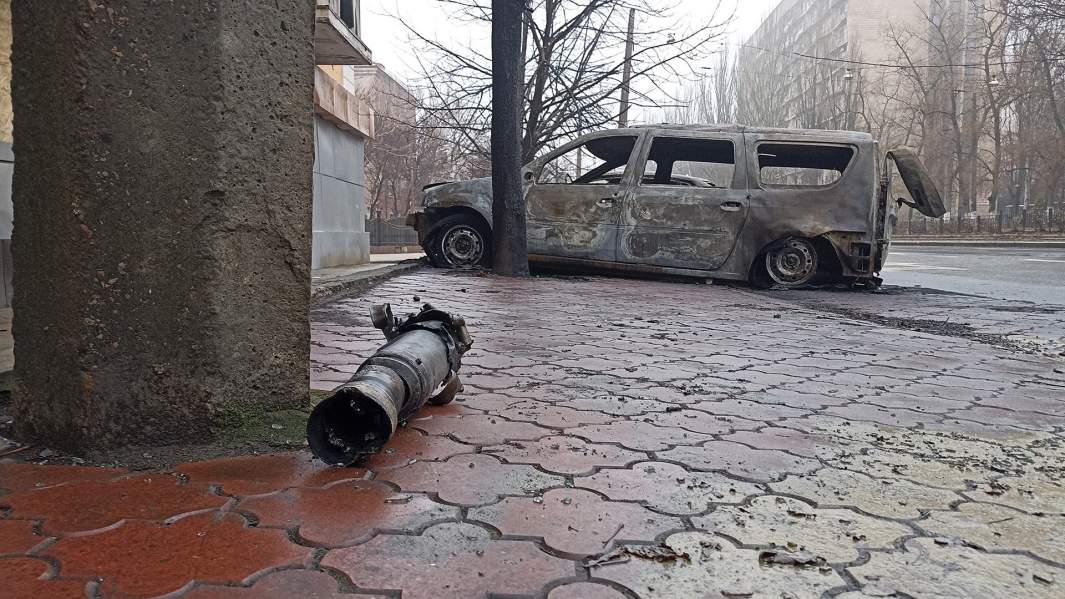 Life in Donetsk has drastically changed compared to February 2022. For those who left and were forced to return for some reason, the differences are striking. The city wakes up at six in the morning, and by five in the evening the streets are already empty. This was not the case before. By the way, those who left after February 2022 mostly come back to bury their loved ones who remained here and passed away. However, this applies to those who went to russia. Traveling from Europe takes a long time, it is dangerous, and there is a risk that this short-term return could result in a loss of social benefits in the receiving country.
There are far fewer public transportation vehicles in the city. Sometimes people wait at bus stops for over half an hour.
There is a huge water shortage. Technical water is supplied once every three days for three hours in the evening. It doesn't reach the upper floors of apartment buildings at all. Purified drinking water is distributed to the population on a weekly basis.
It is not openly discussed, but people try not to use the toilet more than absolutely necessary, they shower once a week and do laundry once a month. And this is after the launch of the water pipeline from the Rostov oblast. They say that the situation was much worse before that.
People watch russian television because for most, Ukrainian channels are not available. Mostly, they watch entertainment programs. They don't trust russian news, just like before the full-scale invasion. However, they passively and casually perceive the information. Few actively search for news about current events. They obtain the necessary information from social networks, where there is a lot of fake news. For example, there are fake stories about a ban on Ukrainian passport holders crossing the Estonian border.
The belief in russia's indisputable victory is no longer there:
"Putin aimed for a big piece. That's where all the troubles come from... Another year, maybe two. But most likely, everything will be decided this year". However, people try not to think about what exactly will be decided and in whose favor.

"Can you imagine the level of motivation on the other side? How many people have taken up arms? And they won't retreat, they will fight to the end. And here, these Buryats constantly ask, "Why the hell are we here? Who are we defending this damned Donbas from?" There aren't many russian Buryats, but there are millions of motivated Ukrainians with weapons!"

"There's also a war on the other side. I watched a report on how a house was burning in Donetsk and how a house was burning in Dnipro. People died there and people died here. Our people are dying there and here. They are forcing us to kill each other"
A young priest from the church in Larinka (Leninsky district, Donetsk) surprised with his sermon: "For everything that is happening in our city right now, it's not geopolitics, not russia or Ukraine, that are to blame. We are to blame, each and every one of us. We remember God only when trouble comes knocking on our door. When was the last time any of you prayed? When was the last time any of you went to church? Prayer should be a daily practice, not something done sporadically. God has forgotten us because we have forgotten Him..."
There is a huge shortage of nurses and specialized doctors. Most hospital wards are closed, and civilians receive outpatient treatment. Separate hospital wards have been opened for the military. There are only two hospices in the city, and there is a massive queue to get in. Even with substantial bribes, it's impossible to gain admission. Emergency doctors lack painkillers and recommend to relatives, "Leave your sick loved ones to die at home because hospitals are closed, hospices are full, and we have nowhere to take them. Don't torment them or us..."
Overall, the situation with healthcare is catastrophic. Amidst shelling and constant stress, people's chronic illnesses have worsened, and the number of cancer patients has sharply increased. However, there is no one to treat them and no resources available. Moreover, people don't have the money to seek treatment... Painkillers are also unavailable.
Yet, people hesitate to leave, justifying it by not wanting to create problems for their loved ones. Although it is pure selfishness, because in reality, they create both moral-psychological and material problems for their families when they have to cross multiple borders to bury a loved one they did not help. Moreover, not everyone can even attend the funeral. They are left living with a sense of guilt, which becomes a source of illness...
If a person dies and there are no relatives nearby, the local police (if the relatives' phone numbers are available) inform them: "Either you come within three days and arrange for the burial, or your relative will be buried in a mass grave, and the property will become the property of the republic..." The journey from Europe to Donetsk through russia takes an average of 5 days...
Schools are operating remotely, but only for students. Teachers are required to be present at their workplaces. The russian Ministry of Education demands that schools in Donetsk adhere to russian standards, even though they are operating under war conditions. All schools have been damaged by artillery shelling: there are no windows, heating and water supply. The city authorities have been dragging their feet on repairs for six months. Teachers have been freezing all winter. While teachers express their outrage, they do not quit. Russia has significantly increased salaries (several times over) for the remaining in the occupation teachers and healthcare workers.
There are groceries available, but prices are high. Many grocery stores have disappeared in the past year. Russian retail chains are entering Donetsk. Their target audience is the military and conscripts whose monthly salaries range from $2000 to $3000.
The cost of real estate has sharply increased. A three-room apartment in a shelled district (there are no districts left unaffected by shelling) is estimated at around $50,000. Even for a shelled house with a ruined roof and walls, decaying utilities, and 600 square meters of land, they demand $50,000. People say that real estate will continue to rise in price and recommend not to rush to sell.
However, russia is attempting to regulate the real estate market in the "DNR". In the next six months, it is prohibited to make any real estate transactions in the "republic" until it transitions to russian standards. And the second condition is that transactions will only be allowed for individuals who have obtained russian citizenship. If you haven't submitted your documents for russian citizenship by November 2023, you will be considered a "foreign agent" without the right to dispose of your property. Ukrainians who have left and haven't paid utility bills for over six months also lose their property rights.
It's no wonder that people are trying to leave such a "paradise", but even that is not so simple.
However, that is another story. As they say, to be continued.
By Maksym Ksylantiev, for OstroV