Yesterday, I read about the time loop as a commonly used technique for science fiction. My present day is a graphic illustration of that loop.
I had been standing in the queue to the local "LNR state bank" for forty minutes. The guard let in women with children and old people out of turn. The temperature was above +40°С. For forty minutes of waiting, I was filled in on life of the "republic", including historical references and recipes. People discussed tomato prices in local markets and mistakes of Ukrainian politicians as the biggest problem here. These two topics were somehow tightly and very organically connected.
By the way, we were standing under the PrivatBank building, which became "national property" after the summer of 2014, with all the furniture and equipment. I suppose that the staff remained the same, only the name and some details of the enterprise have changed: the currency in which they pay the salary and its size. Nobody bothered with any renovation, even the corporate color of PrivatBank on furniture and walls stayed the same. Apparently, it is not the time to think about renovations.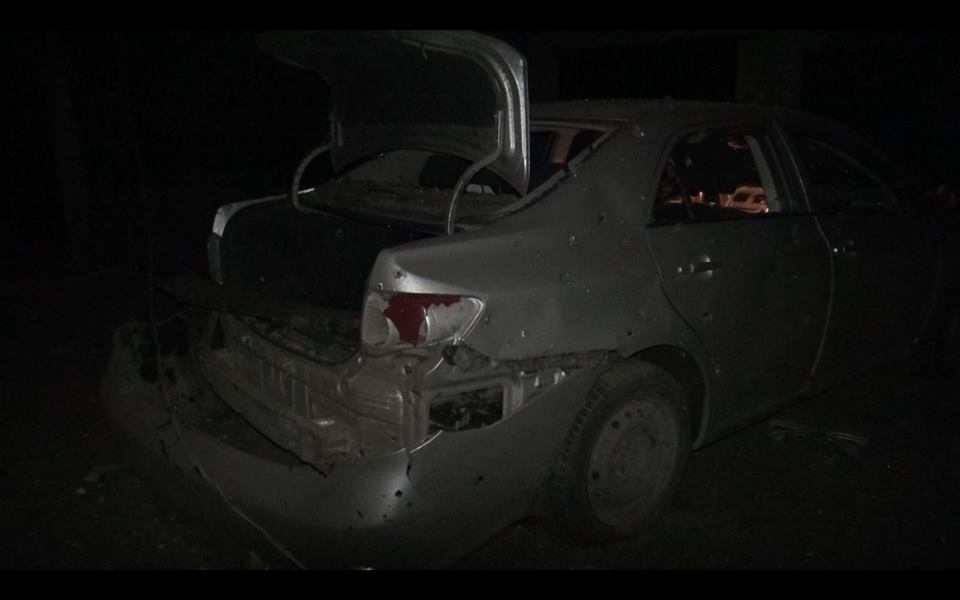 But let us get back to tomatoes. Tomatoes, sold in Luhansk, are entirely from Stanytsia Luhanska, just like cucumbers. Price for cucumbers is $0.75 per kilo, tomatoes cost $0.25-0.95. Someone complains that if there is no canning, there will be a hungry winter. And that you need to monitor market prices in order to "take out a jar, open it and be fed in the winter". You need to search, buy and do everything by yourself, because it is half cheaper than buying a ready-made tomato paste. In general, these conversations about the same things are eternal.
As promised, the nearest market sells tomatoes in the specified price range. By the way, this summer Luhansk has suffered harvest failure of strategically important vegetables – everything has burned from the heat. There is nothing to choose from. Prices are biting. Cooked corn on the cob is sold for $0.35-0.50 per cob. The same as in the Crimea, and there, by the way, it is considered to be a high price. While I was choosing, several people walked away from the stall with a sigh – it was too expensive for them. Raw corn can be found for $0.16 per cob, because its season ends, and the price falls.
Then it gets funny. There is an entirely international market in Luhansk. The other day I heard the expression that "we all come from the USSR". The phrase is perfect for describing this market. I was lost in an assortment of sausages "made in" Belarus. I have not bought anything from this stall yet so I was considering it. I have not found anything local or at least familiar. I tried to estimate how many hours those meat products spent on the road, because they were clearly frostbitten and changed color. It was useless to ask the seller about the quality, nobody would say their goods are bad. In the meantime, buyers took them quite briskly, obviously not for the first time.
I often hear that the Belarusian goods are cheap. This also surprises – with the condition of delivery here, extra charges and so on, imported products are still twice cheaper in the local "Luhansk delicacies". How can this be? The puzzle.
By the way, show-window at the market is entirely international: Russian halva, beer from Ossetia, sausages and cheeses from Belarus. I buy the latter despite the embarrassing color and price. At the same time, I understand well that claims can be made only to yourself and to your common sense.
But the line of mayonnaises is quite familiar – Ukrainian. And again, the question: how is it being brought here? It is clear that by smuggling. My friend told me that spare parts for equipment and telephones at his factory were brought here in boxes with frozen chickens. I wonder how is the mayonnaise brought here in such an amount? Mayonnaise is at least in sealed packaging, and all that threatens me is poor quality and lost money. But I, like many other buyers, want the habitual taste, trusting those who bring our favourite products here and taking all these risks in advance…
By the way, there is a simple option to bring here what we know and like by ourselves. Not to pay for bacon $4.15 per kilo, if you can buy it at $1.17 in the same Stanytsia (which is much less against these $4.15 and higher here). But all the same + 40° C is on the street. And all this favourite and often vital is gaining heavy weight in bags. Do not forget about drugs and butter (the favourite Bilovodske is $6,31 per kilo here). People try to carry conservation from here – all in their hands across the bridge. The exploits of nameless heroes.
On my way home, I meet a couple of people who are carrying heavy bags with food from Stanytsia, being quite sure that they are doing an incredibly good thing for their family, – there are sweat and happiness on their faces. It is scorching hot. There are bacon, meat and even dairy in the bags. It makes no sense to talk about the standards of storage and transportation of such products. Saving and family budget are at stake. Whether you buy it here very dearly or there, with the risk that it will be spoiled on the way home.
By the way, at the end of the day, the residents of Khruschev-era house universally ban children from other houses from the visit of children's playground. The playground itself is open from all sides. But only "its" children can use it. If there was at least a fence – there are just hand-made announcements about the prohibition for "strange" children to play in their yard. I am smiling – everything is so strange. The nationalization of someone else's and the ban on what is of common use.
And on my way home, I notice a portrait of Stalin on the windscreen of minibus. It was always there, but I see it now.
Everything is quite natural in the new life. We return "back in the USSR" with new values, strange experience and huge prices. The only invariable thing is that you can still find products from almost all the former Soviet republics. There is just one disadvantage – the very few people are able to afford it.
Olha Kucher, Luhansk, for OstroV