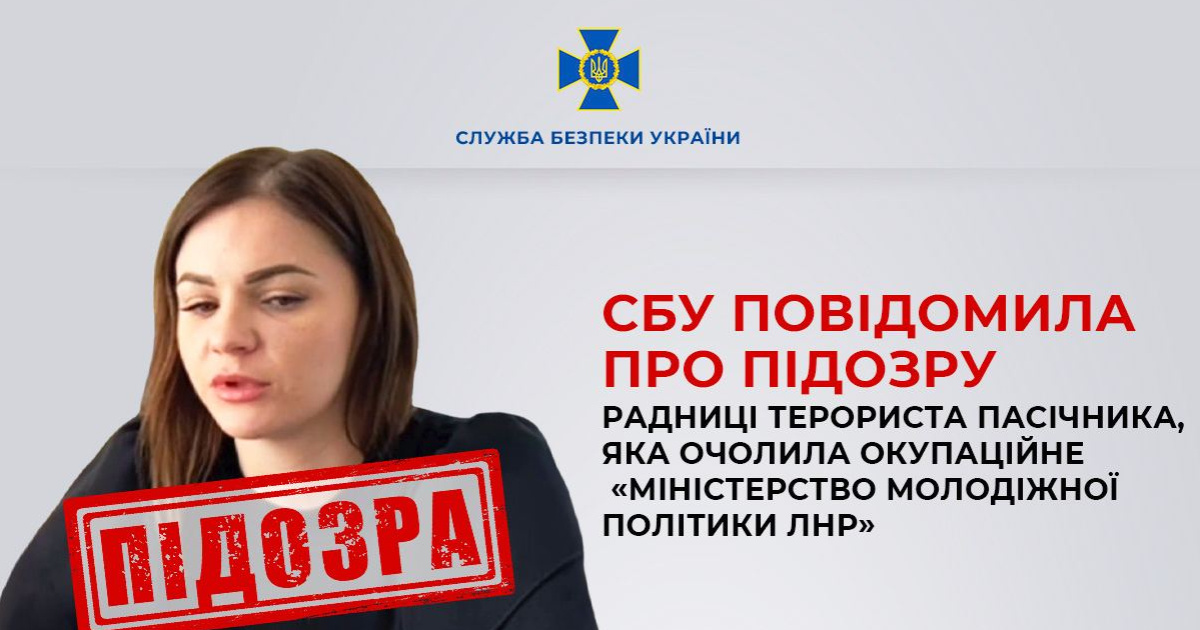 The Security Service of Ukraine announced suspicion against the former advisor to the terrorist Pasechnik, who assumed leadership of the occupation's "Ministry of Youth Policy" in the temporarily occupied part of the Luhansk oblast. This was communicated in the agency's Telegram channel on November 2.
"The Security Service has collected evidence against collaborator Yuliia Velychko, the so-called 'Minister of Youth Policy of the LNR' in the temporarily occupied part of the Luhansk oblast. She was appointed to this 'position' in June 2023. Prior to this, she served as an advisor to the leader of the terrorist organization 'LNR', Pasechnik, and encouraged local youth to support the russian invaders following the start of russia's full-scale invasion", - the message stated.
It is noted that in her "ministerial role", the collaborator coordinates activities of the aggressor's established "Youth Parliament of LNR". This is a captious pseudo-institution designed to create the illusion of kremlin regime support among young residents of the seized Luhansk oblast on a public level.
Furthermore, Velychko organized the selection of "candidates" among local collaborators for the "Youth Parliament at the State Duma of the russian federation" in moscow. There, the young "delegates" undergo ideological indoctrination in favor of the kremlin and receive manuals on recruiting their peers from the occupied Donbas to support the aggressive war against Ukraine.
"Based on the collected evidence, the investigators notified Velychko of suspicion under Article 111-1, Part 5 of the Criminal Code of Ukraine (collaborative activities). Currently, the suspect is evading justice in the temporarily occupied eastern part of our state. Comprehensive measures are ongoing to hold her accountable for crimes against Ukraine", - the message said.
It is emphasized that the perpetrator faces up to 10 years of imprisonment.
Previously, it was reported that the head of "LNR State TV and Radio Company", Prasolova, received suspicion, potentially facing up to 12 years of imprisonment for propaganda.
Earlier reports also disclosed the exposure of collaborator Zinaida Naden from Luhansk, involved in financing the occupation administration and militants.