A powerful propaganda campaign designed to justify russian aggression against Ukraine with the need to protect against genocide was launched in the occupied Donbas. Numerous videos and publications in local media testify to this.
The main message of the fake statements is reference to UN data on the alleged systematic destruction of 13 thousand civilians by Ukrainian troops in CADLO.
"According to the UN, 13 thousand people died during the conflict in the Donbas, including more than 100 children. But neither these victims, nor other sufferings of the population of the LDNR due to the AFU shelling for 8 years of hostilities caught the eye of the world", - the authors and performers of the propaganda campaign are indignant.
In fact, the reported death toll (13-14 thousand) refers to both civilians and military casualties on both sides.
As for civilians, for the entire period of the conflict, from April 14, 2014 to September 30, 2021, UN OHCHR recorded 3 095 civilian deaths. At the same time, the vast majority of deaths occurred in 2014-2015, when the russian-backed Donbas separatists tried to occupy the Donetsk and Luhansk oblasts, when sanguinary battles took place near Ilovaisk, and the heavy artillery of the "DNR/LNR" shelled Debaltseve, driving out the AFU units from there.
In subsequent years, against the backdrop of signing of the Minsk agreements, the number of civilian deaths steadily decreased and in 2021, that is, on the eve of the russian invasion, the UN recorded 18 deaths.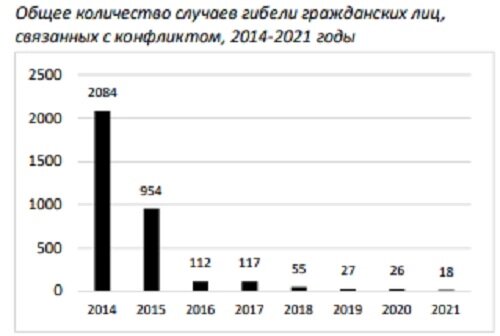 Thus, all statements about the genocide of the residents of Donbas being carried out by Ukraine and the need to unleash a war are gross manipulation. Moreover, since the beginning of russian aggression, there has been a sharp jump in the number of civilian deaths – the number goes to tens of thousands.