President of Ukraine Petro Poroshenko said that he had nothing to do with the creation of a Panamanian offshore companies to restructure his assets. He wrote about that on his Facebook page.
"I am the first official in Ukraine who is committed to declare his wealth, tax issues and conflicts of interest which I solve under Ukrainian law and private international law. As A President, I stood from asset management, entrusting the matter accordingly to consulting and legal companies. I expect that they will provide a comprehensive explanation for the Ukrainian and international media,"- stated P. Poroshenko's statement.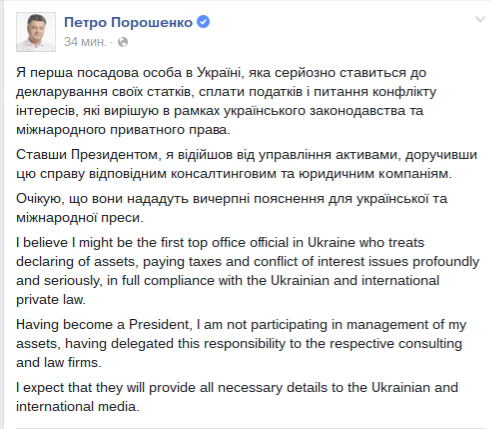 As previously reported, Anna Babinets' investigation "Double Life of President" for Slіdstvo.Іnfo programme said that the President Petro Poroshenko had not t transferred his assets to the trust but istarted restructuring of Roshen assets by creating three offshore companies.