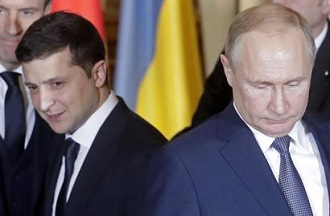 The meeting of the Normandy Four leaders has been postponed due to Russia's position. This was reported by President of Ukraine Volodymyr Zelensky at the Ukraine 30 forum today, - correspondent of OstroV reports.
"The clusters have been worked out - these are steps towards the practical implementation of the Minsk process. The clusters have been developed by the German side and agreed with France. We support them in general. They were transferred to the Russian Federation, and we all see that the Normandy meeting is being postponed because of the position of the Russian Federation. It is important that the three of us understand this", - Zelensky stated.
According to Zelensky, Ukraine is doing everything to make the meeting in the Normandy format take place.
As previously reported, in November 2020, France and Germany proposed the idea of implementing the Minsk agreements through the mechanism of the so-called "clusters", which should agree on a view on the sequence of implementation of the points of the Minsk Agreements.