Puppet "heads of the republics" of the occupied Donbas Denis Pushilin and Leonid Pasechnik are calling President of Ukraine Volodymyr Zelenskaya to a meeting. Both leaders announced this in similar video messages.
Earlier, Volodymyr Zelensky invited his Russian counterpart Vladimir Putin to hold a meeting in the Donbas and discuss ways to end Russian aggression there.
The head of the Kremlin refused to meet, having stated once again that Russia was allegedly not a party to the conflict and Kyiv should communicate directly with the puppet authorities of CADLO.
"If we are talking about discussing the problems of Donbas, then, first of all, the Ukrainian leadership should meet with the leaders of LNR and DNR republics, and only then discuss these problems with representatives of third countries, which in this case is Russia", - Putin said.
Encouraged by such support, Pushilin and Pasechnik actually repeated the words of the Russian president in their addresses to Zelensky, having attributing them to themselves.
"I urge you, Mr. Zelensky, not to invite the leaders of third countries to the contact line, but it is better to go there yourself for an honest and open conversation with us. Together with Head of the Luhansk People's Republic Leonid Pasechnik, we are ready to meet you personally and in detail and professionally communicate about the situation and the ways of its peaceful settlement", - the leader of the "DNR", in particular, stated.
At the same time, both Denis Pushilin and Leonid Pasechnik chose the flag of a "third country" as a background for their video message, thus making no secret that Russia is the moderator of the idea of direct negotiations between Ukraine and the non-decisive "heads of the DNR/LNR".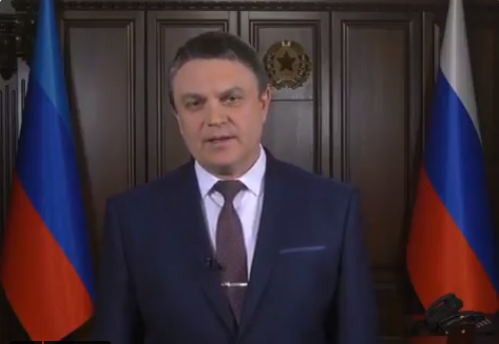 As previously reported, a joint statement of 46 UN countries on the occasion of the seventh anniversary of adoption by the UN General Assembly of the resolution on the territorial integrity of Ukraine argued that Russia was a party to the conflict in the Donbas, and not a mediator.