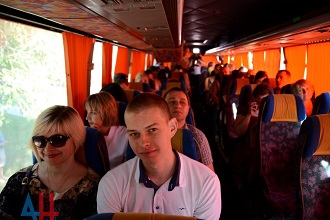 Thirty-four residents of the occupied part of Donetsk oblast went to the village of Pokrovskoye in the Rostov oblast to receive passports of the Russian Federation. This was reported by head of the so-called "Migration Service of the DNR MIA" Vladimir Krasnoshcheka.
According to the official-collaborator, 34 people left for the passports of a foreign state on Friday.
"This is the first trip, it is planned to deliver citizens to the territory of the Russian Federation on a daily basis according to the lists we are provided with", - he said.
He clarified that as of today, more than eight thousand packages of documents for obtaining Russian citizenship passports have been received from residents of the occupied part of Donetsk oblast.
Similar bus with "passport tourists" was sent to the Rostov oblast from the occupied Luhansk region.
As previously reported, on April 24, 2019, Russian President Vladimir Putin signed a decree on the simplified acquisition of Russian citizenship by residents of the occupied Donbass. Ukraine expressed a strong protest, calling such actions of the Kremlin violating the Minsk agreements and not contributing to the normalization of situation in the east of Ukraine. The USA and EU countries have declared their readiness not to recognize Russian passports issued to citizens of Ukraine this way.