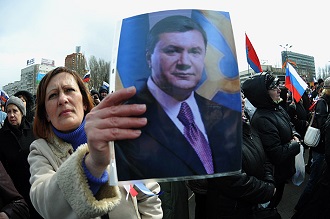 The creation of an "autonomous republic" in the east of Ukraine headed by ex-president of Ukraine Viktor Yanukovych was offered to head of Trump's campaign Paul Manafort by Russian intelligence officer Konstantin Kilimnik. This is stated in the report of special prosecutor Robert Muller, - RBC-Ukraine reports.
The report says that Manafort subsequently acknowledged that the plan "provided for an "informal" way for Russia to control the East of Ukraine" and refused it.
"Manafort and Kilimnik discussed (on August 2, 2016 - ed.) the plan for solving political problems in Ukraine, which included the creation of an "autonomous republic" in the industrial region in eastern Ukraine, Donbass, and election of the exiled in 2014 Ukrainian President Yanukovych as head of this "republic", - the report says.
As previously reported, on April 18, 2019, the United States Department of Justice published a report by Special Prosecutor Robert Muller on the results of the investigation into the Russian intervention in the U.S. presidential election in 2016. On April 18, Prosecutor General and head of the U.S. Department of Justice William Barr read out a part of Muller's report, which says that the Russian Federation intervened in the 2016 election in the USA, when Trump was elected. However, according to Muller, the administration of the U.S. president did not cooperate with the Russian party.