There has been a rise in price of the main types of social products and services in the occupied territory of Luhansk and Donetsk oblasts since July 1. This is reported by correspondents of OstroV from Luhansk and Donetsk.
So, the most popular kinds of bakery products in the "LNR" have risen in price for 2 rubles.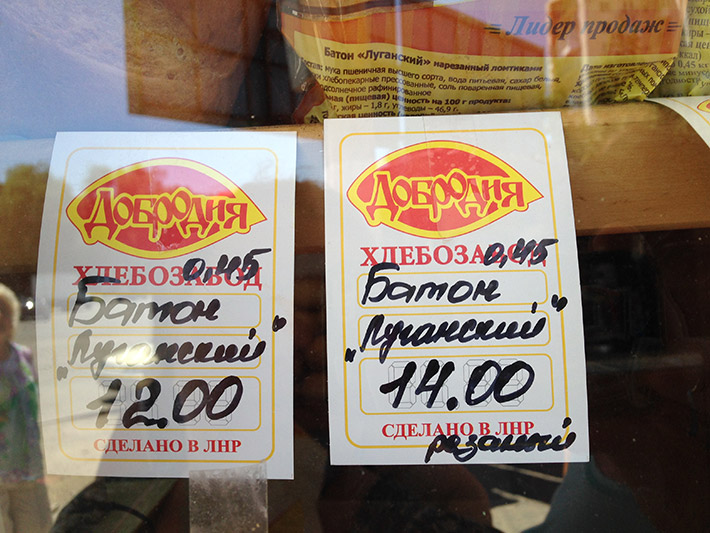 In turn, the cost of travel on city bus routes of general use increased for 2 rubles in occupied Makiivka from July 1. The rise in price has affected both public transport and fixed-route taxis.
If earlier, the trip by buses costed 8-9 rubles, and by minibuses - 9-10, then from July 1, residents of Makiivka began to pay 2 rubles more.
Such decision was adopted by the decree of the "head of the Makiivka administration", which appeared after the meeting of road carriers with the "DNR" leader A. Zakharchenko. At this meeting, the carriers argued for the need to increase the price of travel by increasing in the cost of gasoline and diesel fuel.
Similar price increases have occurred or are being prepared in other occupied cities of Donbass.
Correspondents of OstroV also note a significant rise in price of gasoline and other types of fuel, including gas. If A-92 and A-95 petrol costed 42 rubles in the spring, then today it is from 52 to 57 rubles.
It is noted that therere was a general rise in price of products in the markets in connection with rise in price of gasoline. On the average by 40%. The assortment of goods has noticeably decreased.
Let us recall that on June 28, responding to a question about the rise in price of goods and services, Alexander Zakharchenko explained it by the economic situation in Russia.