The occupation authorities of the "DNR" have avowed that they are actively using the weapons forbidden by the Minsk agreements. This conclusion can be reached by analyzing the statements of the "republic's" leaders about the creation of their own systems of rocket launcher systems, as well as demonstrated samples of the supposedly new achievements of the military-industrial complex of militants.
In particular, as part of the farce parade, an unusual exhibition of achievements of the "war industry" of militants was presented in occupied Donetsk on May 9. Among other things, two samples of MLRS, allegedly designed by local designers and manufactured at the "DNR" enterprises, were shown.
Having left aside the reliability of information on the originality and effectiveness of the types of weapons presented, it is worth paying attention to their specifications stated. So, some MLRS Snowflake allegedly has a caliber of 324 mm, what exceeds the specification of Soviet Smerch (300 mm).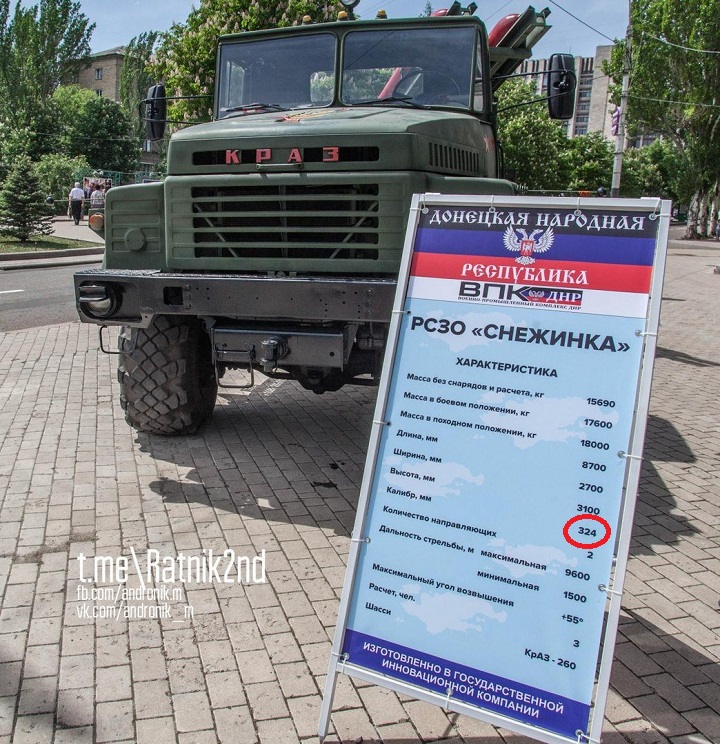 MLRS Cheburashka was declared as a multiple-launch rocket system, which has 32 rockets of 217 mm caliber. This caliber is far more than Grad multiple rocket launcher banned by the Minsk agreements has (122 mm).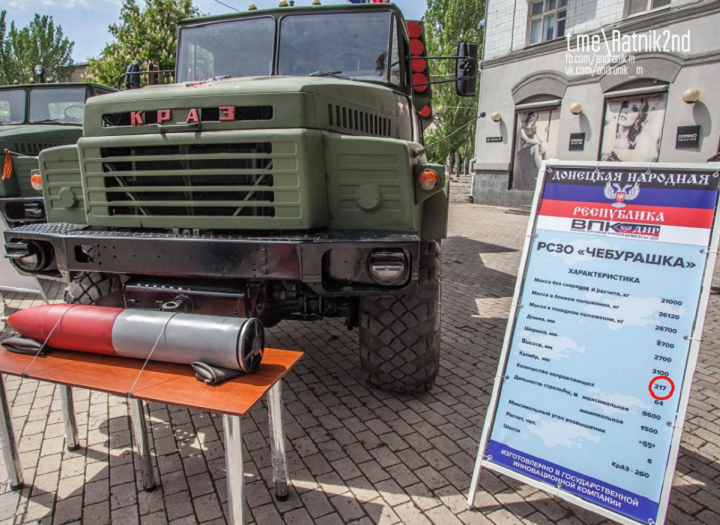 According to the Minsk agreements, weapons of such caliber must be withdrawn from the contact line by 70 kilometers! The document clearly prescribes "the withdrawal of all heavy weapons by both parties to equal distances in order to create a security zone with a width of 140 km for MLRS Tornado-S , Uragan, and Smerch.
In other words, the use of weapons of indiscriminate effect is categorically prohibited by the Minsk agreements. At the same time, one of the "DNR" leaders, who calls himself "vice premier" of the occupation government, Alexander Timofieyev, admitted that each MLRS of the presented on the farce parade committed 10 military trips. In other words, the "DNR" authorities blatantly state that they have staged strikes at least 20 times on the AFU positions.
At the same time, in all official statements, the militants assure that they do not use weapons banned by the Minsk agreements.