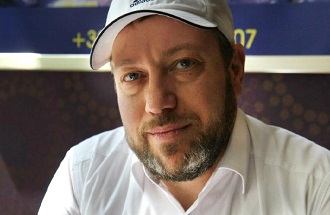 Displaced person from Donetsk and volunteer Leonid Krasnopolsky was killed in a road traffic accident yesterday afternoon, - his wife Olha wrote on Facebook.
"Leonid died in a road traffic accident yesterday afternoon", - a short message said.
From the very beginning of Russian Spring, designer from Donetsk Leonid Krasnopolsky was helping the Ukrainian military, for what the militants threw him "to the basement" in the seized by the SBU building after the denunciation. After his release, he left the occupation zone and settled in Dnipro. As a volunteer, he launched a project to produce patriotic T-shirts. He sent share of profits from their realization to help the AFU.
The road accident occurred around 12:50, - Informator reports. According to eyewitnesses of the accident, Toyota Prado and Kia cars with Donetsk numbers were traveling along the Embankment of Victory in the direction of the ring. Leonid Krasnopolsky made a left turn, at that moment, Toyota Prado rammed his car in the side.
As a result of hitting, the left side of the body was severely deformed, the driver received fatal injuries. Having arrived at the scene of accident, medical workers pronounced him dead.