False information about shelling of the Donetsk filtering station by the Ukrainian army was spread in the "DNR". Separatist and Russian media disseminated the information, submitted by the so-called "representation" of the DNR, the Joint Center for Control and Coordination (JCCC) on ceasefire and stabilization of the demarcation line between the parties, that allegedly on December 4, the DFS was shelled from positions under the control of the AFU.
Propagandists of the "DNR" even provided a scheme, from which it supposedly follows that the shelling was from the territory, controlled by Ukraine "from the Kamianka – Blue Lakes sector".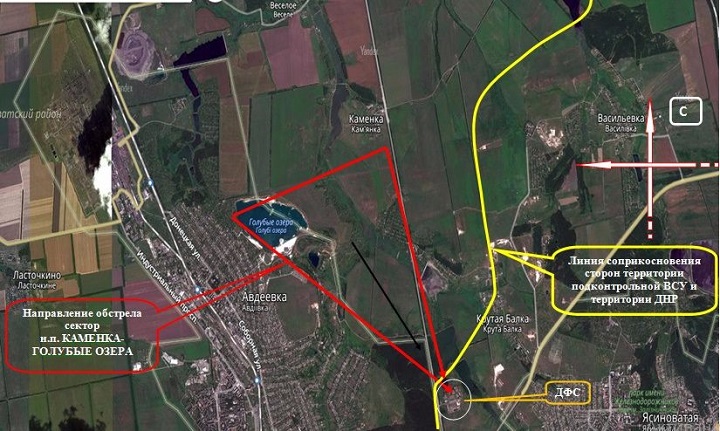 The militants seem to confirm their words and illustrations with conclusions of the OSCE SMM, which says that "as a result of analysis of the direction and places of the ammunition impact, direction of the shelling has been established". However, in the publications of separatist media, a fragment of the Mission's report was intentionally omitted, which literally says that "according to observers' estimates, the fire was from the south-south-east direction".
On the base map, presented by the separatists themselves, it is impressive to see that the positions they designated, from which the AFU allegedly fired on the DFS, are located north-west of the place of impact. The illegal military formations, controlled by militants, are located in the southeast.
Furthermore, in the desire to illustrate their own fakes, the "DNR" propagandists posted a photo of unexploded mine, the tailfin of which clearly shows the direction from which it was fired. The cant angle of the ammunition leaves no doubt that it was fired from the side, opposing the AFU positions. That is, from the southeast.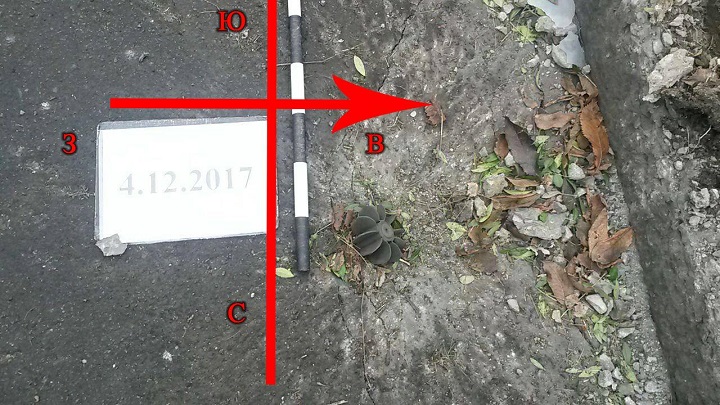 Moreover, in their reports, the militants "forgot" to include yet another fragment of the OSCE SMM report that the consequences of shelling were eliminated by Ukrainian rescuers: While present, the SMM saw a member of the Ukrainian State Emergency Service pull out the tailfin… The SMM also saw an unexploded round from an under-barrel grenade launcher (VOG-25P)…, which had been cordoned off by staff of the station and later removed by the Ukrainian State Emergency Service staff".