Russian adviser to the "DNR" leader Alexander Kazakov has spread deceptive information that Poroshenko and Merkel had allegedly agreed that Ukraine would accept 20 thousand refugees from the countries of Asia and Africa, who are now in Germany.
As a "source of information," he quotes local German website, which writes without furnishing any proof: "It is impossible to name such countries like Moldova or Ukraine that seek EU membership civilized and democratic. But the desire of these countries to help the European Union in resolving some issues deserves approval. It is about Ukraine's readiness to accept and harbor refugees from Europe… Ukraine expressed its readiness to accept 20 000 refugees from Europe by the end of 2018. It can be assumed that above all, Ukraine would accept migrants from Bavaria".
One can only make a guess why information about such an important event in the life of two countries appeared only in the media of a small German town in Bavaria – no one else has written about this arrangement.
The "news", which was willingly spread even by the Russian media, contains no specifics and is not confirmed by some facts or quotations. Furthermore, this website allows you to place texts of ordinary citizens through the reader module. In case of this news, the author posted some popular avatar instead of a photo. Anonymous accounts or bots are marked by such avatars on social networks. This "author" has one single news on the website. He registered on October 31 as a user, and on November 1, he released this "sensation" to the world.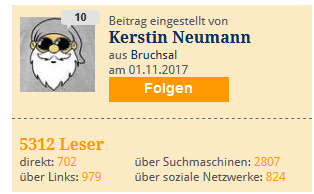 The fact that the "news" is clearly intended not for the German reader, but for subsequent replication with reference to the Western media, is evidenced by the fact that the text is illustrated by more than one hour Ukrainian-speaking video of a round table meeting of one of the non-governmental organizations of Ukraine. At the round table, not a single word was voiced in support of the publicized "sensation" about Ukraine's readiness to accept 20 thousand refugees – it was only about forming a tolerant attitude of Ukrainians to refugees in general.