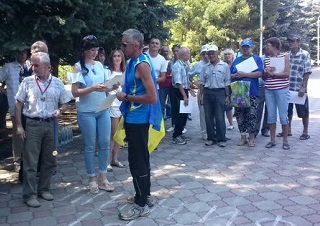 Viktor Stepanenko, the master of sports in polyathlon went to the award ceremony with the Ukrainian flag and tore up a commendation of the "LNR" in the occupied Kadiyivka (Stakhanov) of the Luhansk oblast. This is reported by the so-called "Ministry of State Security" of the fake republic.
The militants hastened to explain this patriotic act by "threats and blackmail" on the part of the SBU. The detained by the "Ministry of State Security" sportsman stated later on the video that "he was forced to go on provocations in exchange for the mother's life".
The "confession", made by the Ukrainian sportsman in torture chambers of the "Ministry of State Security" is easily explained. Employees of the republic's punitive agency stated that they "warned" Viktor Stepanenko that the demonstration of Ukrainian flag is "cooperation with foreign secret services" and he could be imprisoned for 20 years.
According to the terrorists, such actions are "the incitement of hatred or enmity, as well as the abasement of human dignity".
Users of the networks report that the brave athlete was "thrown to the basement". The "Ministry of State Security" maintains that "taking into account all the circumstances, Viktor Stepanenko was warned about the illegality of such actions". Nothing is reported about his future fate.