The militants closed Lviv Chocolate Factory in occupied Donetsk because of the refusal to serve the self-styled "mayor" Igor Martynov. This was reported by blogger Stas Vasin on his Facebook page.
Lviv Chocolate Factory was still closed in Donetsk after the incident with the "mayor" - wrote the blogger.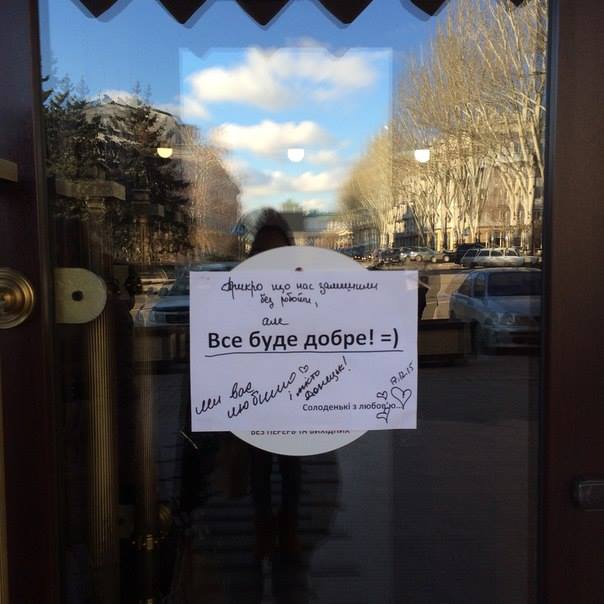 As reported by OstroV, on December 10th Lviv Chocolate Factory in Donetsk refused to serve the self-styled "mayor" Igor Martynov who wanted to show on the Russian propagandistic TV channel wanted that Ukrainian national establishments work freely in the occupied city.
"Of course, these things need to be cut short! The authorities in Donetsk are single and they are the authorities of the Donetsk People's Republic. The other authorities will not be here! If you do not want to obey the authorities of the DPR, so, friends, go bollocks! Lviv Chocolate is easily replaced with Babaevskiy! To allow the "separate" cafe in the DPR city is unacceptable by definition. In such cases, it's necessary to use power! "- described one of the ideologists of the "Russian Spring" Roman Manekin future job prospects of the popular in Donetsk place after such "reception" of Martynov.
His associate Sergei Golokha added improvised denunciation on Lviv Chocolate Factory.
"I will add this establishment has no price tag with price in rubles. But this is a huge violation of the by-law adopted by Council of Ministers of the DPR. In this coffee shop there are no price tags. The staff says the price orally and in hryvnia.They care for it as for the apple of eye and it is getting pretty brazen",- wrote he
.