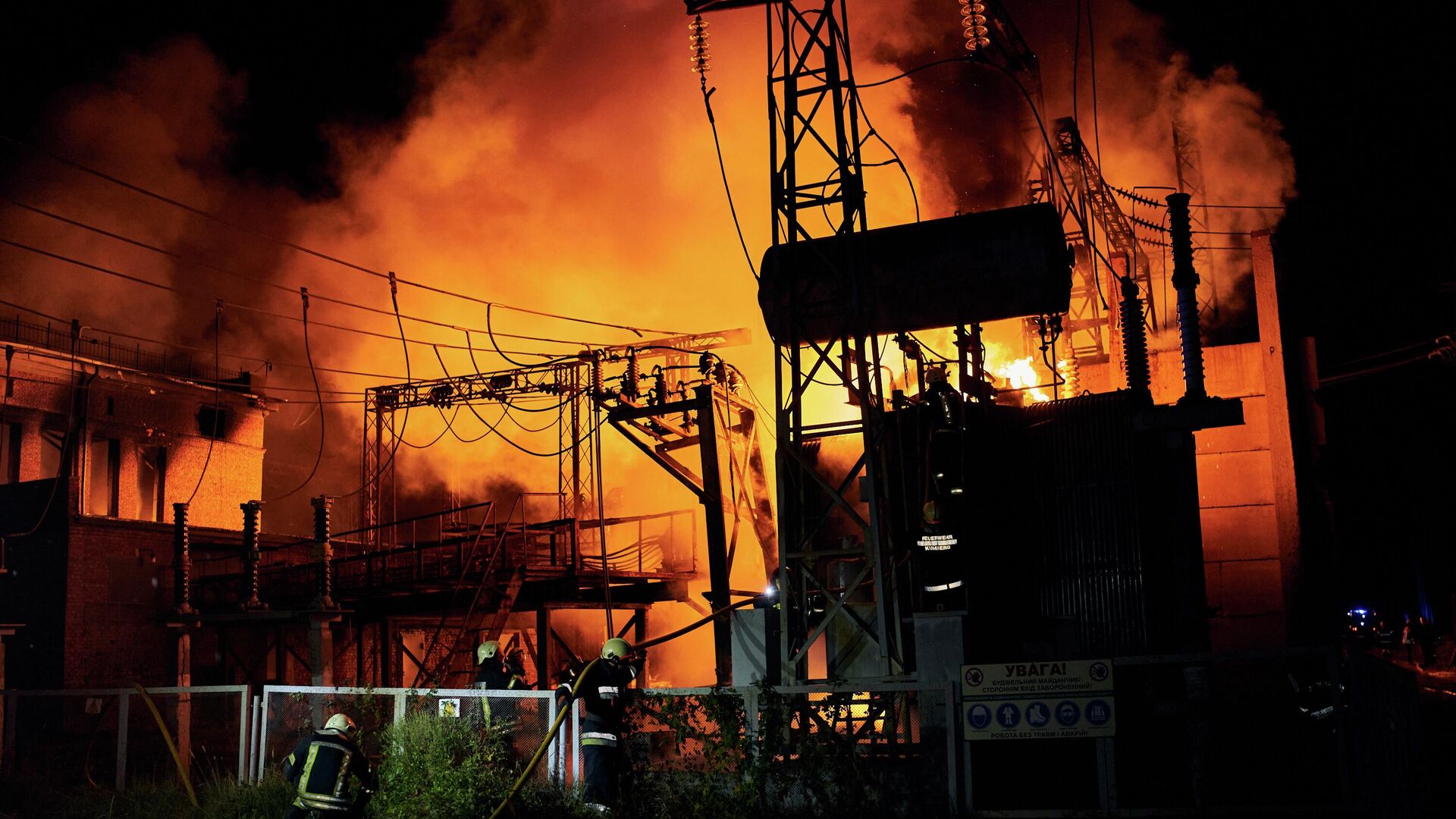 The upcoming winter will provide answers to many questions, all boiling down to one: have the authorities learned the necessary lessons from the previous heating season? Right now, as we approach the season's start, the situation looks ambiguous.
How is the preparation going?
Prime Minister Denys Shmyhal explicitly stated on August 5 that the upcoming heating season in 2023-2024 would be "one of the toughest". At the same time, he reassured that "the state is taking all the necessary steps to ensure a reliable and confident passage through it".
According to the government's reports, the preparation seemed to be going relatively well. Vice Prime Minister Oleksandr Kubrakov reported on August 28 that over 70% of housing and utilities infrastructure facilities were ready. These include communal boiler houses, heat distribution stations, and heating networks (both main and within buildings).
"We expect 100% readiness by October 1", - he emphasized. There are reasons to believe that even if 100% readiness is not achieved, the current level is close to that figure. In other words, there seem to be no issues with the heating infrastructure.
The same can be said for natural gas reserves. At the end of August, the Chairman of the Board of NJSC Naftogaz of Ukraine, Oleksiy Chernyshov, reported that they were "approaching 14 billion cubic meters" with a plan for 14.7 billion cubic meters by mid-October. The Ministry of Energy specified that the current reserves reached 13.8 billion cubic meters.
The presented infographic shows that gas reserves before the heating season were slightly higher in previous years.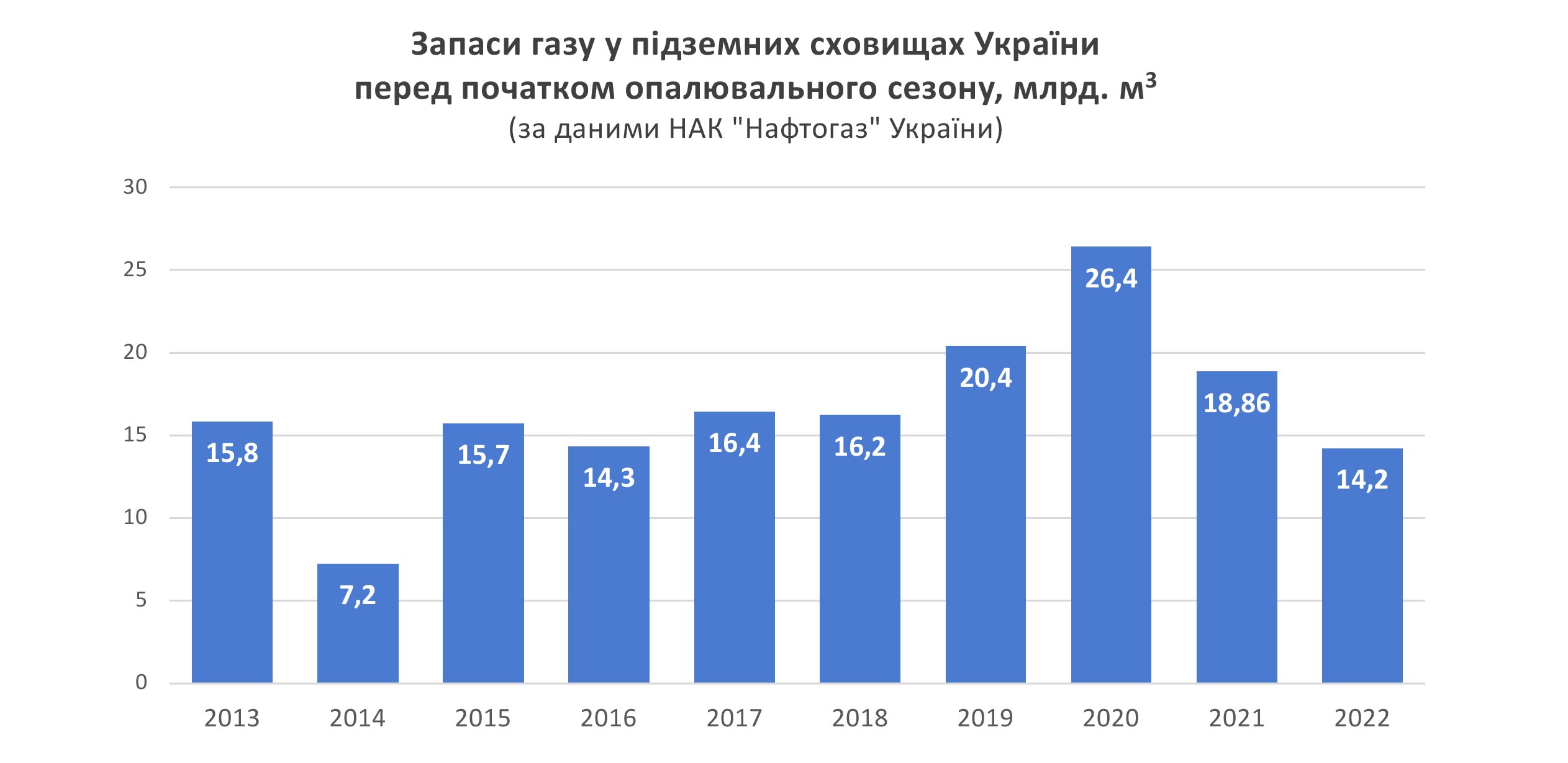 Gas reserves in underground storages of Ukraine before the start of the heating season, billion m³ (according to NJSC Naftogaz of Ukraine)
However, it should be noted that these reserves were accumulated by Naftogaz not only for Ukraine's domestic needs but also for pumping russian gas into the EU. Currently, transit volumes have significantly declined, so this reduction is far from critical.
Last winter, gas consumption for the residential sector remained within approximately 0.7 billion cubic meters per month. Thus, a shortage of this resource is not anticipated.
The situation with coal is slightly less reassuring. At the beginning of August, thermal power plants (TPPs) had 1.4 million tons in stock against a target of 1.5 million tons. But this is not a critical shortfall. The figure should increase to 2.5 million tons before the heating season starts. This should suffice.
Just like the previous year, the main emphasis will be on the operation of gas-powered energy units at thermal power plants. The missing coal volumes for energy are planned to be imported from Poland, according to Andriy Churkin, the CEO of PJSC Centrenergo.
Nuclear power plant workers haven't been idle either. By the beginning of August, they had managed to repair 5 energy units, with 4 more undergoing repairs.
In mid-September, D. Shmyhal reported that 2 more blocks of nuclear power plants (NPPs) had returned to operation. He mentioned that the remaining 2 would also complete their repairs by the start of the heating season.
The most problematic issue is the restoration of energy blocks at TPPs and hydroelectric power plants (HPPs) following last year's russian shelling. The government provides very vague information about them.
During a Cabinet meeting on August 8, D. Shmyhal noted that 24 TPP energy units had been repaired and were in the process of being repaired, accounting for 62% of the total.
The key phrase here is "in the process of being repaired". In other words, it is entirely unclear how many damaged units are already ready for operation and how many have yet to be connected to the integrated power system.
The situation is similar for hydroelectric power stations. It was reported that "32 HPP hydro units had been repaired or were in the process of being repaired, representing 68% of the capacity".
To clarify the situation, Kostiantyn Ushchapovsky, the Chairman of the National Energy and Utilities Regulation Commission (NERC) who was formerly the CEO of Ukrenergo, provided valuable insights. In early August, during a parliamentary energy committee meeting, he disclosed that at that time, only 1.6% (!) of the damaged power system had been restored.
According to the head of the NERC, TPPs and combined heat and power plants (CHPPs) suffered equipment damage amounting to UAH 29.9 billion, but emergency restoration work had only been carried out to the tune of UAH 482 million.
The damage to the main power transmission lines of Ukrenergo was UAH 9.6 billion, and work had been completed for UAH 681 million (an interesting detail: on August 8, D. Shmyhal noted that Ukrenergo had completed nearly 80% of the work to repair its own networks).
According to K. Ushchapovsky, these dismal figures are due to the lack of necessary funding for the work. Why did this happen? It is evidently the result of bureaucratic delays on the part of government officials.
The financial question
At first, everything was going fast, correctly, and on time. In May, the Cabinet of Ministers decided that energy companies, both state-owned and private, would be able to take preferential loans under the "Accessible Loans 5-7-9" government program to finance the repair and replacement of damaged equipment at thermal power plants and combined heat and power plants.
Previously, this preferential loan program at 5%, 7%, and 9% annual interest rates in hryvnia did not apply to the energy sector. However, on June 19, the government regulated the procedure for such loans. And, as it turned out, it did so poorly.
Already in early August, Yurii Vlasenko, the First Deputy Minister of Energy, informed a parliamentary energy committee that this procedure needed revisions. This was due to objections from the Ministry of Finance.
"There is a need for changes. We have submitted our proposals to the Ministry of Economy, and there should be a coordinating meeting, after which changes will be made that, in our opinion, will allow TPPs and CHPPs to obtain the necessary loans", - explained the representative of the Ministry of Energy.
Hold on a moment. The scale of destruction in the energy sector is huge, and time for recovery is running out. Nevertheless, it takes officials 1.5 months to consider some revisions.
Moreover, they follow the standard procedure: sending official letters from one department to another, their (slow) coordination, scheduling and rescheduling of meetings.
As if this is not a matter of extreme importance for a country heading into the winter. It seems like just one of the many working details of bureaucratic officialdom.
What's the outcome?
Simple calculation shows that currently, thermal power plants have 39 blocks. Of these, 13 were operational, meaning they didn't receive damage or simply didn't require repairs.
At the Cabinet of Ministers meeting on September 12, the Prime Minister said, "The Ministry of Energy has taken on the obligation" that by the beginning of the heating season, 25 TPP blocks will be in operation. In other words, if everything goes as planned, only 12 energy blocks, half of the damaged ones, will come out of repair.
In other words, only 64% of the available TPP capacity will be utilized. This is clearly insufficient to guarantee stability in energy supply during the cold season.
Moreover, there is no reliance on hydroelectric power to somehow help compensate for the electricity deficit in the integrated power system. During the same Cabinet of Ministers meeting on September 12, it was mentioned that "35 hydro units of hydroelectric power stations are being repaired".
To remind you, a month earlier, on August 8, they were talking about 32 hydro blocks undergoing repairs in the Cabinet. This means that not only has the number of blocks in repair not decreased, but it has actually increased.
Therefore, one must agree with the assessment of the CEO of National Energy Company Ukrenergo, Volodymyr Kudrytsky: "We will start the next heating season with less resilience in the energy system than we had last year".
It is evident that it is impossible to fully restore all these damaged facilities within a few months.
Nevertheless, an important clarification must be made: if it weren't for the bureaucratic red tape of Cabinet officials who couldn't be bothered to promptly resolve funding issues for TPPs and hydroelectric stations' repairs, this resilience could have been much higher than it is now.
In this regard, one might even feel a bit sorry for D. Shmyhal. He personally put in maximum effort to prepare the country for the heating season. All these efforts were carried out on an international level.
The Head of the government spent a lot of time negotiating with colleagues from Norway, Finland, Portugal, Japan, and other countries, persuading them to assist with energy equipment supplies. And indeed, he was successful.
Agreements have been reached with Japan for the delivery of additional gas turbines for electricity production. The United States has also agreed to allocate an additional $522 million for the restoration of the Ukrainian energy system.
There are many similar cases from June to September. There's no need to list them all. Meanwhile, the subordinates of the Ukrainian Prime Minister simply "circled around" the key issue of preparing for the heating season and the financing of repairs at thermal power plants and hydroelectric power stations.
A test for Akhmetov?
During the previous heating season, there were serious issues with the performance of energy companies within the DTEK holding of Rinat Akhmetov.
When the Executive Director of DTEK, Dmytro Sakharuk, announced on October 31 that his company had run out of materials and equipment necessary for repairing damage and destruction at energy facilities following russian shelling, the President and his office did not publicly react to problems with the management of the "efficient private owner".
However, the Head of State has now made it clear that he does not intend to tolerate a repetition of last year's situation. In an interview on August 27, Volodymyr Zelensky warned that in such a case, private TPPs, thermal power stations, and regional energy companies might return to state control.
The President explained his position as follows: "If we talk about Ukraine's energy independence, Ukraine cannot simply think: it was the interest of this or that businessman, oligarch, or their partnership, and so on. I personally think about one thing – to get through the winter for all people, everyone, regardless of who you are and what your financial situation is. We must get through it because it cannot be an internal explosion that weakens us on the front line and in general. If people in the trenches, and their children and women, don't know what to do when there is no electricity, no water, no life, essentially. They should be able to focus and not think about everything at once. Family is very important, but you need to focus. And if that's possible – to focus on victory, on the battlefield. And this is very important. And if there's any defocus, thanks to one businessman or another, I must eliminate it. Not the businessman, but the possibility of this defocus and state division. That's all I have to do. And that's why some energy facilities need to return under state control to eliminate certain risks".
The statement is extremely clear and specific, requiring no further explanation and leaving no room for interpretation. It's worth noting that DTEK is the largest private energy company in Ukraine.
By Vitaliy Krymov, OstroV