The deportation of Ukrainian children to russia by the occupiers takes various forms. It includes organized removal of orphaned children who are quickly "placed" into new "families", trips under the pretext of health improvement or vacation, and departure due to russian narratives that Ukrainian soldiers will "come and shoot everyone", as well as the motivation of seeking basic safety.

In most cases, the common factor is that it is very difficult to bring back the children "rescued" by russia. Firstly, it is necessary to establish contact with them and determine their whereabouts. One has to file a statement with the Ukrainian police, but it is challenging to do so while parents themselves are under occupation. Finding those who can help organize a trip to retrieve the child is necessary. All of this requires efforts and time, measured not just in weeks, but in months. Meanwhile, russians quickly "process" Ukrainian children, creating "documents" for them according to their own legislation. They skillfully manipulate children's psychology, turn them against their own parents, and do everything to make their return impossible.
In these two stories of the return of girls from the Kherson oblast to Ukraine, another common factor is that both girls were mature enough (14 and 15 years old at the time) and were raised by their biological parents in ordinary families. It should be noted that there was no question of depriving parental custody or living in an orphanage, etc. Both voluntarily went to russia because they were convinced to do so by people whom the girls considered close. Both left secretly from their mothers. And it was the mothers themselves, upon the sincere request of the girls, with the assistance of the organization Save Ukraine, who brought them back to Ukraine.
"She traveled" with her grandmother
In April 2023, Olesia Savinska, a 35-year-old internally displaced person from Kherson, brought back home from Krasnodar Krai (russia) not only her own daughter but also another girl, upon the request of the girl's guardian grandfather. The woman was also supposed to bring back to Ukraine a third abducted young resident of Kherson who had been deprived of parental custody. She was given a power of attorney from the executive committee of the Kherson City Council for this purpose.
"But not only could I not bring this girl back, I couldn't even find her", - Olesia recounts. "They had already placed her with some family and kept all the information hidden".
She specifies that the girl was 16 years old.
As for the return of her own child, Olesia had to go through a real quest that lasted more than 6 months.
At the time of the occupation of Kherson, Sofia, Olesia's elder daughter, was 14 years old, and the younger one, Myroslava, was 6. Sofia attended school quite far from the area where the family lived lately (she did not want to change schools). Therefore, on weekdays, she stayed with her grandmother, who lived close to the school, and on weekends, she would visit her parents.
When the occupiers imposed "russian standards" on the school, Sofia expressed a desire to continue her education in that school in person, despite the "russian standards".
"It was despite my strong opposition", - the mother says. "The younger one, Myroslava, studied online in a Ukrainian school".
However, it was not possible to insist. The girl was already at an age where convincing or, moreover, forcing her was impossible. Besides, she sincerely loved - and still loves - her grandmother and listened to her opinion in many aspects.
The education was nominal, because the children spent much more time at home than at school. But it was a reason for Sofia to stay with her grandmother (and for the grandmother to keep her granddaughter with her).
During this time, the occupation was also bringing other changes to Olesia's life. Ukrainian mobile network was almost non-existent, and the occupiers also attempted to transfer the internet providers to "russian standards". Communication with Sofia and Olesia's mother-in-law was practically impossible. The woman worked as a shop assistant in a non-food store and continued to commute to another part of the city for work. There were serious public transportation issues, as well as issues with the goods supplies in the store. Her husband stayed at home with their younger daughter.
Back in September, Sofia called her mother and said she wanted to go to a camp in russian territory.
"I categorically forbade it", - Olesia says.
A verbal prohibition - in an occupied city, at a great distance, with almost no communication - did not work. On October 14, a friend called the woman and said that Sofia was going to the camp - she had seen the girl on the left bank of the Dnipro river.
After some time, Sofia got in touch again - it was possible occasionally through Telegram. She told her mother that she was together with her grandmother in the village of Romashkove in Bilozirsky district, at her grandmother's friend's place. Was it even true?
"Such a village does exist, and I even suppose that my mother-in-law has some acquaintance there", - says Sofia's mother. "But I highly doubt they were actually there".
She says this without malice or aggression towards her mother-in-law. Although the first thing Olesia did after the liberation of Kherson by Ukrainian forces was to go to the police and file a report against her mother-in-law for child abduction.
What guided the 70-year-old grandmother who took her granddaughter to russia, hastily obtained a russian passport herself, and subsequently claimed "guardianship" over the girl? Olesia doesn't even want to analyze her motives.
"I saw her for the last time when I was taking back my daughter, and I don't want to know anything else about her", - she says again without bitterness. "Perhaps she has some mental issues".
Let's return to the search and recovery of Sofia. After the de-occupation of the city and filing a report on the child's abduction, Olesia's family moved to the Odesa oblast, where they currently reside. The child was listed as missing, and the police and prosecutor's office were involved in the search.
Sofia occasionally made contact and finally admitted that she was in a camp.
"She said she was doing well there and didn't want to come back", - recalls her mother. "But in one of the rare phone calls, on December 20th, she asked, 'Come and take me back!'"
Meanwhile, acquaintances advised Savinska to contact the organization Save Ukraine and provided a website link. Olesia submitted her request there, and representatives from Save Ukraine later reached out to her and helped with the organization of the trip. The preparation of necessary documents (including for the return of the other two mentioned girls from Kherson), the journey - first to Kyiv, then to russia - all of this lasted for weeks.
Finally, the mother picked up her child from the boarding school in the Tuapse District of Krasnodar Krai, where the girl had been living with her grandmother. And she brought her home on April 25th.
Although Sofia herself realized the need to return to her own country and her mother, she still hasn't spoken a single bad word about her grandmother - she remained a close person to the girl.
"Sofia is still trying to defend her", - says Olesia. Again, without bitterness and without any emotions at all.
She was running away from "Ukrainian soldiers who would shoot everyone"
The family of 52-year-old Svitlana Popova lived in occupation in their native village of Novi Kairy in the Beryslavsky District of the Kherson oblast for 9 months. After the liberation of the village, Ukrainian military took the family to Kryvyi Rih.
"We are living here now, and we are not planning to return home", - the woman says.
Svitlana is the mother of eight children. The older ones live separately, and the woman raised the younger ones on her own - she divorced her husband, and her parents and in-laws passed away long ago.
At the time of the village's liberation and departure to Kryvyi Rih, one of Svitlana's daughters, 16-year-old Alina, had already been in Mordovia, russia, for several months. Moreover, her mother didn't know where she had lived for half a year and had no information about her child. She only had a guess about who Alina had gone with.
"Alina was friends with a neighbor who had five children", - Svitlana recounts.
Every day she would visit her, help with household chores and children... And she listened to what her friend said because she was older and seemingly more experienced. The friend said that Ukrainian soldiers would return to the village and execute everyone. For a 16-year-old girl in the conditions of occupation, this sounded more convincing than what her mother said. She believed her neighbor's words so much that one night, while her mother and brothers were sleeping, she stole her own birth certificate.
"After that, the neighbor, her relatives, and my Alina were taken by russian soldiers first to Nova Kakhovka and then to Mordovia. I only found out that my child was in Mordovia half a year later", - Svitlana says.
After the de-occupation of their village, both Svitlana and Olesia Savinska filed a report with the police.
Unlike Sofia's story, there was no communication with Alina. Her mother searched for her not only through law enforcement agencies but also through social networks, and eventually, that's how she found her.
Like Sofia, the girl, upon getting in touch with her mother, immediately started begging to be taken home. Well, first, she burst into tears, and then she started begging...
It turned out that Alina didn't know where her mother and brothers were and couldn't reach them. By the way, her older friend, upon learning that the girl had started communicating with her mother, broke her phone. Throughout this period, she treated Alina as her own property or servant. She even managed to establish guardianship over her according to russian law.
Svitlana's sister, who resides in the Czech Republic, advised her to contact the organization Save Ukraine. And the organization helped the woman go after her daughter.
By the time her mother arrived, Alina was living in a rehabilitation center where the "friend" had confined her under her "guardianship" after learning that Alina wanted to return to Ukraine. However, she couldn't prevent her from coming back.
The motives of the friend are a separate topic, and for Svitlana, analyzing those motives is simply unnecessary, just as it is for Olesia Savinska to analyze the motives of her mother-in-law.
"It was very difficult", - Svitlana says about the period of occupation and separation from her child. "Both physically and mentally. Well, we overcame and endured everything, and I brought Alina back home, to the family, to her two brothers who are now living with us".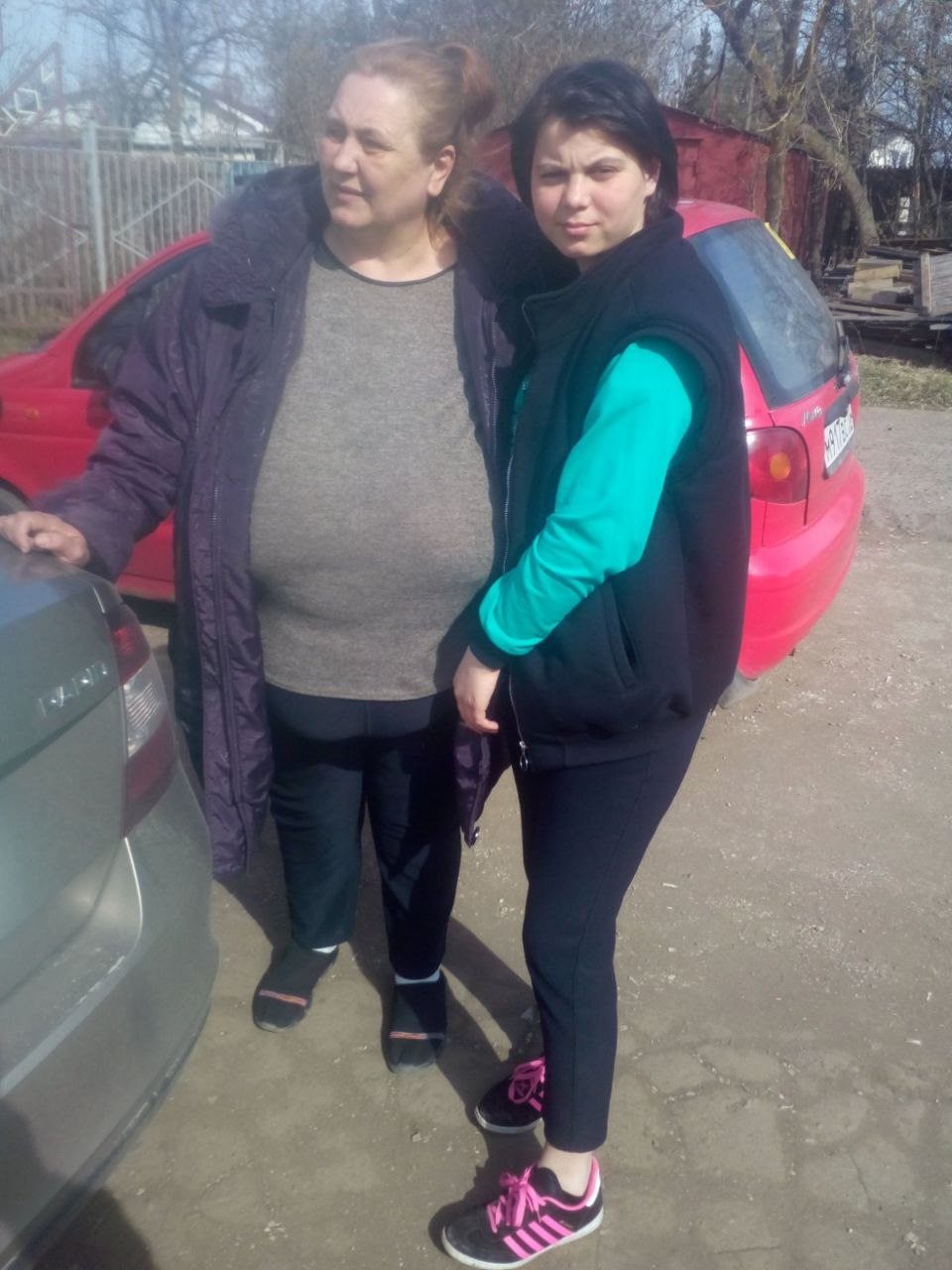 By the way, not only did her big family bring Alina back, but they also grew even bigger: just as this article was being prepared, one of Svitlana's older daughters gave birth to the woman's grandson on the night of June 4. And the second one is expected to give birth to a granddaughter in the end of June.
"So, I'm a happy mother and a happy grandmother", - the woman says.
By Yuliia Sabaieva, OstroV