Recently, the topic of softening mobilization has become more active in Ukraine. OstroV's sources in the president's team claim that for several weeks now, there have been talks about how to make the mobilization process as painless and as effective as possible.
"Sometimes it turns out that people without experience are mobilized, and those with combat experience are sent home. Even without this, our plan is already 101% fulfilled, so it is time to move away from bogeyman stories about mobilization. It is time for us to restore the economy. An IT specialist without experience, who could earn 3 thousand dollars a month and pay taxes, is not needed on the front lines today", - the interlocutor said.
President Volodymyr Zelensky announced nation-wide mobilization on February 24 for a period of three months. He has already submitted a decree to the Verkhovna Rada to extend the mobilization until the end of the summer. According to OstroV, the decision was made at the very last moment.
On the one hand, the three-month mobilization in Ukraine showed very good results. On the other hand, hostilities are still far from over, the war is becoming protracted.
In early May, the NSDC Secretary Oleksiy Danilov talked about the sufficient number of the mobilized Ukrainians.
"As of today, we have a sufficient number of military men who have already come to the military registration and enlistment offices and whom we have enlisted. As of today, training is underway, our fighters are being trained. What we did first off is enough so that we can defend our country", - he stated.
OstroV was figuring out how the mobilization in Ukraine is going on and whether its softening is expected.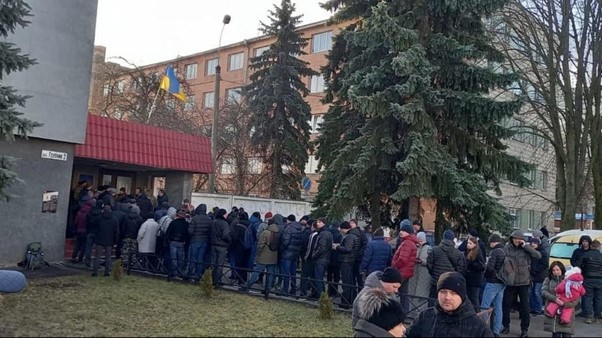 How is mobilization going in Ukraine
The progress of mobilization in Ukraine can only be judged by indirect signs and rare statements from the military leadership, since this information is classified. For example, in the first days of a full-scale war, the queues at the military registration and enlistment offices were such that many who wished (especially without combat experience) were sent home.
There are even stories about people who unofficially paid military registration and enlistment offices to be sent to the front. The fact that this is not just folklore is evidenced not only by specific names of such people, but also by the self-perception of many men in the early days of the war. They sent their women to the evacuation and immediately lost their usual way of life, and, therefore, the meaning. It was the search for oneself in a new reality and the desire not to be alone with it that made many men sincerely strive to get into the army or the territorial defense.
Photo from social networks
According to the AFU Commander-in-Chief Valerii Zaluzhnyi, almost 100 thousand citizens in Ukraine were mobilized into the army in two days.
According to the unofficial data and messages in social networks, from 200 to 400 thousand people were drafted into the ranks of the Armed Forces during the two months of the war. This does not mean that they were all sent to the front – many of them are being trained or stay in the reserve.
It should be noted that mobilization in Ukraine takes place in four stages:
1) an operational reserve is called up for service – former military personnel with combat experience or who previously served under a contract after 2014;
2) military personnel who did military service or also served under a contract until 2014;
3) reserve officers are called up – those liable for military service who graduated from the military departments of universities;
4) all residents of the country who do not have restrictions on age or health status are called up.
But these stages are conditional. According to head of the personnel department of the headquarters of the AFU Ground Forces Command Roman Horbach, "there were no waves of mobilization, we have only one wave". It is just that people are mobilized more in one period and less - in another.
He notes that as of the beginning of May, all the qualitative and quantitative indicators of the current mobilization have been fulfilled "by 100 percent and more".
"Mobilization continues at a much slower pace, but not because something is not working out, but because at the end of February - at the beginning of March, the combat component of both the Armed Forces of Ukraine and other components of the defense forces were equipped to a greater extent. And now we are only carrying out reinforcement and replenishment of military units with people. That is, now the pace is much lower, but mobilization is going according to plan", - he said.
The speaker noted the high quality of those mobilized. According to him, these are motivated people.
"Yes, there are people who evade, but there are very few of them and they do not affect the overall picture", - he explained.
Horbach told that in addition to people with combat experience, people who underwent military service or drill in peacetime are now being mobilized.
People's Deputy Fedir Venislavsky also speaks of successful mobilization in Ukraine.
"As of today, even if nation-wide mobilization is announced in russia, there are no grounds for a wider involvement of Ukrainian citizens in the AFU. Our army is now well-equipped, the mobilization gave a good result, which we hoped for", - he informed.
OstroV's sources in the president's team claim that they were pleasantly surprised by the pace of mobilization at the beginning of a full-scale war.
"We did not expect that there would be so many applicants. Somewhere there was even a casting to get into certain combat units. This is observed now as well. Specific numbers are not named at public meetings, but they make it clear that everything is going according to the plan and even more. Therefore, talks about a possible mitigation or even cancellation of mobilization were inevitable", - the source said.
Who is not subject to mobilization
Before talking about a possible mitigation, let us recall who is not subject to conscription for military service for mobilization:
- those who were reserved for the period of mobilization and wartime by state authorities and other state organizations, local governments, institutions, enterprises and organizations;
- those who were recognized by the medical board as temporarily unfit for military service for health reasons (up to six months with the need to undergo a repeated commission) and persons with disabilities;
- men and women who are supporting three or more children under 18 years of age (can be called up for military service only with their consent and only at the place of residence);
- men and women who independently raise a child/children under 18;
- men and women raising a child with a disability or a serious disease;
- men and women who are guardians, adoptive parents, foster parents, trustees, carers and support orphans and those children who were deprived of parental care (under the age of 18);
- persons constantly caring for a person with a disability of I-II group or for a person who, according to the doctor, requires such care;
- people's deputies and employees of certain government agencies.
The following categories are also not subject to conscription during mobilization:
- those who receive vocational higher or higher education, post-degree students, trainee assistants and doctoral students studying in a full-time or dual form of study;
- scientific and academic workers of institutions of higher and vocational higher education with an academic title or scientific degree, as well as teaching employees of institutions of general secondary education;
- those whose close relatives died or went missing during the anti-terrorist operation (clarifications are also spelled out in the law).
In addition, students who study at educational institutions abroad may not be mobilized to leave the territory of Ukraine. To do this, they need to contact the military registration and enlistment office in order to obtain the appropriate permission.
It should be noted that the list is being regularly updated and updated. For example, in early April, drivers transporting humanitarian aid, as well as employees of railway transport enterprises, were released from mobilization.
In addition, in early May, the Verkhovna Rada registered draft law No.7352, which provides for a deferment from conscription for teachers, as well as research scientists of universities and colleges, who do not have an academic title or academic degree, if they work in an educational institution for at least 0.75 wage-rate.
Recently, an initiative to significantly expand this list was made...
Mobilization softening
The fact that all the men who are on the territory of Ukraine are not needed for the conduct of hostilities was stated by adviser to the head of the President's Office Oleksiy Arestovych.
"We do not need all the men sitting in Ukraine. We only need those who are ready and want to fight, and there are plenty of such people already in our ranks and there are additional ones", - he said in early May.
In particular, Arestovych does not like that all men are not allowed to go abroad.
"There is enough mess. Including with people who are not allowed to go abroad. With sailors who bring 4 billion dollars to Ukraine. These are people with scarce specialties. If there were not enough people in the trenches… But there are enough, there are people who want to", - he added.
The adviser to the head of the President's Office went even further and offered to let sailors, metallurgists, IT specialists, businessmen, scientists, performers, etc. go abroad.
"I would give the opportunity to travel abroad and make short trips. We do not bend the stick where it should have been bent and broken long ago", - he believes.
OstroV's sources in the president's team confirm that the issue of softening the mobilization has been already being worked out for about a month. It is allegedly supported by Volodymyr Zelensky.
"When it became clear that we had enough volunteers and people with combat experience, when more foreigners came, there was talk about the advisability of further mobilization. But I would divide this aspect into two: the mobilization as such and the departure of men abroad. The question is more or less clear with the first one: aggressive mobilization is not needed, there are people. Everything is much more complicated with the second one. After all, having released an IT specialist abroad, he will already work for the economy of the country where he lives, therefore, the economic bloc of the government opposes this", - the source told.
According to him, this also applies to sailors, whose travel abroad is lobbied by many international organizations and partners of Ukraine.
"One thing is when a man goes sailing and sends currency to his family in Ukraine. Then, yes, it makes sense, this is replenishing the budget of our country and resuscitating the economy. But we are afraid that this will work in a completely different way: as soon as the sailor will go on an international voyage, his family will move to Europe (since women and children can do this), and then Ukraine will lose both foreign exchange earnings and men. This is in simple words", - the source argues.
As for the mobilization of IT specialists, Minister of Digital Transformation of Ukraine Mykhailo Fedorov personally took up this topic. In early March, he published a letter urging not to mobilize IT specialists into the ranks of the Armed Forces, as they are involved in the media war with the aggressor.
Later, the Ministry of Digital Transformation clarified that Mykhailo Fedorov's letter was advisory in nature and "certifies that in the conditions of the war with russia, IT specialists are involved in the information and cyber fronts of the fight against the aggressor, and also, fill the budget of Ukraine by continuing to work". The department added that IT specialists are not a priority category for mobilization today.
The fact that according to the results of the first quarter of 2022, the IT sector of Ukraine brought a record $2 billion can speak about how IT people fill the Ukrainian budget. The same indicator in 2021 amounted to $1.44 billion. In fact, the volume of IT exports increased by 28%. This was announced by head of the tax committee of the Verkhovna Rada Danylo Hetmantsev.
According to OstroV, it was no coincidence that the people's deputy published these statistics.
"Have you noticed how he singled out the IT sector? This was done in agreement with Miyhailo Fedorov. The logic there is simple: let the IT specialist get 2-5 thousand dollars a month and sit quietly in Ukraine, pay taxes and spend money. On the other hand, this is a signal for international IT companies that everything is stable with us and they can count on the normal work of their employees, who will not be suddenly taken to the front", - one of the "servants of the people" told our news agency.
But there is a downside to such initiatives. The authorities are worried that a selective softening of mobilization may cause a wave of negativity from employees in other areas. Therefore, we are talking now only about informal instructions of who should not be mobilized.
According to OstroV, all the heads of regional military administrations received such verbal instructions. It is they who are responsible for ensuring that certain areas are not involved in mobilization, or do it not so actively.
IT-specialist Mykola, who moved from Kyiv to Lviv since the beginning of the full-scale invasion of the russian federation, told our news agency how employees of the military registration and enlistment office came to the hotel where he settled to hand over the draft notice. However, as soon as they found out that he worked as a software engineer, they limited themselves to a verbal warning "to appear at the military registration and enlistment office and register".
"Among my acquaintances working on IT sector, no one was forcibly called up to the front. At most, they are asked to be registered and are released. We were told at the company to carry a work contract and other documents confirming the place of work. Unofficially, we were assured that IT specialists would be taken to war in the very last resort", - he told.
As for official statements about a possible easing of mobilization, Prime Minister Denys Shmyhal rather harshly and unequivocally rejected such an idea.
"This is not planned during martial law. Here, in fact, the military makes decisions, but I believe that while the war is going on, all men should be in Ukraine", - Denys Shmyhal said in a recent interview with RBC-Ukraine.
At the same time, according to OstroV, the discussion about extending the mobilization lasted more than one week, and the final decision was made quite recently.
"The military said to extend the mobilization, but to prescribe more benign standards in it. The president's team advocated the temporary cancellation of mobilization so that we exhale a little and launch the economy at full strength. But everything will depend both on the situation at the front and on the situation in the AFU. They do not tell us much, everything is classified, so it is difficult to estimate the appropriateness of this or that decision", - one of the people's deputies told on the condition of anonymity.
Even the official representative of the AFU could not unequivocally answer the question of what would happen to the mobilization after May 24.
Head of the personnel department of the headquarters of the Ground Forces Command of the Armed Forces of Ukraine Roman Horbach said on May 2 that the decision to extend the mobilization would depend on the situation at the front.
"It all depends on the situation that will develop at the moment when it should end. If there is such a need and hostilities will continue, there will definitely be a need to replenish our military units with military specialists. Therefore, the leadership, I think, will continue to mobilize people after May 24", - he stated.
Given the fact that the country's leadership extended the mobilization, the war is still far from over.
At the same time, OstroV's interlocutors in the president's team believe that mobilization after May 24 will be less aggressive. The fact that on May 18, it was extended for 3 months at once, and not for a month, as before, does not indicate an increase in mobilization, but rather that the authorities, on the contrary, are trying to make it less annoying for the population.
Andriy Andrieyev, specially for OstroV