"We have a real hell for the second month already. I hear in the news almost every day that there is a new anti-record for the number of cases, hospitalized or died from coronavirus. The incidence has not dropped for more than a month, I do not remember this yet. I go out into the street – there are a lot of tourists, almost all people wear no face masks in public transport and in shops, discos and nightclubs are buzzing at night. There are a lot of stories on TV about how well the tourist season is going in the Crimea and how great we are. And as if between words, they talk about low rates of vaccination and growth of the sick", - resident of Yevpatoria Maria told OstroV.

Another anti-record for the number of new cases of COVID-19 was broken in Sevastopol on August 16. For the first time, 229 cases of coronavirus were recorded there over the day. The situation is no better in the rest of Crimea – for the last month, from 350 to 400 cases of COVID-19 have been recorded there every day.
At the same time, the tourist season in the occupied peninsula is in full swing, quarantine restrictions are largely not observed, and the rate of vaccination has long since declined.
OstroV figured out what is happening with the incidence of COVID-19 in the occupied Crimea, how the vaccination process is going, why many Crimeans want to go to the controlled territory of Ukraine to receive the vaccine and what is stopping them.
Coronavirus against the tourist season
Anti-records for the number of cases and deaths from COVID-19 have been recorded in the occupied Crimea since mid-July. For the first time in the entire pandemic, more than 400 cases were identified over the day. The number of deaths and hospitalizations is on the rise as well. The death rate from coronavirus on the peninsula has grown by 50% in the last week alone.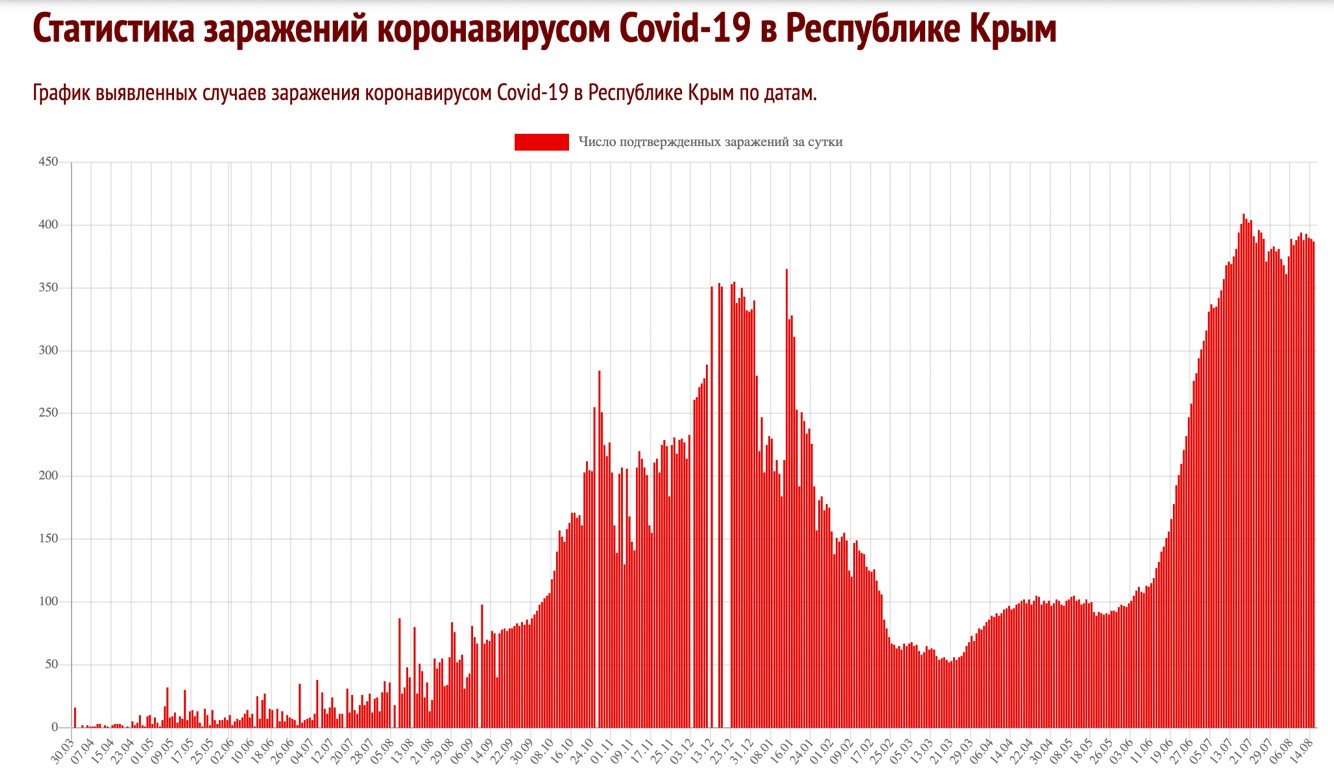 Source: coronavirus-monitor.info
"All the wards for covid patients that were previously closed have been reopened over the past few weeks. Moreover, an order was given two weeks ago to look for new beds for covid patients. All this is against the backdrop of an unprecedented flow of tourists who do not observe safety measures at all. They arrived, made a mess, rested and left. They do not do the tests and need no mandatory vaccination. If they get sick, they leave for Moscow or St. Petersburg for treatment, but during the rest, they ride in minibuses without face masks and infect the locals. The majority of those hospitalized are locals, not tourists", - a medical worker from one of the Simferopol hospitals told OstroV.
In addition, recently, the Crimeans have begun to complain more often that ambulances do not arrive to calls, and it is almost impossible to get an appointment with a doctor with symptoms of coronavirus.
"My neighbor had a fever recently. They called the ambulance, and received an answered that there were a lot of calls and they could not come quickly. They said to take antipyretics and call if the state becomes worse. The operator turned out to be a pleasant woman, apologized and said that all the brigades were busy with coronavirus patients, there were not enough employees, many were sick or on vacation. I wanted to make an appointment with my therapist last week, as I have problems with blood pressure, but everything was already scheduled there until the end of the month. I came to the polyclinic – a real hell was there, people with fever, coughing and sneezing, they stormed the record department, so that they can be seen by a doctor and issued a sick note", - pensioner from Sevastopol Raisa told OstroV.
Similar messages can be found on social media.
At the same time, the tourist season on the peninsula continues. Instead of introducing new quarantine restrictions, local "authorities", on the contrary, decided to weaken them. So, recently, the work of water parks, as well as attractions and food courts in shopping and entertainment centers was allowed.
Local realtors note that the increase in the incidence has not affected the current tourist season.
"Tourists continue to come. Why should they not go? There are no restrictions, Europe remains closed. Coronavirus does not scare anyone. On the contrary, it is easier for Muscovites to sit out here, by the sea. In addition, according to our observations, Russian tourists are not much worried about face masks in public places. They practically do not wear them. There are no fines. All tourist places are fully operational, the water parks have returned to work recently. The prices for everything are high. It seems that everyone decided to make the money before a possible lockdown", - one of the local realtors Mykhaylo told our news agency.
According to OstroV, despite the ban of the "authorities", nightclubs and discos in the Crimea continue to work as usual.
"Head" of the Crimea Sergey Aksyonov does not even think about interrupting or limiting the tourist flow.
"That is, the situation is on the brink, we need to balance and look for compromises that will allow us not to lose people. The issue of life and health is a priority", - he stated.
New vaccination challenges
July and August in the Crimea were marked by a new trend – the reluctance of Crimeans to get a second vaccine against coronavirus. Looking at the frivolous attitude to the problem on the part of local authorities, Crimeans also take the pandemic less seriously.
For example, as of August 9, the second mandatory stage was neglected by about 6 thousand patients in Sevastopol alone.
"There was one percent – I see there are already up to five, tentatively speaking, of those who do not come for the second (vaccination, - ed.). This is no longer an allowable error, but already some kind of tendency", - self-described governor of Sevastopol Mikhail Razvozhayev reported and instructed his subordinates to carry out additional work to inform the population.
The so-called director of the Sevastopol health department Vitaliy Denisov acknowledged the existing problem and added that the vast majority of citizens who did not come to receive the second dose of the vaccine are local residents.
Situation in the Crimea looks even worse. As of early July, more than 17 thousand Crimeans did not come for revaccination. After that, the local "authorities" stopped publishing statistics on those who did not come.
"When learned that they were not alone in not going for revaccination, many Crimeans strengthened their faith even more. Therefore, the authorities stopped talking about it publicly. The real statistics are even worse. There are several reasons for this. Firstly, low popularity of the Russian vaccine. Secondly, limited supplies to the Crimea. Thirdly, the almost complete absence of a normal information campaign, which boils down only to the fact that you should get vaccinated if you want to work in the Crimea", - a nurse from the occupied Crimea told OstroV.
Even local "authorities" admit that supplies of the Russian vaccine to the Crimea are carried out in small batches.
According to the so-called head of the Crimean Ministry of Health Alexander Ostapenko, the vaccination plan on the peninsula has already been completed by almost half, but admitted delays.
"416 thousand doses of vaccine were delivered, 392.5 thousand people were vaccinated with the first component, and 303.5 thousand - with the second. The supplied vaccine is used by 92%, this is quite q good indicator within the Russian Federation. The remainder of the vaccine in medical organizations today is 22.5 thousand components. Unfortunately, we cannot yet significantly increase the rate of vaccination due to the receipt of vaccine largely in small batches. We received another six thousand doses of Sputnik shortly before, but we expect an increase in supplies in the near future. The implementation of the vaccination plan is 42%, 127 vaccination points also continue to operate, including mobile ones", - he stated.
At the same time, a significant decrease in the rate of vaccination against coronavirus is recorded in the occupied peninsula.
For example, the rate of vaccination in Sevastopol decreased several times over just one month. If on average, from one to two thousand people were vaccinated daily at the on August 12 and 161 - on August 6.
"We vaccinated two thousand people a day, now it has dropped to 300-400-500 people. Well, of course, we will not form collective immunity at this rate until autumn, unfortunately", - head of the occupation administration of Sevastopol Mikhail Razvozhayev stated.
The situation in the Crimea is no better. There has been a significant decrease in the rate of vaccination since the second half of July. Today the Crimea ranks 62nd (out of 85 constituent entities of the Russian Federation) among the regions of Russia in terms of vaccination rates.
"On average, three-four thousand people are vaccinated with the first component every day. We need to increase this figure two-three times. We need to do 11-12 thousand primary vaccinations a day. In this regard, I instruct all chief physicians to analyze and decompose their regions together with the heads of administrations: all enterprises of all forms of ownership, the proportion of vaccinated employees and to conduct appropriate information support. Additionally, to develop plans and schedules for site visits in order to bring this service as close as possible and provide comfort conditions for our residents", - the so-called Minister of Health of the Crimea Alexander Ostapenko stated.
Local residents, in turn, complain that it is not always possible to get the vaccine on time. You can find many messages on social media with similar problems.
"Friends! What's going on? I signed up for vaccination on June 28. They called back on July 1 - appointed for July 8. Everything is ready - passport, SNILS, certificate of insurance … I arrive at the Koktebel ambulance station in the morning, 7.30, July 8! There is a queue of people like me in front of the entrance… There is a poster on the window that reads - "There will be no vaccinations on July 7 and 8. No vaccine"… How is it? What kind of sabotage is this? What are they talking about in the Government, the President, the Ministry of Health? It turns out they are cheating. Hundreds of people should have been vaccinated in Koktebel over two days… I am starting to figure it out. It turns out that the vaccine for Koktebel was spent on a PR campaign in Feodosia, when they put a vaccination machine there on the Railway Station Square… I will not go anymore", - resident of Koktebel Borys Yaremko writes.
"We went on vacation and decided to get vaccinated first of all. As if! We walked around several mobile points today. There is no first vaccine. It was said in one of them that it had not been available since Friday, that is, the fourth day. We saw an elderly woman in one of the points, who was brought in for vaccination, probably, by her daughter. So they bypassed 2 times more points than we did, and there was no 1st vaccine. Why such a mode of operation? All mobile points in Simferopol (except one) work until 15-00 or 16-00. Only four of 14 stationary points (in polyclinics) have a working mode until 18-00 or 19-00. And what should working people do? I am surprised to see stories from different regions in federal news about the round-the-clock work of vaccination points or that they work until 20-00", - Crimean resident Natalia Kisieliova writes.
"I am sharing my impressions after the first vaccination. The spirit is fading. You sign in the State Services a week before. A reminder comes the day before. You come and the vaccine is over", - Yevhen Volchenko from Feodosia writes.
Chance for Ukraine
"You cannot even imagine how many Crimean residents would like to be vaccinated with a non-Russian vaccine. Considering that Russia cannot get such a vaccine for all the money in the world, and there is no way to Europe for us, the only opportunity is mainland Ukraine. But most Crimeans are afraid to even plan a trip to Ukraine after so many years of propaganda. It would be great if the Ukrainian authorities conducted a high-quality information campaign, encouraged to go and get vaccinated, talked about safety, friendliness and openness, etc. If the Crimeans went to the Kherson oblast for vaccination and had everything went without problems, they would have told their friends about it", - Crimean resident Oleksandr told OstroV.
While the Crimea continues to vaccinate with Russian vaccines that are not recognized by the world community, you can get vaccinated in the controlled territory of Ukraine with vaccines recognized by the World Health Organization (AstraZeneca, CoronaVac, Pfizer and Moderna), and receive an International Certificate of Vaccination.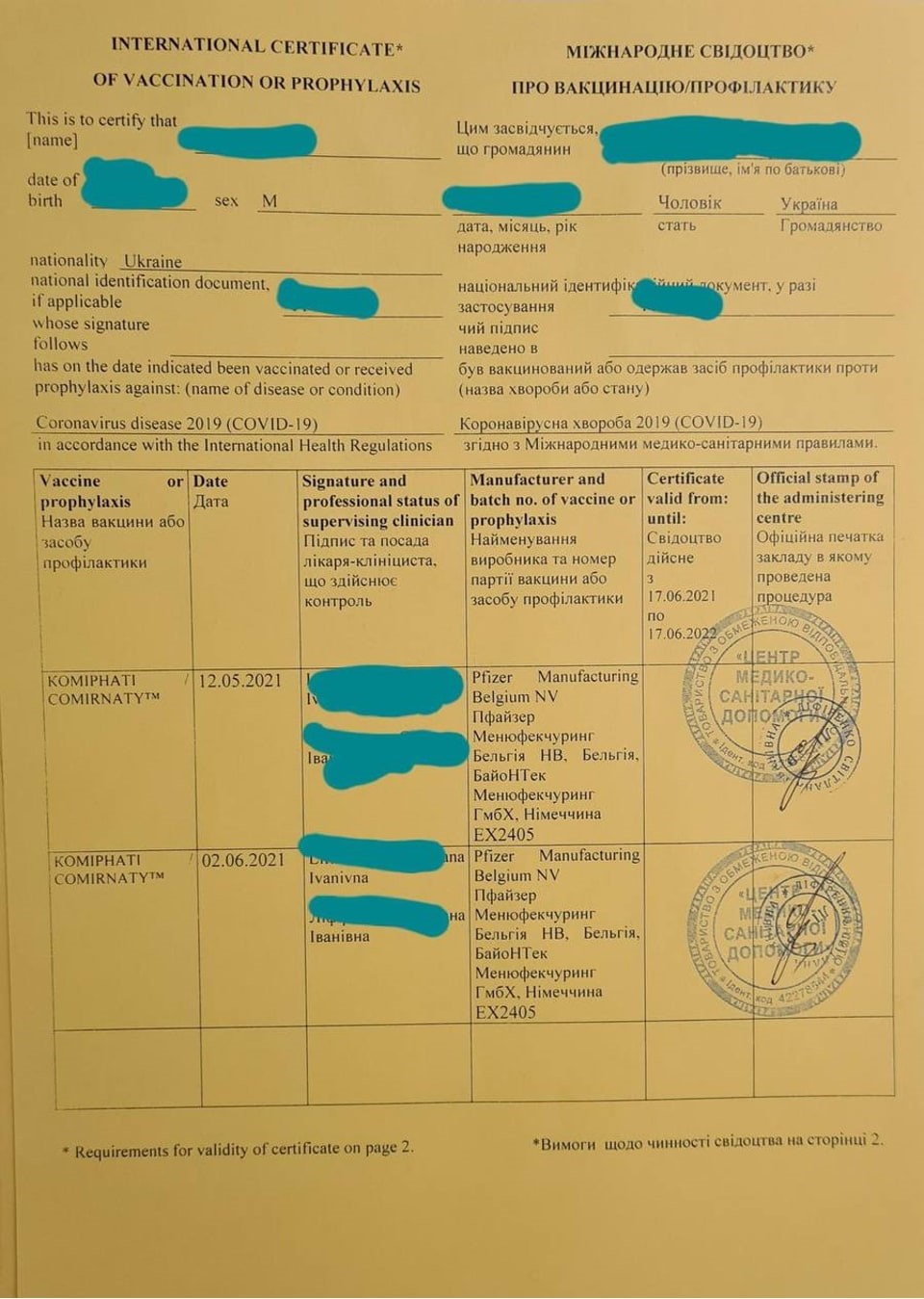 It is the receipt of the International Certificate that is the most attractive argument for vaccination in the controlled territory of Ukraine, since this document allows you to freely enter other countries for work, study or recreation. Russia cannot issue such a certificate, since its vaccines are not recognized by the WHO.
But Ukraine has also some problems with this. According to decree of the Cabinet of Ministers of Ukraine No.611 dated June 16, 2021, a vaccination certificate can only be signed by a doctor who provides primary health care and whose choice the patient has provided with a corresponding declaration.
At the same time, in order to sign such a declaration, medical institutions require either registration of residence in places adjacent to the relevant hospital, or an IDP certificate. But not all residents of the occupied territories can and want to receive such certificates. Many residents of the occupied territories refuse to vaccinate in the controlled territory because of these bureaucratic difficulties.
In addition, vaccination certificates are often issued not immediately after vaccination, but only two weeks after. That is, a person must either cross the administrative border twice, or live somewhere in the government-controlled territory for two weeks. Not everyone has the means and opportunities for this.
OstroV already had a detailed understanding of the complexities of obtaining a certificate of vaccination by residents of the occupied territories. The procedure has not become easier or more accessible during this time. The certificate is still issued only a few days after receiving the full vaccination series, and only after the conclusion of declaration with the family doctor.
"A month has passed since our interview, where I talked about how I am planning a trip to Ukraine (to the controlled territory - ed.) from the Crimea. Nothing has changed during this time. I learned from my friends and through hotlines that the rules remained unchanged. Some incomprehensible bureaucracy spoils a very good business. However, the number of my friends and colleagues who were interested in the idea of going to Ukraine for vaccination has grown, despite the fact that they have not been there since 2014. The idea that you can get a free vaccine somewhere nearby is recognized in the world, and even receive an International certificate with which you can go somewhere and have a rest, begins to break through the long-term propaganda about "Nazis" and "punishers". People are already asking about biometric passports and so on. This is not a focused effort, but ordinary word-of-mouth marketing. If you push a little, you get the best advertisement for reintegration", - resident of the occupied Crimea Oleksandr, who has been planning a trip to the controlled territory of Ukraine to get vaccinated against coronavirus for several months, says.
All these problems could be solved by electronic vaccination passports, but their official release in Ukraine has not yet taken place. Earlier, OstroV's sources in the government talked about the release in late July-early August, but it has been postponed indefinitely due to technical difficulties.
"There are technical difficulties, so the official and full-fledged launch is a little postponed. The EU is already ready to fully recognize them, we have internal problems", - interlocutor in the Cabinet of Minister said.
Vladyslav Bulatchik, OstroV