"Flooding of several cities, insane rise in prices for housing and food, expensive transport, coronavirus epidemic, service and conditions "not to everyone's taste" - do you think all this stops Russian tourists from traveling to the Crimea? On the contrary. We expect an unprecedented influx this year. This is already confirmed by the fact that it is almost impossible to find good accommodation at the peak of the season. You will either pay a lot, or it will not be the best option, or you will simply be lucky", - one of the local travel agents told OstroV.
Over the past week, the Crimea has been struggling with the consequences of a powerful storm that has led to the flooding of a number of cities on the peninsula. Kerch and Yalta suffered the most. The rains were so strong that rivers overflowed their banks, flooded streets and houses and washed out embankments. Many residents were left without water, gas and electricity. Local beaches have been closed and swimming was prohibited until they are cleaned.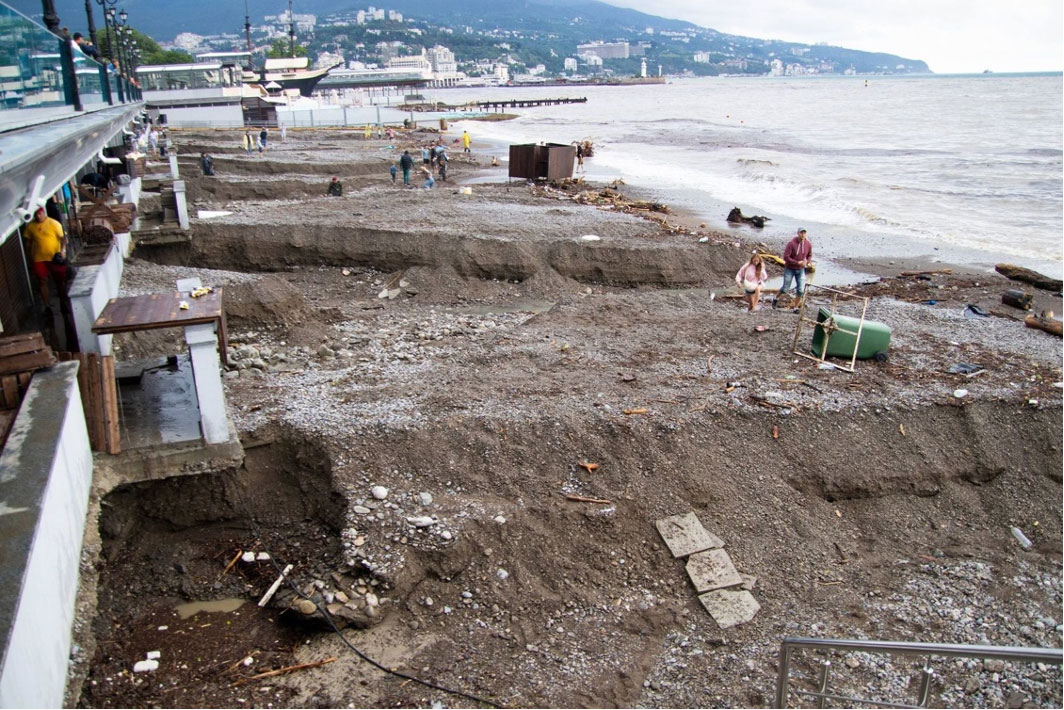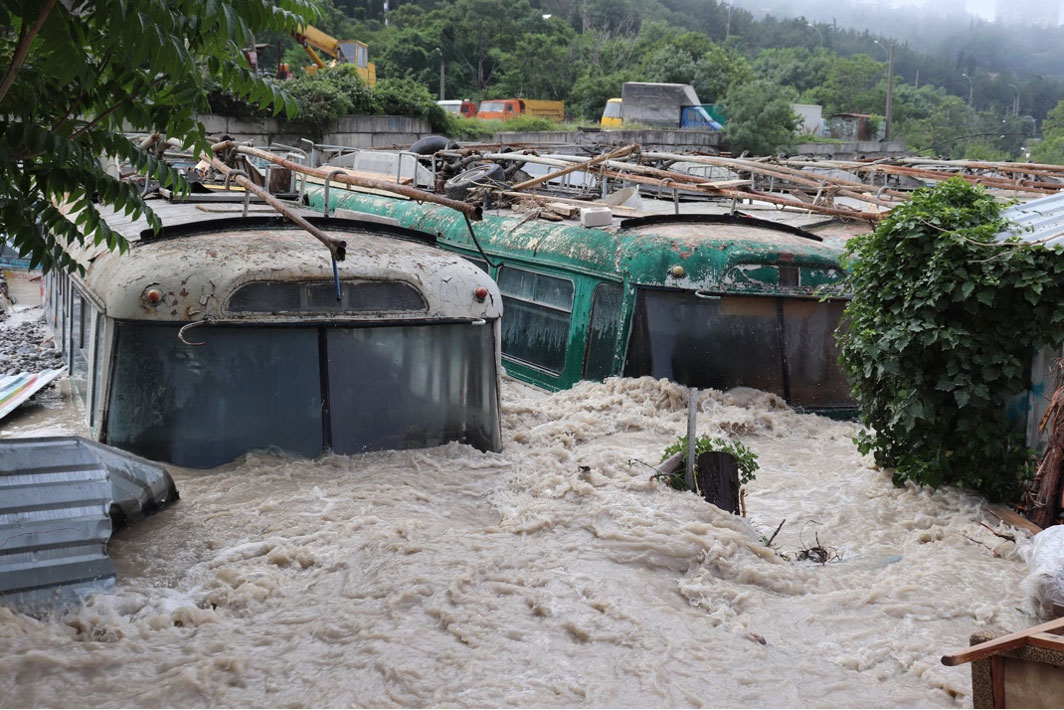 But neither these events nor the rather cool weather (20-25 degrees) caused the cancellation of tours to the occupied peninsula.
According to the so-called Minister of Resorts and Tourism of the Crimea Vadim Volchenko, there are no mass refusals of reservations in Yalta or other regions. Hotels and sanatoriums work as usual, and nothing threatens further rest on the peninsula. He also assured that the resort regions would again be as comfortable as possible for vacationers in the shortest possible time.
"There are cases of water cut-off, but all accommodation facilities are required to have supplies and tanks for a 2-3-day period for constant water supply. Therefore, we do not have acute situations now. There was a need to resettle guests in one hotel in Yalta - everything was done quickly in with the support of employees of the Ministry of Resorts of the Crimea", - he said.
At the same time, residents of the affected areas complain that they receive no adequate support from the local authorities. According to them, all efforts are aimed at repairing roads, supporting hotels and resorts.
"Everything is being done for a picture. Whoever has a destroyed house, they give him $138, this is ridiculous! Instead, the road to the federal sanatorium has already begun to be repaired. They worked quickly. And what should ordinary people who lost their crops and pets, whose only home has been washed away, do? There are no answers to these questions. Think about it: people are being resettled from hotels, but not from houses that have been damaged. If you are not a tourist hotel or a boarding house, you have to solve your problems on your own", - resident of Yalta Svitlana told our agency.
All this is happening against the backdrop of the third wave of coronavirus on the peninsula. The number of new cases of COVID-19 has skyrocketed over the past two weeks and hospital beds are starting to run out.
Considering that Crimea has become the main summer vacation spot for the residents of the puppet Donbas "republics", the coronavirus situation on the Russian-occupied peninsula will undoubtedly quickly be projected onto the occupied Donbas. This allows us to expect a worsening of the epidemiological situation for coronavirus in the East of Ukraine closer to autumn.
Coronavirus: waiting for the third wave
"The situation is worsening - the increase in the incidence over the last week amounted to about 70%. The growth rates, both weekly and daily, are growing. The free bed capacity is 12% - this is 68 beds", - "vice-governor" of Sevastopol Alexander Kulagin said. This week, more than 70 COVID-19 cases are recorded in the city per day.
A similar situation has developed throughout the occupied Crimea. For example, on June 21, the number of new cases on the peninsula exceeded 200 people per day - such figures were recorded only during the first and second waves of incidence.
The increase in new cases began in early June, but the occupation authorities have only now begun to introduce at least some restrictive measures.
For example, local hotels in Sevastopol are ordered to occupy only vaccinated tourists or those contracted COVID-19. At the same time, the results of PCR tests will not be accepted, it is a certificate of vaccination that is required; a certificate of the presence of antibodies to coronavirus is also taken into account. This measure applies to the room reservations throughout the tourist season. The terms of validity of this restriction have not yet been established in the headquarters.
In addition, other restrictive measures were introduced in the Crimea and Sevastopol:
- the work of catering establishments is prohibited in the period from 23.00 to 08.00, with the exception of take-out service, delivery of orders, as well as with the exception of the activities of catering establishments located on the territory of transport infrastructure;
- it is prohibited to provide trade services for food, including packaged, and non-food products on the territory of cinemas;
- booking and accommodation in hotels of organized groups of children is prohibited, with the exception of accommodation in institutions included in the register of recreation and health improvement of children;
- persons aged 65 and over are advised to observe the stay-at-home restrictions at the place of residence.
In Yalta, Alushta and Simferopol, where the most difficult situation with coronavirus has developed, the organization of entertainment events is prohibited: discos, karaoke clubs, hookah bars, nightclubs, concert and dance halls.
The Sevastopol "governor" separately demanded that law enforcement officers issue at least 100 fines a day for the lack of face masks in public places.
"We have muzzles on us, and tens of thousands of guests from are coming Moscow and St. Petersburg… There are planes, filled trains and third-class sleeper from the capitals, how is that? So that we faster die here, with our medicine… There is an extremely difficult epidemiological situation in Moscow, so close it… But no… And our rulers do not protect us… Everyone comes here, to a small peninsula, from all over the country… Where there is an unsanitary in many places after the flood… Sevastopol was not drowned, everyone will rush here now… Why???? Is this sabotage against us? You are holding balls and concerts with no distance or face masks, and now there are fines!!!! Nobody thinks about people, everything is only for the sake of money and because of the money!!!", - local resident Maria writes in one of the social networks.
In addition, business entities providing services for sanatorium-health-resort treatment, organization of recreation and health improvement of children, catering, excursion services, as well as providing transport services, are recommended to immunize 100% of employees against a new coronavirus infection (with the exception of employees with medical contraindications).
Although officially, it is only a recommendation, the owners of institutions are already demanding compulsory vaccination.
"I work as a waiter in the center of Sevastopol, and we were told directly at a recent meeting: if you want to continue working, you must be vaccinated. Despite the fact that this is still only a recommendation in our city, the director of the restaurant decided not to risk. An unprecedented influx of tourists is expected this season, this is already felt, therefore, if we want to make money, we need to get vaccinated. No other way. It is good that at least the vaccine is freely available. By the way, we were not told about any contraindications. Either vaccination, or going away", - resident of Sevastopol Mykhailo told OstroV.
According to him, employees of many restaurants and hotels in Sevastopol received such orders.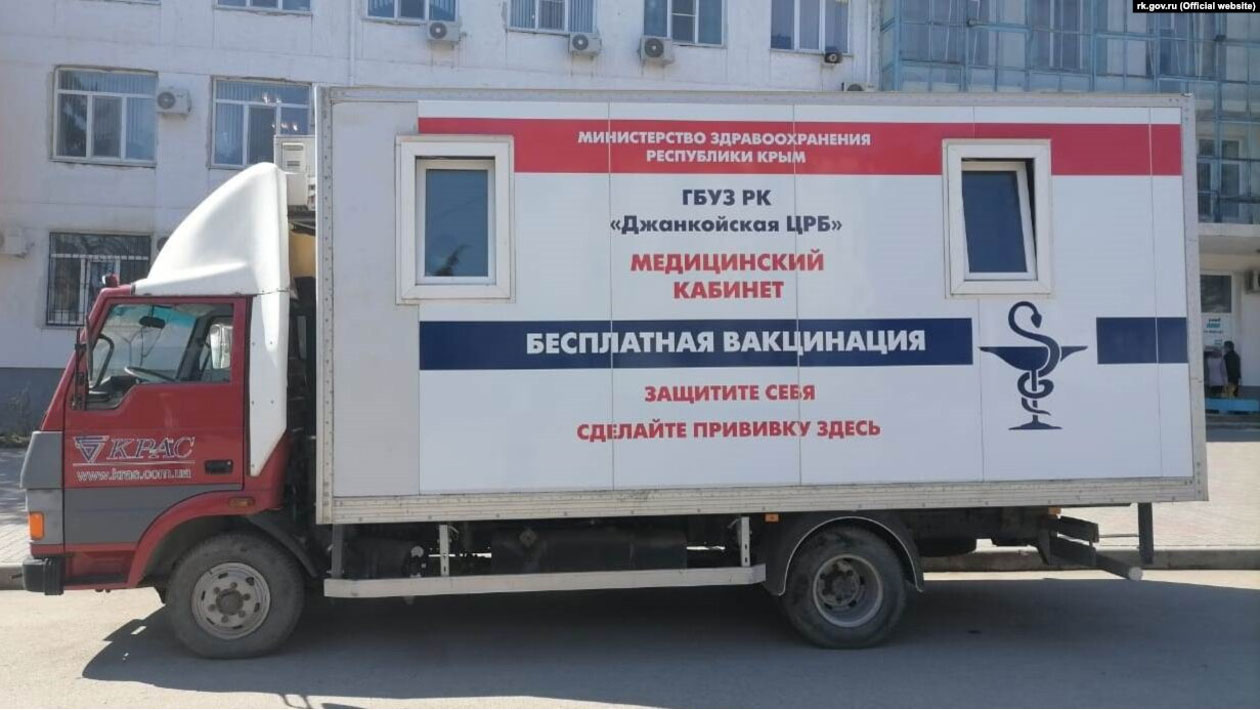 In general, vaccination in the Crimea is going poorly. The local occupation authorities recognize it as well. Initially, head of the occupation administration Sergei Aksyonov set the task of completing mass vaccination on the peninsula before the start of the tourist season. To do this, it was necessary to vaccinate at least 10-12 thousand people per day. Currently, about 2 thousand people receive vaccinations every day.
"As of today, 301 962 doses of vaccine have been delivered to the region. The percentage of use of the supplied vaccine is 91. 265 850 people have been vaccinated in the first stage, of which 126 133 people are over 60 years old. The implementation of the vaccination plan in our country is 29% of the indicated amount. 198 895 people were vaccinated in the second stage, of which 98 976 citizens are over 60 years old", - the so-called Minister of Health of the Crimea Alexander Ostapenko stated.
According to him, at least another 600 thousand people need to be vaccinated to develop herd immunity. Given the current pace, this will happen, at best, in a year.
"But this is not entirely correct. Those who wanted to receive a vaccine have already done it. We have vaccination points open in many shopping and entertainment centers and even museums. Now, basically, only those who are forced at work are being vaccinated. Therefore, there will be fewer and fewer such people with each passing day. Unless compulsory vaccination will be introduced for new categories of workers. For example, doctors, military personnel and educational workers have been vaccinated on a voluntary-compulsory basis long ago", - a nurse from Sevastopol told OstroV.
The Kremlin is already talking directly about the fact that people without coronavirus vaccination pose a threat to others and will not be able to work in full. So a mandatory vaccination for everyone is just a question of time.
"The reality is that discrimination will inevitably come. People without immunity, without vaccination, will not be able to work in all areas. This is impossible, it will pose a threat to those around them", - press secretary of the Russian president Dmitry Peskov stated on June 22.
2021 tourist season
Tourist season in the Crimea this year may become a record one in terms of the number of visitors. According to the occupation authorities, a record number of planes will fly to the Black Sea resorts in the summer of 2021. Airlines will fly to the cities of Krasnodar Krai and Crimea about twice as often as before the pandemic in 2019. According to various estimates, 6-8 million people will rest on the occupied peninsula this season.
"Back in April, it became clear that the Crimea is expecting an unprecedented influx of tourists from Russia this year. Europe is closed, Turkey and Egypt are closed, where else to go? Of course, to the Crimea. Prices for all types of housing spiked instantly. No discounts or promotions. The Crimeans immediately realized that they can make good money this year, and did not make even minimal discounts for early booking, as it was before. In May, it was already difficult to find a normal apartment or house for July and August. Some owners deliberately hold back good options, and open reservations already at the peak of the season in order to set the maximum price in tight market. I was looking for housing in Alushta for a family from Moscow for 14 days last week quite long. As a result, I hardly found an ordinary two-room apartment for $110 a day, this is a record price for me for this type of housing. It seems that it is more expensive only on the Cote d'Azur in France ", - Crimean realtor Kateryna told OstroV.
However, this is not the limit. The price for an apartment in Yalta reaches $200 per night, which, according to the local realtor, has not happened for many years.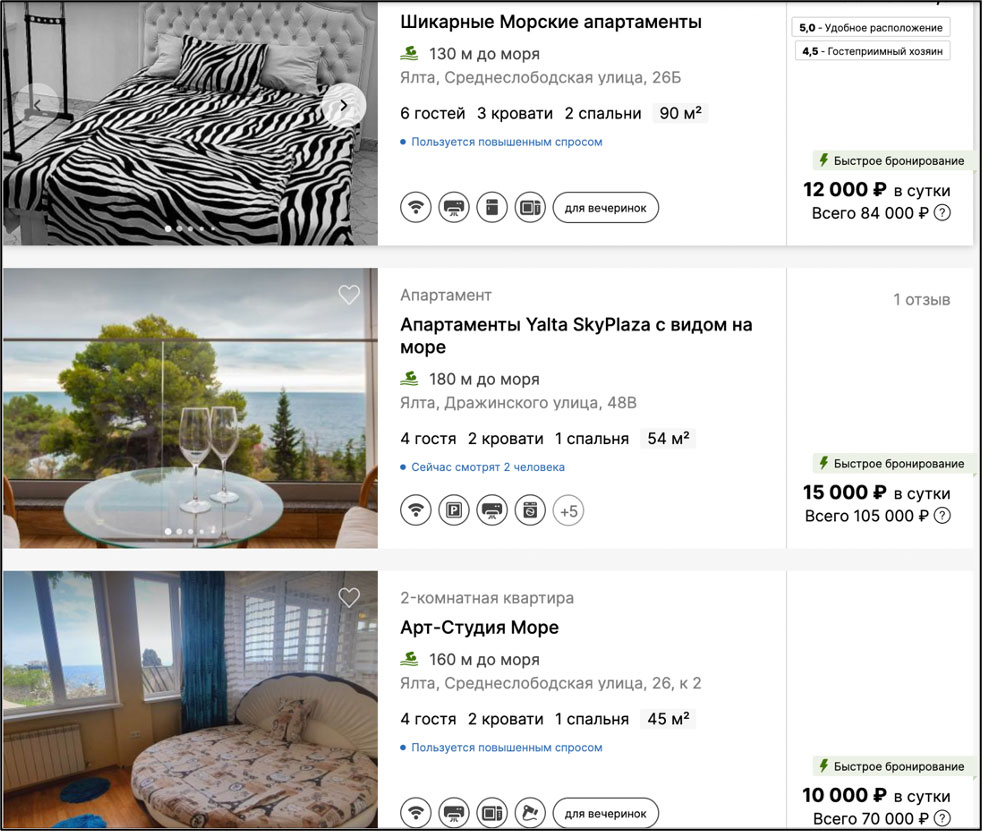 The price of housing in small towns on the South Coast is much lower, but they are also much higher than those that have been for the last 7 years. If it was possible to rent a low-budget room in the village of Simeiz two years ago for $14 per day, today the price will be at least $34.
"We will still have to try to find free housing with such a price. Some owners of private houses post $40-55 for a room for two people. This is nonsense, I saw such prices only in Ukraine, and not always", - Crimean travel agent Mykhailo says.
According to him, after the ban of the Sevastopol "authorities" to lodge unvaccinated tourists in hotels, the prices for daily rent in Sevastopol immediately jumped. If the price for an apartment in the city center started from $70 two weeks ago, today it is not cheaper than $83.
"The demand for housing is going crazy. There was a big wave of booking at first, when it became clear that it would be impossible to travel either to Turkey or Europe in the summer. The next wave began when Moscow and St. Petersburg began to tighten quarantine and local residents went to the Crimea en masse. To sit out quarantine by the sea. Not only there are sea and mountains, there are almost no restrictive measures. If Sevastopol is still trying to impose restrictions and fines, then the rest of the peninsula is full of chaos", - the travel agent said.
In addition to rising house prices, food prices have traditionally gone up. And this greatly annoys local residents.
"Not only they come here to sit out coronavirus and often bring it here, but also prices for everything are going up. There are just records this year. Today strawberries cost from $4 per kg, what is this? When did this happen at all? Prices for fruits, vegetables and dairy products have increased by about 20% over the past month, while salaries have remained the same. This is from year to year. We understand that everyone wants to earn money in the tourist season, but what those whose field of activity does not depend on tourists should do? It is easier for us to leave the Crimea for this period. I even do not talk about the pensioners", - resident of Sevastopol Iryna complained to OstroV.
There are also many posts on social media about the food price increases.
The local occupation authorities admit this, but in fact they can do nothing. Moreover, they predict a further rise in the price of goods, but this time, in connection with the upcoming increase in tariffs and the rise in gasoline prices.
"In addition to seasonal effect, there is also the influence of some regulators. For example, when some authorities raise tariffs. Now the tariffs will rise from July 1, so there will be some increase. We expect a slight decrease in prices for gasoline in the near future, but in general, we expect an increase in gasoline prices for the year, which is also likely to lead to a rise in prices", - "deputy head of Krymstat" Natalya Grigor stated.
Despite the rise in prices for housing and food, natural disasters and not the best service, the Crimea remains one of the most attractive places for Russians for both summer vacations and simply "to sit out quarantine". But instead of making the rest as safe as possible and preventing the collapse of the medical system, the local occupation authorities continue to pretend that everything is under control, only imitating the fight against coronavirus.
"You understand that everyone travels without face masks on the Sevastopol-Alushta bus, which is packed full of people. Including the driver. And that suits everyone. What is happening in other areas, think for yourself, it is not difficult. I have no more comments. This is a diagnosis", - resident of occupied Alushta Marharyta exhaustively commented on the situation.
Vladyslav Bulatchik, OstroV