33-year-old Mikhail Zhylin in Vinnytsia Transparent Office felt the surprised looks of officials: a university professor, forced migrant from Donetsk and ATO participant in one "bottle" - a rare combination.
In addition, Mikhail is Candidate of Philology and former head of the unique troupe of Donetsk Ukrainian Musical Drama Theater in Donbass. He was discharged this fall after nearly a year of service as a part of the 22nd battalion of Kharkiv territorial defense, to which he came as a volunteer. During a truce his lung was shot through and he miraculously survived. After numerous operations the young scientist returned to civilian life and moved with his family to Vinnytsia. Here he, the Ukrainian philologist, was invited to teach at native Donetsk National University ... Russian literature. Mikhail Zhylin talked about the war from the inside and his military path in the interview to OstroV.
- Mikhail, how do you feel as a teacher of Russian literature?
- I like teaching Russian literature. First, Ukrainian Russian studies are not well-developed - famous domestic Russists can be counted by fingers. Russian studies are needed in Ukraine as Russia is our neighbor and enemy. You need to know everything about neighbouring enemy. Secondly, teaching Russian literature is something new for me.
- What influenced you to leave theater and go to military commissariat?
- We could hear well from the windows of the drama the anti-Ukrainian demonstrations at Lenin Square, which, as I saw, were run by "intellectuals" with a striking Russian accent. In the beginning it was not clear what was actually happening, but when the capture of Crimea took place, I decided to go to the military commissariat and became a volunteer. Then in March 2014 I was told in the Donetsk central city military commissariat that there were no orders concerning volunteers. It's good that there were none, because the military commissariat was subsequently captured. As anti-terrorist operation was announced but not a military state, we believed that this was the job of the special forces of the Security Service and the Ministry of Internal Affairs, so we made a deal with my wife that I wouldn't fight till the direct intervention of the armed forces of the Russian Federation. Once the interference happened, I went to fight. My wife was, of course, in despair, but we had already made a deal, and she had to accept. I promised to stay alive.
- How did you get to 22nd battalion? How many compatriot-volunteers did you see there?
- At that time there was no direct mobilization and in the Velykonovosilkivsk military commissariat I was told that I would be sent to Kharkiv, and then to the 22nd territorial defense battalion or 92nd mechanized brigade. Eventually, I was taken to the 22nd battalion. On the first day there were three from Donbass, but just in a day or two there were more than 20 compatriots. We stayed in one bay, considering that this is our war, we must fight for our captured land. Volunteers were primarily from Kramatorsk, Dobropillia, Kostiantynivka, Dymytrov, from newly freed areas. There were from occupied territories as well.
- How were you prepared and trained?
- We had mostly theoretical knowledge. We stayed quite long at the assembly point of the Kharkiv regional military commissariat. We could have been sent earlier but the active intervention of the Russian army began and our battalion was covered with Eddy winds from the Russian Federation. We all rushed into battle, even though 90 percent of all were volunteers. Probably, the training wasn't as it should have been. No one knew how it should have looked like. The NATO instructors came to Yavoriv polygon (International Peacekeeping and Security Centre of the Western Operational Command of the Land Force of Ukraine - ed.) and taught how to check cars for explosives. They also brought a car on the ground, taught how to check both the seat and the space between the lining and the door. We saw and heard artillery firing in the ATO area. They fired from small arms on the polygon, but small arms are unlikely to solve anything in such a war.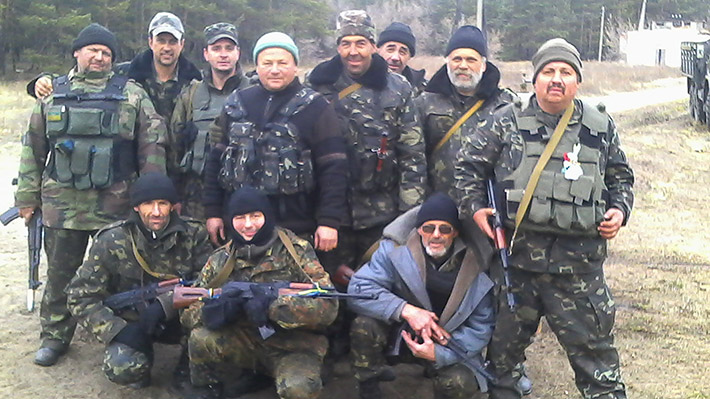 - What did you see when you got to the ATO area?
- The headquarters were located in my home village Shchedryshchevo in Severodonetsk, which was a pleasant surprise for me. I hadn't been there for 15 years. When I was going there I expected "Ilovaisk war" with assaults, shooting. There I faced war of nerves and shootings. It is flying over everyone, everyone is waiting to be hit. Later - in Verkhnotoretsky – there was such a "musketeer" war.
- Tell us about your first combat experience.
- The first firing was between Bobrove village and Muratove village in Luhansk region. It was quite unusual because it was provoked by journalists and the then Ukrainian authorities in Luhansk region. Then pontoon ferry was opened across the Seversky Donets. The engineering unit from Novograd-Volynsk came especially to us. Ukrainian journalists were filming, obviously for some regional channels. 20 minutes after the television and officials left, firing from the eightieth mortars started. They didn't hit the ferry but they hit us, checkpoint and paratroopers who were guarding the ferry. This was the first, to say so, combat experience.
- Under what circumstances were you injured?
- At our Verkhnotoretsky checkpoint in Donetsk region there was point of fire adjustment that covered tanks. But after the next meeting in Minsk on February 19th they were withdrawn due to the truce. According to the agreements, there was a cease-fire, but we were "hit" by mortars all the time. The tanks were withdrawn and we remained on the bare ground. We could even be well observed from occupied Gorlovka. As Verkhnotoretske was divided in half between our troops and the pro-Russian ones, there were occasional street fights. Our task was to find out the number and location of the equipment of militants. We conducted reconnaissance in force. When turning back we heard a submachine gun round and I was wounded. Our guys fired back, then saved me and gave the first aid. I thank them that they did not rush to pull me immediately. Because the distance to the strong point was considerable, I lost a lot of blood. There our doctor Vitaly saved me and I am sincerely grateful for that, then I was taken to Krasnoarmiys on the surgery. When I came round, I saw a smiling surgeon who operated me. It was a PhD doctor from Lviv. Air medical service brought me to intensive care in Dnepropetrovsk and then a few weeks later I was brought by plane to Kyiv. My lung was shot through - hemopneumothorax with all its trouble. As doctors explained, it is one of the most common reasons why our soldiers die, because it is very difficult to give the first aid.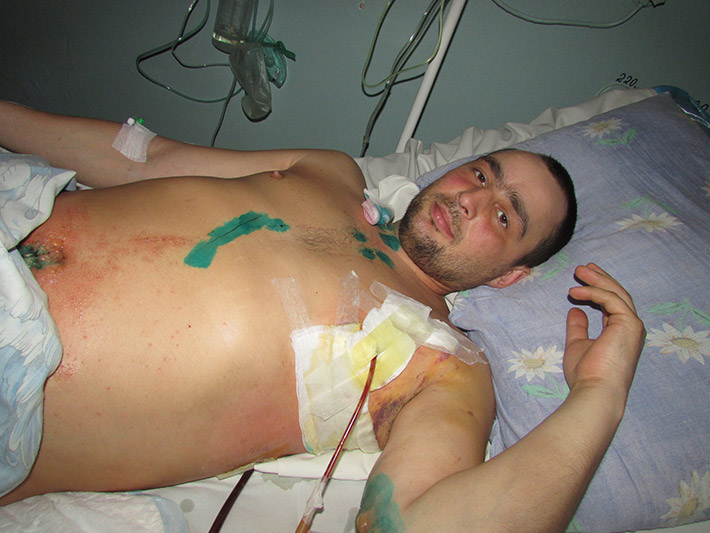 - The mass media almost daily report news about drunkenness, which abounds among military personnel in the ATO area and causes incidents. What do you think? How do you fight against it in the battalions?
- I would not say that drunkenness in the Ukrainian army differs from drunkenness in general in Ukraine. But, objectively, it is also due to the absence of war. We've got the Minsk agreements. You also should not forget mobilization took place according to the residual principle. Those, who didn't avoid it, went to the army, apart from volunteers, of course. And, accordingly, they took different representatives of the Ukrainian society. I would not say that it is extremely threatening phenomenon. A lot of noise is made around that. It all depends on the commander. Chronic alcoholics don't obey the commander but the commander should ensure that the rest of the soldiers don't become alcoholics. A good system of fighting against that was introduced in our battalion and it is used in other brigades and battalions. I will not disclose the essence, but the restriction of liberty is rather unpleasant.
- Did you buy equipment yourself or did volunteers help you? What did the Ministry provide?
- As a volunteer, I did not care who provides me and with what. But, nevertheless, there were relatives, volunteers who outfitted me before the trip to the front with such things, which I did not even have an idea how to use. If we talk about thermal cameras – there weren't enough of them. Another thing is that our Ministry of Defense thinks that soldiers should not smoke ...
- How do you assess the level of the ATO command? Debaltsevo, Ilovaysk ... How could these tragedies be avoided?
- I think that it was impossible to avoid these tragedies as the ATO command consists mainly of members of the old Soviet officer school with a bunch of friends who remained in Russia as well as relatives. It's logical. Why should they suddenly become Ukrainian patriots? Perhaps, the national consciousness rose in them but after Debaltsevo and Ilovaysk. I suspect that most of them experienced psychological shock: people had been collaborating with soldiers across the border for 25 years – natives of Rostov and Moscow. They had carried out combined exercises. After the exercise, of course, heads buddied up according to the armed service branch. In my opinion, the problem is purely historical, which will be resolved over time.
- What do you think about official reports on casualties in the front? Do they really report smaller numbers?
- Well, it's true. But, in my opinion, it is good. French historian Karl Barth wrote his first thesis precisely about the censorship in the German-French front during the First World War. Censorship was global then. It was like that despite the fact that France was the birthplace of European democracy. But censorship is necessary in the context of the war. Not everything should leak. The war is undeclared but everybody knows that this is a real war. We cannot tell everything. You cannot start democracy with talking about all military casualties. You should start democracy with the fight against corruption and then talk about everything else.
- In your opinion, should the conflict in the East be further resolved by military means or negotiations?
- If my opinion were perceived at the highest level, I would say, of course, by military means. When Russia is now torn, at least, in two fronts, we should have "finished off" by military means. I think Ukrainian intelligence services could organize a relevant reason, which would help us liberate Donbass. Perhaps, it's not the high time to do it. The political way, in my opinion, is unpromising. There should be a classic story of the victory of one side and defeat of the other.
- They talk from time to time about another wave of mobilization. How good is this decision, considering that before the ranks of the Armed Forces were completed with people without motivation who were not ready to fight? Perhaps it is high time to switch to a professional army?
- It is enough to provide normal salary, which, in my opinion, will not be a big burden on the budget. 20-25 thousand hryvnia for an ordinary soldier and then depending on the title. Then we will have a marvelous army, no waves of mobilization will be needed then. It will be possible to have a competition and select according to physical characteristics, psychological ones. This recipe is simple.
- How difficult was it to return to civilian life after the ATO?
- It wasn't difficult personally for me. I got used to civilian life gradually in hospitals where I had been staying for 4 months. In fact, this is not Vietnamese or Afghan war, where people fought on unfamiliar territory with "indigenes". We are fighting on our land ... Of course, people have problems, those who were injured and psychologically ... I noticed no psychological problems during communication with many men without legs, arms whom I met in the hospitals. Only physiological and financial.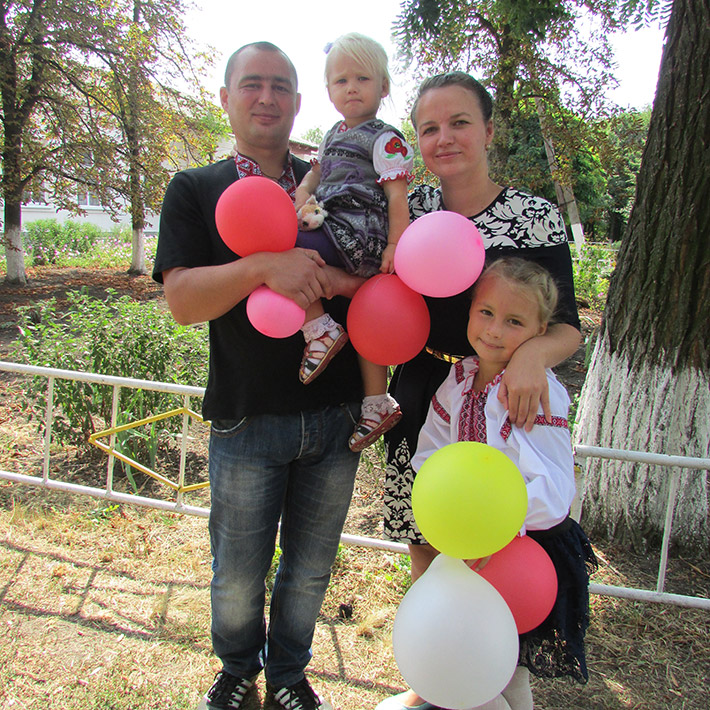 - What does the status of the ATO participant give to a person? How did you feel implementation of the ATO laws on benefits?
- The only current state privilege for me is a free fare in trolley buses, trams and buses. As I am a forced migrant from Donbas, all the rest of promises, such as housing or land, turned out to be unavailable for me. It turns out that migrants who participated in the fighting have no right to them (Ed.). The point is that we now live in Vinnytsia and they give a patch of land to those who were registered here before the ATO and mobilization. So, I need to go back to Kramatorsk, request Zhebrivskyi to give me some land somewhere near Avdeyevka. But my work is in Vinnytsia, my university moved here and children need somewhere to live. We have nowhere to live.
- Do you have some friends who stayed in Donetsk? How did they treat the fact that you went to war?
- I have only one friend in Donetsk, who is on the Ukrainian side. He is a real Don Cossack. He cannot go anywhere, although he wanted very much to sign up for volunteer battalions. On the other hand, I still have friends who were Russian patriots for a long time, since the times when comrade Purgin founded his Donetsk Republic which was then declared a banned organization. I talked to them even from the front and said: guys, it would be nice to meet you in the forefront to fight. Are you there? I knew they were true Russian patriots, there were actually a few of them in Donetsk. But none of them took any weapons, they limited themselves with abusing social networks. Since then I have stopped contacting with them.
- In your opinion, how long will the war last and how will it end?
- I think the war will last 2-3 years and end in the resignation of Putin and Russia's collapse. There was a Ukrainian writer and historiosophist Yuriy Lypa. He said that as long as Russia existed as a state, Ukraine wouldn't exist as a state. I have no remarks here.
Interviewed by Nataliia Kommodova, for OstroV