The low-grade war in eastern Ukraine has attracted the media attention in recent months only by violations of the "ceasefire". Society shyly does not notice the fate of living people, crippled by this war, it just reverts its eyes. Some people call it fatigue. The war disappears from the media - and the war seems to be gone.
Meanwhile, the military and civilians are still dying, being captured, tortured and missing. Hundreds of thousands have lost their homes and have not found a new one. Children are not always able to get to school, adults do not vote in elections, enterprises no longer work, fields, forests and pastures store unexploded shells and mines, rivers and reservoirs are poisoned by the waters of flooded mines.
People who have suffered from the war in one way or another are also tired and would like to forget about it. The majority, however, left something in the east that will keep them there for a long time, or perhaps, for a lifetime, wherever they are physically.
OstroV recorded five stories of such people.
Two of them relate to the hostages of the Donetsk "republic". We want to remind you with this text that the last exchange of prisoners between Ukraine and Russia, Ukraine and the territories controlled by Russia in the east of the country took place in the spring of 2020. The Russian side has been blocking further exchange for almost a year.
Also, people who live on the territory of the Donetsk "republic" have been denied the opportunity to cross the demarcation line for almost a year. Only one checkpoint out of four operates in the region, on certain days. Only citizens of Ukraine who have a residence permit outside the occupied territory can use it to leave the "republic". At the same time, each person leaving signs the obligation not to return until the quarantine caused by the coronavirus ends. But nobody knows when it will end.
In fact, almost the entire population of the regions that are actually controlled by the Russian Federation are held hostage today.
"My husband was captured by the Russian military"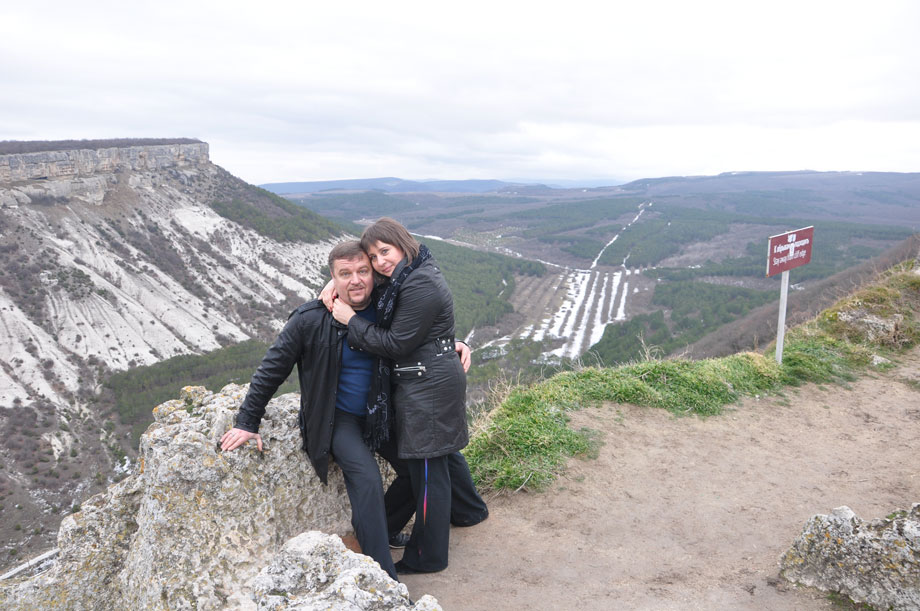 Larysa and Oleh Shevandin. Photo from the archive of Larysa Shevandina
President of the Federation of Kung Fu and Qigong of the Donetsk region and businessman Oleh Shevandin was kidnapped at a checkpoint at the entrance to Debaltseve in the Donetsk oblast in the spring of 2015.
After one of the bloodiest military operations of 2014-15 in eastern Ukraine with the direct intervention of the Russian army, Debaltseve has been controlled by Russians and the armed formations of the Donetsk "republic" for three months.
Late in the evening of April 30, Larysa and Oleh Shevandin arrived in the city, which they were forced to leave as a result of hostilities, in their off-roader in order to take Oleh's mother, who had suddenly returned home.
Oleh went to his mother in the morning of May 1. His phone stopped responding a few minutes after. Later, Larysa found out that he had been kidnapped at a military checkpoint not far from their house and taken to the nearest military unit, and then to the headquarters of the 7th brigade of the Donetsk "republic".
On that day, Larysa managed to talk to her husband on the phone twice. She wrote a statement about her husband's abduction to the local prosecutor's office the next day.
Larysa Shevandina:
The prosecutor's office told me that Oleh had been detained by "Seven". It turned out to be the 7th Rifle Brigade of the Donetsk "republic" headquartered in Debaltseve. The brigade commander is a citizen of the Russian Federation, Colonel Alexander Bushuev with the call sign "Zaria", he worked under the name of Kolosov in Ukraine.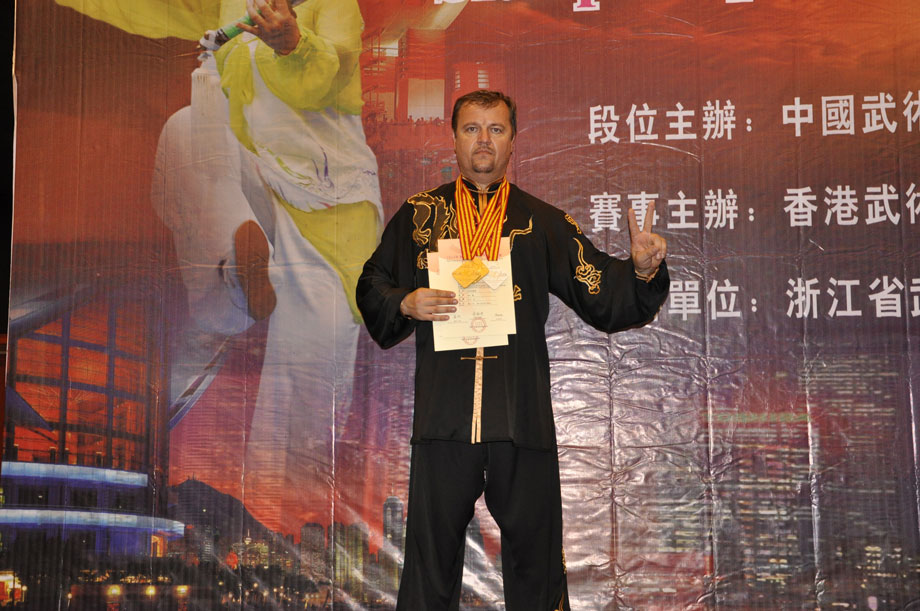 Oleh Shevandin. Photo from the archive of Larysa Shevandina
When we arrived at the headquarters of the 7th brigade, our car, stolen together with my husband, was parked in the yard. The staff of the headquarters told us that Oleh Shevandin was taken to Donetsk and that "maps of the Luhansk region with marks" were allegedly found in our car.
Our apartment was destroyed by a direct hit of the GRAD shell, the business was plundered. I moved to a friend in a neighboring house, but they constantly followed me, so I moved to another friend in Donetsk. There I wrote applications to all structures that worked in Donetsk at that time. I got the impression that some services tried to help me. But Oleh was captured by the Russian military, which was not subordinate to anyone on the territory of the "Donetsk People's Republic".
Once, deputy commander of the military corps of the Donetsk "republic" Eduard Basurin called me and said that Oleh was all right, that he knew where my husband was, but he would not tell me about it, since "Shevandin was a Ukrainian spy".
I began to receive information from different people that the Russians insist on maps and special equipment in our car. Oleh is a famous sportsman: information about his abduction quickly spread throughout the territory of the "republic". I think that "Zaria" was needed by his Russian curators and they did not want him to appear somewhere as a marauder and kidnapper.
I spent five months in Donetsk trying to get information about Oleh. During this time, some people, including visitors from the Russian Federation, tried to find out if I had the opportunity to lobby for negotiations on the exchange of Russian prisoners for my husband. I tried not to create too much noise so as not to raise the stakes. But after being asked several times why Ukraine is not looking for my husband, I decided that I needed to go to Kyiv and ask this question myself.
The UN has the case of Oleh's abduction. I turned for help to all international missions working in Ukraine, to heads of states of the "Normandy format" Angela Merkel and Emmanuel Macron.
Recently, the Ukrainian delegation to the Trilateral Contact Group put the issue of Oleh Shevandin's abduction on the agenda of the talks. I have information that he was sentenced to 12 years for espionage in favor of Ukraine. Representatives of the Russian Federation and the "republics" in the TCG insist that Oleh "was in Donetsk, now we are looking".
An investigator from the prosecutor's office called me a year after Oleh's abduction from Donetsk to inform that our car had been detained while trying to take it to Russia. They tried to sell it according to documents falsified on the territory of Ukraine. The car was returned to me. I still have not been able to establish my husband's place of stay.
"I have operations about once a year, I could not walk with prostheses without this"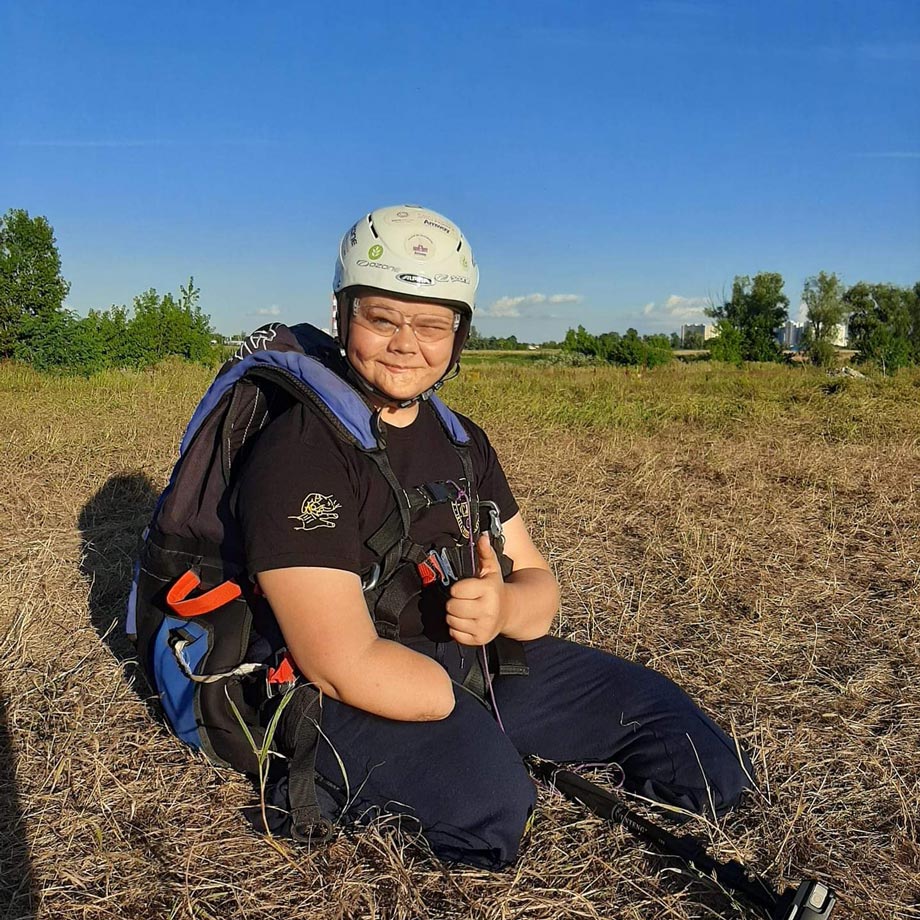 Kolia Nizhnikovsky. Photo from Facebook
In August 2015, 11-year-old Kolia (full name - Mykola) Nizhnikovsky and two of his friends found an unexploded shell at a military training ground on the outskirts of their village in the south of Donetsk oblast. The boys wanted to move it to another place and examine: the shell detonated, having killed 4-year-old brother of Kolia, who was following them, and seriously injuring the rest. Kolia suffered the most: the doctors had to amputate his two legs and his right arm, his eye was saved by a miracle and deep scars remained on his face.
In Zaporizhzhia, the regional center closest to Kolia's village, where the boy was taken after an urgent operation in a military hospital, businesswomen and public activist Olena Kuneva and other non-indifferent Ukrainians joined in to save him. Thanks to the efforts of Kuneva, Kolia was rehabilitated by Canadian surgeons - at first in Ukraine and then in Canada. Also the boy became professionally engaged in swimming with her.
Philanthropist from Donetsk Tymofiy Nahorny Now Kolia takes care of Kolia now: while a new apartment is being built for the guy in a town near Kyiv, he lives in Nahorny's apartment, who also provides him with conditions for training. Kolia set two Ukrainian records in the summer of 2020 by crossing the Dnipro River and swimming two kilometers along it. Now his goal is to participate in the Paralympics.
Kolia Nizhnikovsky:
It was very difficult to swim along the Dnipro. The water was cold: I hadn't warmed up for all the time that I was swimming. In addition, there were annoying people who swam very close, although they were told that this should not be done. Still, I find it easier to swim in open water than in a pool. I like open water better.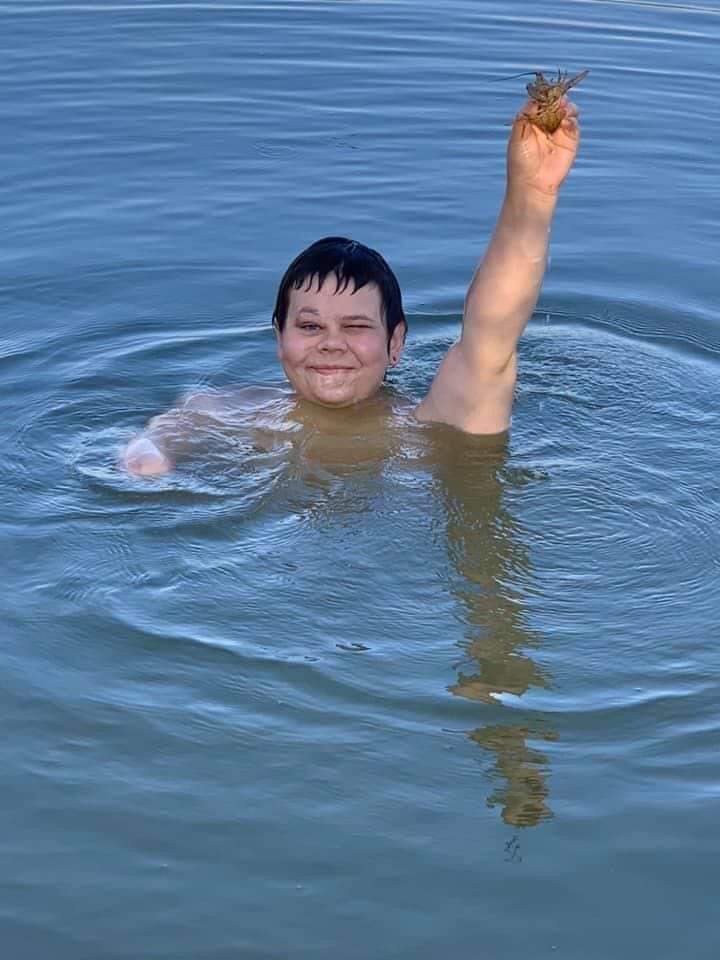 Kolia Nizhnikovsky. Photo from Facebook
I started swimming professionally only after I got a disability. Previously, I was not interested in sports or study, but now swimming is my main hobby.
I like mathematics and geography. I love tackle tasks: the head also needs to be trained. Geography just tells a lot of interesting things. I want to learn how to program and draw with a graphics tablet. I have already readjusted and have my left hand just as I had my right.
I had very good teachers in Zaporizhzhia and Kyiv. I went to school, but more often, the teachers came to me. I don't go to school in winter, because the road gets very difficult. In Canada, there are ramps everywhere, there are cars that remove snow in winter. In Ukraine, there are ramps only in some places, and some are very bad. I communicate with friends mostly online, but sometimes we go on vacation together.
A house was built for me in Zaporizhzhia, but due to the fact that I often had to travel to Kyiv for surgery and alteration of prostheses, it was decided to stay here. I have operations about once a year: I need to constantly shorten the bone while I am growing, - I would not be able to walk with prostheses without this. An apartment in Brovary (a city adjacent to Kyiv - ed.) was bought for me. There is a swimming pool nearby and many convenient shops with ramps.
I had the opportunity to stay in Canada, but I like Ukraine. I want to represent it at the Paralympics. Now I have my first adult category and I am training to become a candidate master of sports. I hope to be attested this year.
I love calmness and rhythmicity - I am not always comfortable when I am recognized. But, in general, it's cool that I am an example for someone. Recently, a mother and child came up to me at the gym, and the child said that I motivate him to train.
We were told at school that we should not pick up unfamiliar items and that if you find an unfamiliar item, you need to report it to the police. I myself have not had to speak on such topics, but if I was offered, I would agree. Perhaps, it would help someone.
"I would like to return. I have unfinished business in Luhansk"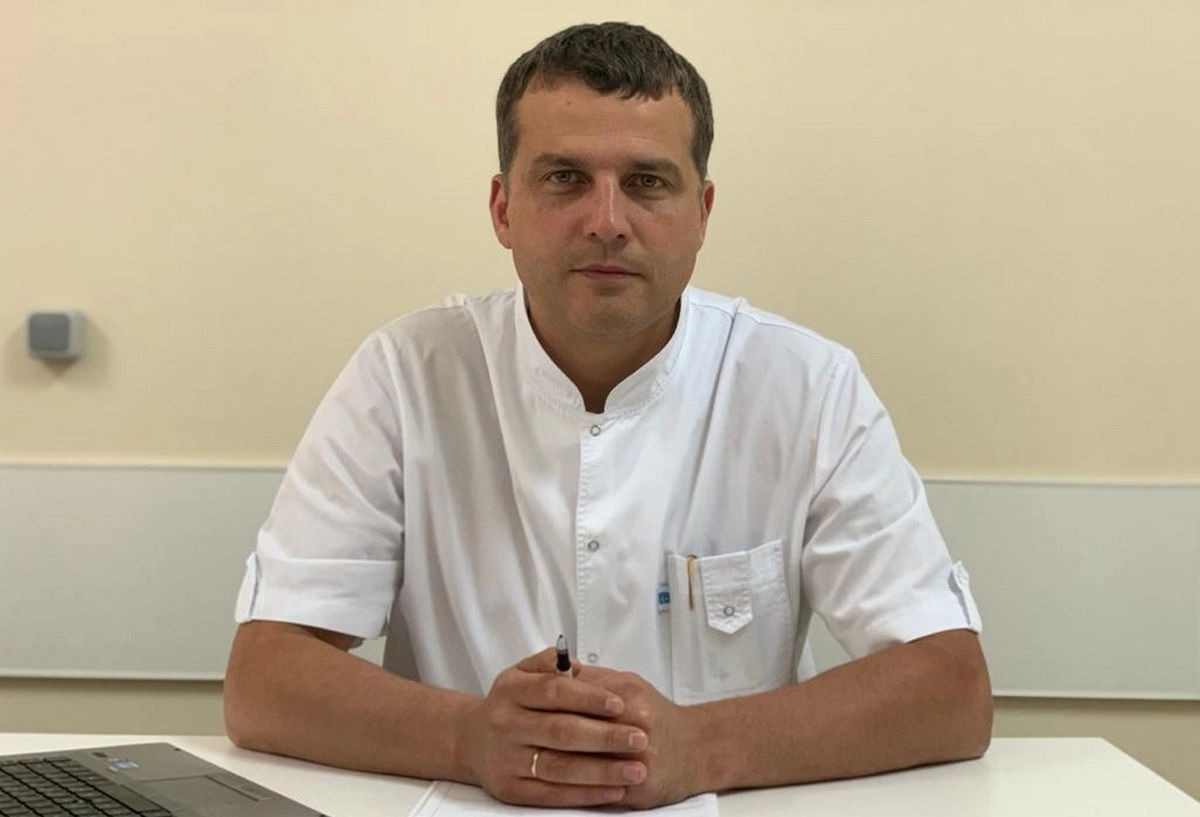 Kostiantyn Libster, photo LIGA.net
Father and son Serhiy and Konstiantyn Libster are famous traumatologists from Luhansk. Before the outbreak of the war, the first was in charge of the city, and the second - of the regional traumatology.
Konstiantyn Libster left Luhansk in 2014, shortly after the start of the war, but, like many other doctors from eastern Ukraine, he could not get a job somewhere else in the country for a long time. As a result, many were forced to return to the war zone, while others went abroad: to Russia or the EU. Konstiantyn also left, but was forced to return.
In 2019, someone entered Serhiy Libster's personal data into a publicly visible database of "enemies of Ukraine", which is administered by people closely associated with Ukraine's notorious Interior Minister Arsen Avakov. The doctor's profile states that he "maintains close ties with the occupation administration".
Formally, this does not bear any consequences for Libster Sr., but it is known that the database is used by Ukrainian border guards and law enforcement officers who check the identities of those crossing the contact line.
There are also fears that the persons involved in the database have already been or may become targets for radicals. There is a belief in Ukraine that people who have remained to live and, moreover, work in public institutions in the occupied territories are all traitors and collaborators.
Konstiantyn Libster:
I was in charge of a large department in Luhansk, but only four of us left there by July 2014, and by August, there was only one doctor whom we hired already during the war. I, as a captain from a sinking ship, was the last to leave. I left Luhansk on August 22, 2014. It was not the war that scared me, but the lack of understanding of the future. I took out three nurses and two dogs of my friends from the city - we take few our things with us, we were going to return.
I could not find a job in Kyiv: all the clinics where I applied answered that there were no places. It was very difficult: I was used to being in demand, but now my phone was silent.
Former patients called me to Slovakia. They helped me to pass the nostrification procedure. I had to assist a local doctor for two or three years and learn the Slovak language.
You see, orthopedists are like musicians, our hands must constantly work. If we do not constantly reproduce some movements, we lose a skill that has been developed over the years. I couldn't afford to waste two years starting from scratch.
I went to look for a job in Spain, but the language requirements in Spain were even higher. Therefore, my Spanish story also ended soon, and we returned to Kyiv. It was in October 2014.
A friend advised me to go to the Oleksandrivska hospital. But the department where they were ready to take me never had traumatology. I had to literally create my own workplace. The administration simply did not understand how I would have patients. I managed to convince them.
My father stayed in Luhansk. He was 61 years old in 2014. He is a fulfilled well-known person in the city, with his own approaches and principles - he could not, like me, leave to look for a place of a simple doctor somewhere. Nobody would have hired him at that age.
I came to Luhansk only once. The wife said she wanted to go home in 2016. We stayed for only a week, she cried all the time. Now neither the wife nor the children want to live there.
But I would like to return. I have unfinished business in Luhansk. In 2008, an investor suggested that my father and I build and run the largest and best rehabilitation center in the country. We have built a new building of 4.5 thousand square meters. Finishing work was already underway there by the beginning of the war. The project has been frozen since then, and the more time passes, the more difficult it is for me to return to this topic.
Pisky. House of Olena and Ihor Loshadkin. Video from the Loshadkin archive
"Our house burned down just when the war was entering a smoother phase"
The residents of the village of Pisky could be considered a privileged caste. The village adjoined Donetsk, the largest industrial center of Ukraine, but did not have industrial facilities on its territory, attracting the townspeople with beautiful natural landscapes.
New terminal of the Donetsk Airport appeared near Pisky in 2011 - one of the most notable objects built in Ukraine for hosting the 2012 European Football Championship. This event became fatal for the residents of the village: the Donetsk Airport was at the epicenter of the fighting in eastern Ukraine in 2014; this place entered the popular discourse as a symbol of Ukrainian resistance to Russian aggression. Pisky was razed to the ground until the end of the year.
The Ukrainian side lost the airport at the beginning of 2015, but the positions of the sides on this section have not shifted: Pisky is still a frontline. Only a few people remained in the village from among the local residents. The entry to Pisky is strictly limited: none of those who were forced to leave their homes can today get there to at least document the ruins of their homes and claim government compensation.
Several hundred people, whose property was destroyed as a result of the hostilities in eastern Ukraine, have been seeking damages in Ukrainian courts since 2014-15. During this period, the country's authorities changed the conditions for receiving compensation several times, but they did not establish such a mechanism that could be applied by all victims.
Olena and Ihor Loshadkin from Pisok, whose losses exceed one million hryvnias, were able to obtain from the court only a decision on 40 thousand compensation (approximately 1.2 thousand euros) over the five years of the process, but they cannot receive that either due to the refusal of the state treasury to conduct such payments. In response to all such inquiries, the department refers to the absence of a corresponding item in the country's budget year in year out.
Olena and Ihor Loshadkin:
Pisky changed hands several times. The Armed Forces of Ukraine and volunteers entered the village on July 24, 2014.
There were cases when the military came to the local residents and gave the order to move out. Some of them let volunteers or military personnel in. Others conveyed information about Ukrainian positions to the opposite side, which responded with shelling of residential buildings.
Our house was almost on the front line. Four basements on our street out of 22 houses were occupied by volunteers. A troop of Right Sector was located in the basement next to our house - shells began to fly to us too. Our house burned down just when the Ukrainian side lost the airport and the war entered a smoother phase.
In addition to the house, a blacksmith's shop burned down with equipment that we had been collecting since 1987, with unique stamps, worth about half a million dollars. Naturally, we did not have any documents for this property, no one will compensate us for its loss.
We didn't want to leave. You see, the older the tree, the worse it takes root in a new place. We are like old trees. But we understand that life does not end with the loss of a home. Thank God our children are alive and our parents are alive.
Many former residents of Pisky want to return and believe that they could return. But no one is allowed into the village and we understand that no one will return there during our lifetime and that it is easier to build something in a new place than to restore Pisky.
"In comparison with other prisoners, I got off cheaply: I spent "only" 11 months"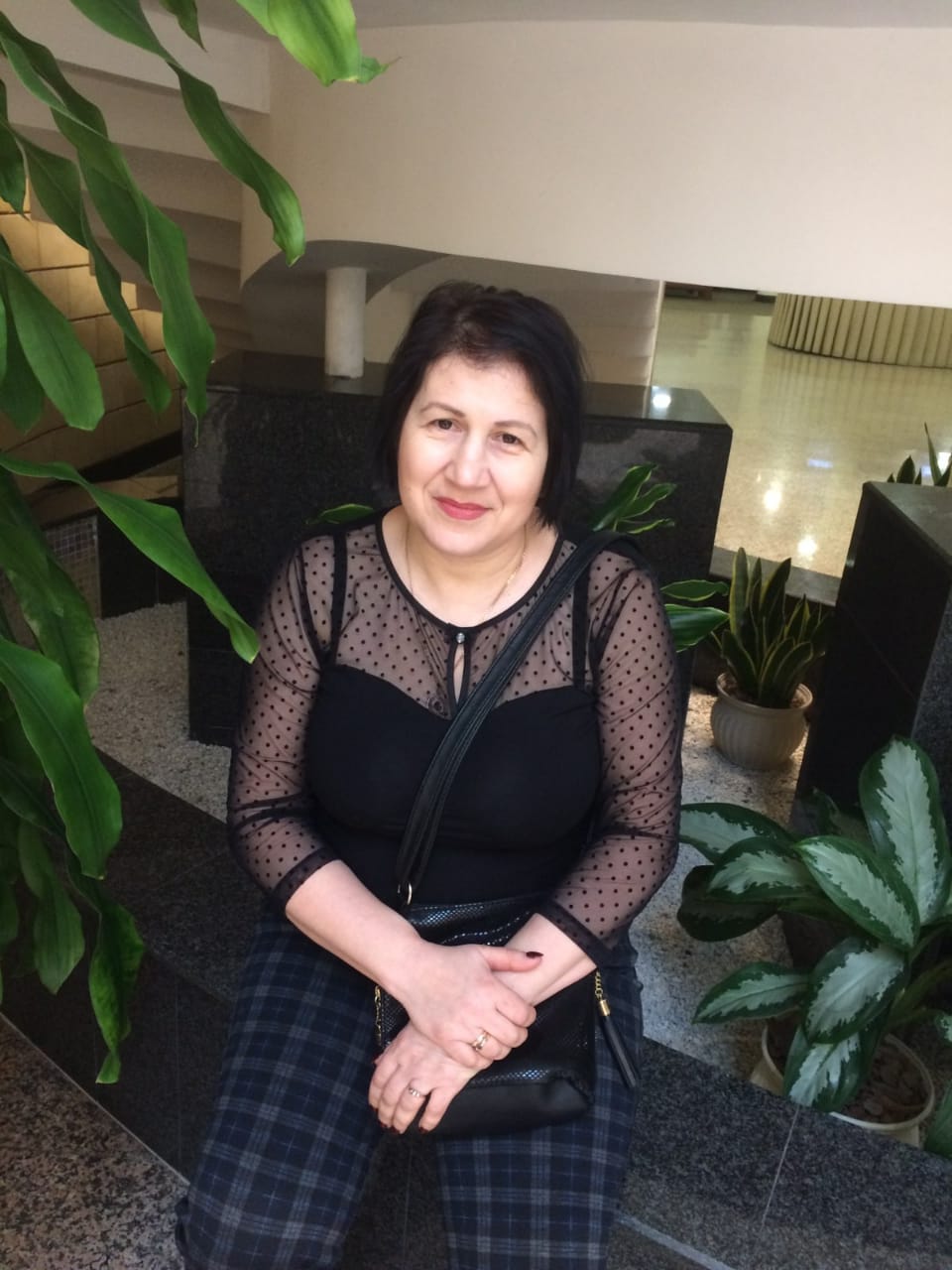 Valentyna Buchok. Photo from the archive of Valentyna Buchok
Valentyna Buchok was arrested in Donetsk in February 2017. She had a map in her hand, which she used to search for the central office of her employer. It seemed suspicious to one of the passers-by: he detained Valentyna and called the police. Already during interrogation - under torture - the Donetsk woman was declared a Ukrainian spy.
Valentyna was released on December 27 of the same year as part of a major prisoner exchange between the self-proclaimed "republics" and Kyiv. Together with her husband, she settled in a previously abandoned parents' house in a part of the Donetsk oblast, which remained under the control of the Ukrainian government. The family could not return to Donetsk; all of Valentyna's property in the city was seized and plundered.
But Valentyna's misadventures did not end even after the release from captivity and the move. Unknown malefactors killed her cat on the anniversary of the liberation - one of the two that she took out of Donetsk; the second one was killed in the summer of 2018. Someone set fire to the house of the Buchok spouses in the spring of 2019. In the fall, Valentyna's husband found a trip wire in their yard, which nobody touched just miraculously.
A new trip wire appeared in the summer of 2020. It was set in such a way that it was impossible for Valentyna to get around it: someone tracked down the paths the hostess usually took in the morning. Valentyna was cut by explosive fragments and fence to which it was attached; the fragments are still inside her legs and arms.
It is dangerous for Valentyna to continue living in her house. None of the crimes against her were properly investigated.
Valentyna Buchok:
An SMS to my husband was found in my phone: "When these sleaze bags will be kicked out of Donetsk…", in that vein. This was enough to trump up me the article "espionage". They put a bag on my head and interrogated me for about twenty hours: they beat me on the head, gave nothing to drink and did not take me to the toilet. The sweat under the bag was eating away at my eyes, but I could not wipe it off because I was in handcuffs all the time. I was threatened with murder.
I was taken to Izolyatsia, a closed prison late at night, and I was taken away again in the morning. On the second or third day, a video was taken in which I confess to cooperation with the SBU. I agreed to this shoot so that my relatives and the Ukrainian authorities would know where I am. We had an agreement that I would sign a confession, and they would put me on the exchange lists for this.
The prisoners at Izolyatsia were forced to work, but I refused. For this, I was sent to a cell, which they called "Lux": very small, with a five-liter plastic bottle instead of a toilet and with a video camera opposite it. The light in the cell was never turned off, and it was their source of amusement: to watch how the "Ukrainian spy" relieves herself with this bottle. I didn't give them that pleasure. I will not tell you what I did. I ate or drank nothing. I was transferred to a pre-trial detention center two days later.
I spent more than 10 months in pre-trial detention center, the first two were a nightmare for me. I was one of the first "spies" placed in a pre-trial detention center. A video with my "confessions" was shown in the pre-trial detention center before they brought me there. My cellmates were killers. In the evenings, they entertained themselves by discussing how they would kill me.
The administration also pressured me. I was not given a mattress, blanket, dishes, or cutlery, so I could drink water only from the tap. I ate almost nothing for the first eight days, my whole body was burning terribly from metal bunks.
Two months later, they brought me a parcel for the first time. Two bags, from toilet paper to perfumes, and as much food as I couldn't eat in a month. And you are the queen in jail, if food was brought to you. Therefore, the attitude towards me in the cell changed dramatically: I was the only one who was cared for from the outside.
I bluffed, telling the inmates that the money for the parcels was allocated by the Ukrainian government. They tried to convince me that no one at large thinks about me, but even in the most difficult times, I had no doubts that I would be released. I told those who interrogated me that not we, political prisoners, but they are in captivity, because sooner or later, we will be taken away from Donetsk, and they will stay.
My husband and other people did their best to get me released. In comparison with other prisoners, I got off cheaply: I spent "only" 11 months. But starvation and the inability to go to the toilet greatly affected my health.
A man who was carrying my parcels was captured in Donetsk on January 20, 2020. The Ukrainian side included him in the exchange lists, but the "republic" does not confirm him among the prisoners. Now I take him the parcels - I know where he is being held. Every time I am informed that the parcel has been delivered, I heave a sigh of relief, because it means that he is alive. He is 63 years old and very sick.
I even wrote to the Pope about this man. I gave one surname, but wrote that hundreds of my compatriots are in captivity. If you indicate his name, I will be very grateful to you: Anatliy Kachur.
Recorded by Yulia Abibok, OstroV