The former epicenter of the first weeks of the war, Semenivka village on the outskirts of Sloviansk, became a frightening local attraction three years after the hostilities ended there.
Semenivka is the gateway to Sloviansk along the Kharkiv highway. Behind Sloviansk is the resort Lyman united territorial community and Sviatohirsk.
Four years ago, in the holiday season, this route was lively: it was also used by residents of Donetsk.
That is why the Lazarenko family based its business and housing here: a fateful decision in view of subsequent events.
Lazarenko's house could be printed on postcards as a kind of "visiting card" of Sloviansk. Even some important delegations were brought there, as it was vivid and convincing witness of the war that swept through the city.
But, fortunately, the terrible image slowly dissipates: the hosts gradually dismantle the destroyed house in order to build something else sooner or later. The garden center, located next to it, greets customers again this year.
But this is not yet a happy ending story.
— In the spring of 2014, we invested all the money in the purchase of plants, barely finished repairs in the house. Half of the house was residential, and the other one was supposed to be a store for selling related products, - Anastasia Lazarenko says.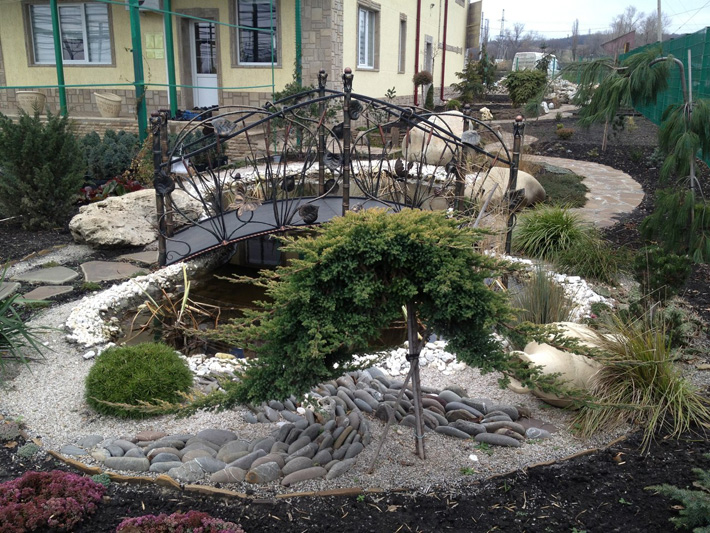 House and garden center of the Lazarenko family before the war. Photo provided by Illia Lazarenko
— The hostilities began in May...
— May 5 was the day of the first shelling. Until then, my husband once said: "Look, the Chechens". Militants walked around the streets with weapons. We were already used to it. They behaved themselves.
On the morning of May 5, I watered the plants, then switched on a TV series and went to make breakfast. The husband was busy with his own affairs. The shooting started abruptly during the breakfast.
We crawled into the bathroom, because there were no windows. I sat in the house for an hour and a half, and when I came out, I saw that the filling station next to us had exploded, and a shell had exploded in our garage where we were planning to make a store. Windows and tile in the house were completely broken.
The nearby road was covered in puddles of blood. We found a wounded 19-year-old guy in the garden. The second one, most likely, a militant, was completely burnt. We found out that he was from Rajhorodok and, it seems, he survived.
On May 12th, worse people came. They drove us out at the barrel of the machine gun and took our jewelry, wedding rings.
— Did they want to occupy this house?
— It was beneficial for them to settle here. Good overlook. People with weapons occupied the second floor.
A few hours after that, Illia returned to ask for the opportunity to take at least clothes, documents. They let him in, he brought bags with our things and a safe. Due to the money that was in it, we were able to go to the Crimea. He also asked to take the plants - this was the only thing bringing us money.
We loaded the first car with plants, took it to our parents in Cherevkivka. Then our friends came to load the remaining plants and returned with a shot through car. They said that the militants shot it and "said not to come back there".
— Who was there?
— The militia. But there were not only local people, it was obvious. They were headed by Russians, and ours were always in the forefront, cannon fodder.
— You did not know any of those people who came to your house?"
— I didn't.
— Did you leave Sloviansk?
— First, we went to my parents in Cherevkivka for a month, heard all the shelling. We were informed that our house was on fire.
It soon became clear that I was pregnant, so my husband decided to take me to other relatives in the Crimea. We stayed there for one month as well.
We were told that there was nothing left of the house. We saw it only a week after Sloviansk was returned under the control of the Ukrainian government. Several shells hit the house.
— You were promised your house would be restored.
— Representatives of many European charity funds came. We said that we do not ask for such a big house, we would agree on the smallest one. We have documents which confirm that we have no other housing. My husband's mother built this house with great difficulty for ten years, investing all her money in it. Now we rent a one-room apartment for three persons.
For the first two years, I applied to where I could, including the court, then I gave up. Nobody helped us. As a result, we decided to give up all the attempts to get some help and began the business recovery, because this is our only income.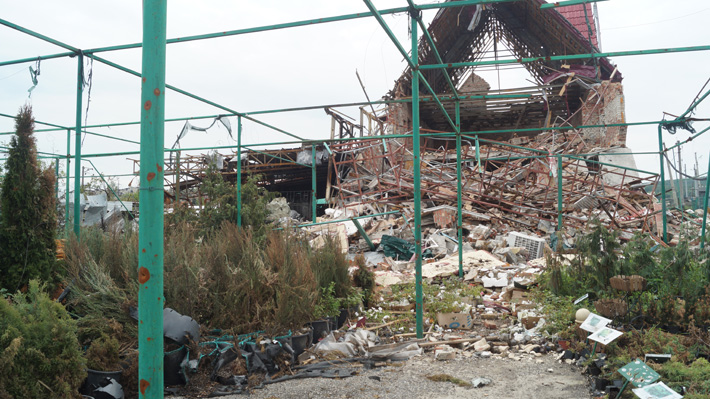 House and garden center of the Lazarenko family not long after the end of armed hostilities in Sloviansk. Photo provided by Illia Lazarenko
— Tell me how you built this business. Was it the land of your husband's mother?
— This land was obtained when the business was already developing. It is about twenty years old.
My husband's mother was fond of growing ornamental plants, she learned everything by herself. She had a lot in Cherevkivka, which she planted with such plants. She started to receive orders for the landscapes design.
She persuaded her son to drop out from Kramatorsk Machine-Building Academy, DSMA, which he had just entered, and to run a business together with her, because there was a demand. He himself learned to make reservoirs and alpine gardens.
Then they bought a small lot between Kramatorsk and Sloviansk. Demand for plants went up all the time, the main buyers were people who went to summer houses from Donetsk to Sviatohirsk. We realized that we need to develop this business, sold that lot and bought this one, we brought more plants and began to build a house. This all was thought out: so that a traffic way with the transport from other cities was nearby. A crossroad to Bakhmut and Donetsk is here…
I met my husband in the winter of 2013. He made an offer to me in a month and said: leave the work. I worked as a sales representative in Kramatorsk, selling baby carriages and playpens. I did not even know at that time what petunia, juniper and thuja were. He taught me everything.
We sold plants from abroad, from the Czech Republic and Poland, including made to order, before the war. We did not have time to deliver them. It became impossible after the war had begun — there were no previous solvent clients. We did not have a startup capital — thousand and forty dollars, — for bringing the plants here again as well. We built a small greenhouse and started to grow them from cuttings by ourselves. All that is now here was grown by my husband and his employees.
— What happened after you returned, saw the ruined house and garden center?
— We began to sift through remains, throw the marauders out, rescued the remains of plants. They stole everything — bricks and metal. Moreover, these were the locals. I, being pregnant, went out and said: "Are not you ashamed?". We sold this metal afterwards, we lived at the expense of this.
Then we built a greenhouse, grew plants. This lot was empty for two years. We cleaned everything up here, cleared it, and began to gradually disassemble the house with the help of parents and friends, because there was no money to hire someone.
We had invested all of our money in plants in the spring before the war. We usually bought plants in spring, and invested the earnings in new ones next spring. We did not have time to earn something at that time. So after the return, we had to do everything from scratch.
We participated in various grant projects, we managed to win something. Partly due to this, we were able to employ people, make a new well and do watering. Our partners from western Ukraine, with whom we worked for many years, sent us a free plant machine.
— How long did it take before you felt you were getting on your feet?
— We have not felt this yet. We do not have such profit now to save for our housing. We have planted another field, which we bought before the war, a hectare of plants. They need to be taken care of, and all means are spent on it.
— When you disassemble this ruined house, will you build a new one instead?
— Maybe, a store will be here someday. I do not really want to live here. But the husband says that it would be cheaper to build a house in the same place, because there is a foundation.
Yulia Abibok (OstroV), Victoria Svyrydenko, Maria Kostromytska
The interview was prepared with the assistance of the Centre for Independent Social Research (CISR - Berlin) within the framework of "Peaceful Transformation of Conflicts in the Former Soviet Union" project. The project is being implemented with the support of the Ministry of Foreign Affairs of Germany.